Hectic road trip ahead as Benning begins sizing up 2016 draft class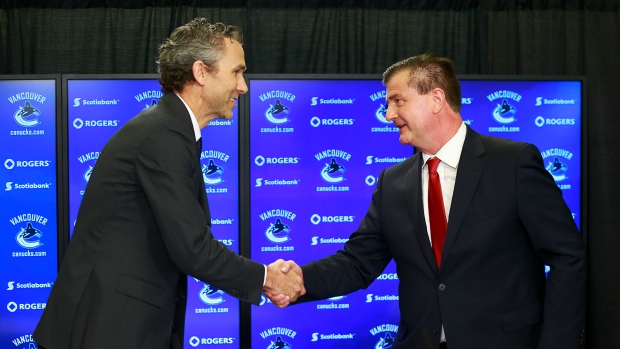 VANCOUVER – On the schedule, the Vancouver Canucks are about to embark on a seven-game road trip at the end of the week. If all goes according to plan for Jim Benning, his trip will include twice that number of games. While the Canucks visit Buffalo, New Jersey, Columbus, Ottawa, Toronto, Montreal and Winnipeg on their longest trip of the season, the team's general manager is mapping out a way to squeeze in visits to several junior hockey rinks to get a first-hand look at the 2016 draft class.
"We had our first amateur scouting conference call on Sunday -- that was about a two-hour call with our entire scouting staff to go over each area," Benning says. "So now I'll put a schedule together and then I'm going out to see some games while I'm out east with the team."
And when Benning says 'some games' he really means a whole bunch of them. Without getting into specifics about which players or teams he's planning to take a look at, Benning revealed his remarkably hectic schedule for the next two weeks.
"I'm going to watch Utica play on Friday because it's only two hours from Buffalo and then Saturday I'll watch our team play in the afternoon and I'm going to peel off to see a junior game Saturday night and some junior games on Sunday," he says. "On Tuesday, I've got the GMs meetings in Toronto. I'm going to a junior game on Wednesday. On Thursday, I'll fly into Ottawa and watch our game that night and come back to Toronto with the team. I'll see some junior games on Friday. On Saturday we play in Toronto and I'll stay after the game and see some junior games Sunday and fly into Montreal and be with the team for the rest of the trip."
Somewhere in there, Benning is even likely to grab a sandwich and perhaps a few hours of sleep. But getting out to see junior prospects with his own two eyes is one of Jim Benning's favourite parts of the job and one he vowed to make a personal priority despite the many responsibilities associated with over-seeing a National Hockey League team.
Beyond the upcoming road trip, Benning isn't sure when he'll next be able to work in his next scouting mission. And at this point in time, he isn't certain he'll be attending the World Junior championship in Finland after Christmas.
"I haven't looked that far ahead," he says. "This year because we're in LTI (long-term injury), I have to be around the team more. But I'm still going to get out over the course of the season to see the players I need to see."
From Kingston to Kitchener and from Victoriaville to Val D'Or, if Benning feels it's necessary to watch a prospect, he'll find a way to get there. But one player the general manager has no plans on scouting in person is the consensus top pick in next June's draft. Benning says he has the book on Auston Matthews and as such does not feel inclined to fly to Zurich to watch him in the Swiss National League.
"I don't need to see him," Benning says sharply, before the question had been fully presented to him. "He's the number one player in next year's draft. He would have been a top three pick if he was in the draft last year. He's that good."
So while there may not be a European business trip in his future, Jim Benning will keep tabs on Auston Matthews' development from afar. However, as things stand right now, the Canucks GM has no designs on holding the first overall pick when the draft rolls around next June. So Benning will stay closer to home with his scouting missions and gets a break this year with both the Canadian Hockey League and Canadian Junior Hockey League Top Prospects games scheduled for Metro Vancouver in January.
The major junior game will played at Pacific Coliseum on January 28th while the Junior A showcase is slated for the South Surrey Arena two nights earlier on January 26th. Benning is a fan of the prospects contests as an opportunity to bring the best draft eligible players together under one roof and pit them against each other knowing the entire NHL scouting community is watching.
"You get another viewing of the top 40 guys in this year's draft," he says. "Over the course of the first half of the year, you'll bump into some guys two or three times, but there are some guys you haven't had the chance to see the way you want to. This is just another chance to see the guys you want to see in a game. And I like the testing they do to see what kind of skaters they are. I just think it's another tool to use to try to figure out the players."
And ultimately that's what scouting boils down to. And Jim Benning has shown over his years in hockey that he likes to do all he can to get a read on players. It doesn't mean every prospect the Canucks select will skate for the big league team, but Benning wants to do everything he can with his keen eye for hockey talent to eliminate the risk involved.
And that's why last season Benning made it a priority to get out to as many junior games as possible.
"I saw every one of the 30 guys who were taken in the first round and I think I saw the top 60 players at least a few times," he recalls. "And I saw all but one of the players we drafted. I didn't get a chance to see our sixth round pick (Lukas Jasek who played last season in the Czech Republic)."
That process of seeing the prospects begins again later this week for Jim Benning. It's a busy time and a hectic schedule to cram as much as possible into his two weeks on the road. It's late nights, dark highways and seats in the corners at some small junior hockey rinks. It's certainly not the most-glamourous part of being an NHL general manager but it is one of the most important. And Jim Benning can't wait to roll up his sleeves and get started again.