Heisman winner Manziel signs with Tiger-Cats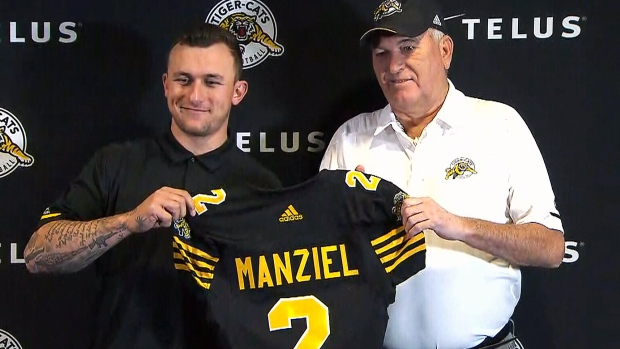 Quarterback Johnny Manziel has signed with the Hamilton Tiger-Cats on a two-year deal, the team announced Saturday.
"Made the decision today to sign my contract with the CFL and further my football career after a long break. Very grateful for everyone that's been supporting me along the way. I believe this is the best opportunity for me moving forward and I'm eager for what the future holds," Manziel tweeted Saturday.
Manziel began his comeback to professional football after two years away from the sport two months ago in The Spring League. He has previously stated a desire to return to the NFL.
Manziel won the Heisman Trophy in 2012 while playing at Texas A&M and was a nominee in 2013. Manziel was drafted in the first round by the Cleveland Browns in 2014, but struggled in two seasons with a career 57 per cent completion percentage and seven touchdowns compared to seven interceptions.
Manziel was released by the Browns in early 2016.
"We're excited to add Johnny Manziel to our roster, particularly getting it done now so that Johnny can join his new teammates and the coaching staff for a full training camp," said head coach June Jones in a news release. "We feel like we've got an excellent group of quarterbacks, and the addition of Johnny only improves our football team in our pursuit of the ultimate goal, which is to win a Grey Cup Championship."
Last December, CFL commissioner Randy Ambrosie confirmed that the league would approve a contract for Manziel and his agent notified the Tiger-Cats that they were activating the window in which the team must offer him a contract per negotiation list rules.
In January, the Tiger-Cats confirmed that they had officially begun negotiations with Manziel. The league released a statement Saturday regarding the signing of Manziel. It reads as follows:
In December, 2017, the Canadian Football League issued a statement which said it had been engaged in a thorough process to determine the eligibility of Johnny Manziel, whose CFL rights were and are held by the Hamilton Tiger-Cats. That process included an assessment by an independent expert on domestic violence (the CFL has a formal policy on violence against women), a review by legal counsel, and an in-person discussion conducted by the Commissioner.
The league stated then that it was prepared to approve a contract for Mr. Manziel for the 2018 season provided one was negotiated and he continued to meet a number of conditions set by the league. (While these conditions are confidential, out of respect for laws governing personal privacy, they are extensive and exacting.)
Recently, the league was informed that Mr. Manziel and the Tiger-Cats were close to reaching an agreement. Subsequent inquiry confirmed Mr. Manziel has been meeting the league's conditions. The league then advised him and the Tiger-Cats it would approve and register a contract for Mr. Manziel, who has also been informed that he must continue to meet these conditions to maintain his eligibility.
As is the case with all of our players reporting to training camps this weekend, we wish him and his team the best of luck as they prepare for the upcoming CFL season.