Hellebuyck on GWG: 'Lucky pinballs'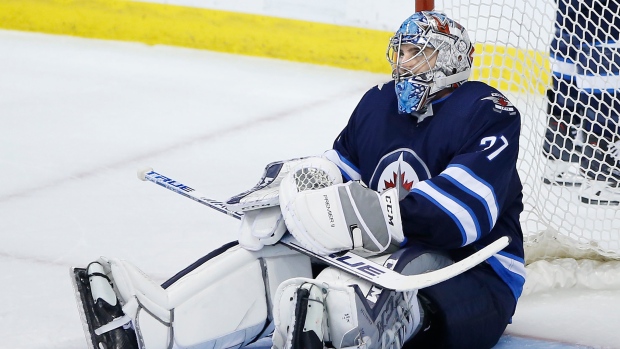 The St. Louis Blues took a 3-2 series lead over the Winnipeg Jets on Thursday after Jaden Schwartz tipped Tyler Bozak's centreing pass past Connor Hellebuyck with 15 seconds left in the third period.
Schwartz's goal completed the Blues' comeback after they entered the final frame down 2-0 and saw the Jets drop to 0-3 on home ice in the series.
"Lucky pinballs," Hellebuyck said of Schwartz's goal post-game. "The puck just bounced and ended up right on their tape. Tough to eat that one, but I thought we were the better team. If we keep fighting here, it's not over."
The Jets opened the series with consecutive losses at Bell MTS Place before taking both games in St. Louis to even the series. They will face the Blues in a must-win Game 6 on Saturday.
"No different than being down 0-2," Jets captain Blake Wheeler told NHL.com. "Happens all the time, man. Gotta win a hockey game. Won almost a hundred of them the last two years, so we're confident we can do that."
Jets head coach Paul Maurice said he would address the third-period collapse with his team and expected the loss to serve as motivation for Saturday.
"You're going to eat it for the rest of the night, and then we'll go through the places in our game that we need to tighten up and get better at," Maurice said. "We'll deal with the goals so they understand it. And then you have an edge, certainly, going into the game in terms of, I don't mean one team, but you're going to be a little grumpy over that one."
"If we lose, we're done," added centre Kevin Hayes. "That's enough motivation. Game 6 will be our best game."