HHOF coach Arbour passes away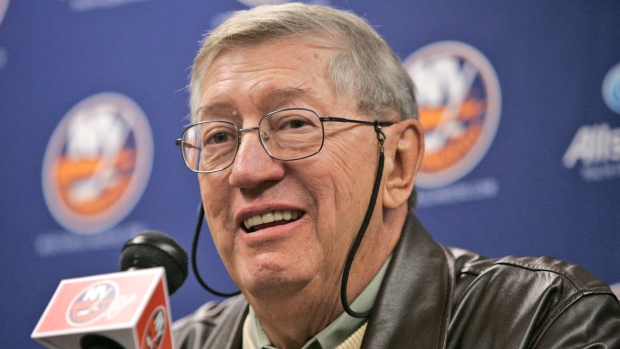 Hockey Hall of Famer and four-time Stanley Cup winning coach Al Arbour has died at the age of 82.
Born in Sudbury, Ontario, Arbour made his NHL debut in 1953 with the Detroit Red Wings and went on to compete in 653 NHL games over the course of 16 seasons in the league, also playing for the Toronto Maple Leafs, Chicago Blackhawks and St. Louis Blues.
Arbour was a member of three Stanley Cup-winning teams as a player with the Blackhawks in 1961 and the Leafs in 1962 and 1964.
His greatest success, though, would come behind the bench.
Beginning as a player coach with the Blues in 1970-71, Arbour would embark on a storied coaching career of 22 seasons. Arbour coached the New York Islanders from 1973 to 1994, making the playoffs 15 times (including 12 straight postseason appearances from 1975 to 1986) and winning the Stanley Cup in four straight seasons from 1980 to 1983. He won the Jack Adams Award in 1979, given to the league's top coach.
"Al will always be remembered as one of, if not, the greatest coaches ever to stand behind a bench in the history of the National Hockey League," Islanders president and general manager Garth Snow said in a statement . "The New York Islanders franchise has four Stanley Cups to its name, thanks in large part to Al's incredible efforts. From his innovative coaching methods, to his humble way of life away from the game, Al is one of the reasons the New York Islanders are a historic franchise. On behalf of the entire organization, we send our deepest condolences to the entire Arbour family."
Arbour would return to the Islanders' bench for one game in 2008 to reach 1500 games as Islanders coach. He finished his coaching career as second all-time in games coached at 1607 and in wins with 782.
Arbour was inducted to the Hockey Hall of Fame in 1996 as a builder.
NHL commissioner Gary Bettman released a statement later on Friday on behalf of the league.
"A four-time Stanley Cup champion as a player and a brilliant motivator and tactician as a coach, Al Arbour directed the Islanders' rapid transformation from expansion team to NHL powerhouse -- guiding them to four straight Stanley Cup championships, five consecutive appearances in the Stanley Cup Final and an astounding 19 consecutive playoff series victories. As it grieves the loss of a profound influence on coaching and on the game itself, the NHL sends its heartfelt condolences to Al's family and friends, to his former teammates and to all the players he mentored."