Hischier rides meteoric rise to top of TSN draft ranking
The Swiss centre finishes atop TSN Hockey's Final 2017 NHL Draft Ranking, while Alberta Junior Hockey League defenceman Cale Makar emerges as the most intriguing prospect.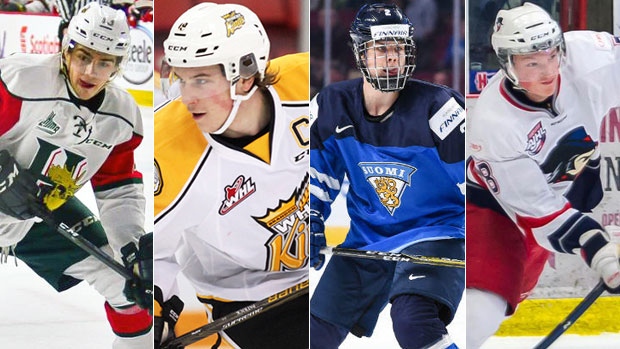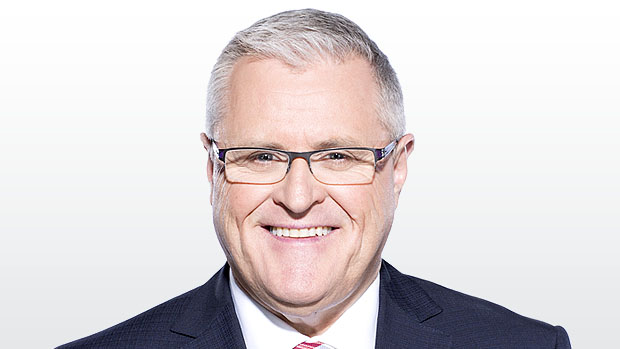 Swiss centre Nico Hischier of the Halifax Mooseheads is No. 1 on TSN's Final 2017 NHL Draft Ranking.
That statement is made without adornment to underscore the simple news value – it's the first time this season Hischier has been ranked ahead of Brandon Wheat King centre Nolan Patrick, who was No. 1 on TSN's preseason ranking in September; No. 1 on TSN's midseason ranking in early February; and No. 1 on TSN's draft lottery edition ranking in late April.
Patrick is No. 2 on TSN's final ranking.
The TSN ranking represents a consensus opinion – based on a survey of 10 NHL team scouts – of where prospects are most likely to be chosen in the draft, which goes Friday (Round 1) and Saturday (Rounds 2-7) at the United Centre in Chicago.
Of the 10 NHL scouts surveyed for TSN's final set of ranking, five slotted Hischier as the top prospect in the draft; four designated Patrick as No. 1. One scout named defenceman Cale Makar of the Alberta Junior Hockey League's Brooks Bandits as the premier prospect, the first time this season someone other than Hischier or Patrick received a No. 1 vote.
Makar may be the most intriguing prospect in this year's draft, but more on that in a moment.
The truth of the matter is that there really isn't much separating Hischier and Patrick and there hasn't been for the last few months. That certainly wasn't the case at season's start.
Patrick was the unanimous No. 1 prospect on TSN preseason ranking and Hischier wasn't in Top 15, just missing out at No. 16. But by midseason – after Hischier starred for Switzerland at the World Junior Championship while Patrick continued to be dogged by injury and inactivity – Hischier began chipping away at Patrick's lead, winning over two of the 10 scouts.
By the draft lottery edition rankings in late April, it was virtual dead heat ­– five votes for Patrick and five votes for Hischier. In fact, to break the tie, TSN had to survey 23 scouts, with Patrick ultimately getting the nod, 12-11.
In TSN's final ranking, though, the arrival of an interloper – the flashy Junior A offensive defenceman Makar – contributed to Hischier being alone at the top.
It's an unprecedented rise for Hischier.
"I think the big turning point was the [2017] World Junior Championship," said one scout of Hischier's meteoric rise to No. 1. "As a draft eligible player, he was as dangerous as any player in the tournament and against the toughest competition any prospect faces. That's when the notion of him [passing Patrick] became a consideration."
Hischier scored four goals and seven points in five WJC games for Switzerland, to go with 38 goals and 86 points in 57 regular season games for Halifax.
For the five scouts who didn't have Hischier at No. 1, each had him No. 2.
"Hischier is a more dynamic player than Patrick," said a scout who had the Swiss centre on top. "He plays with more energy, more intensity and at a faster pace."
Hischier weighed in at 179 pounds at the NHL Combine in Buffalo – 20 pounds lighter than the 6-foot-2 Patrick – but Hischier is just a shade under 6-foot-2 and scouts feel he has a frame that will fill out. Size doesn't appear to be an issue, though it's obvious he's not as physically developed as Patrick, who is only three-and-a-half months older than Hischier, though the former missed being eligible for last year's entry draft by a mere four days.
Patrick's cause wasn't helped by the fact he battled injuries all season. He underwent sports hernia surgery last summer and while he was able to rehab in time to start the WHL season, he only played a handful of games before soft-tissue issues with the other side of his groin cost him a large chunk of the season. He only played 33 of the WHL's 72 games and suffered a late-season upper body injury that took him out of the Wheat Kings' playoff games.
Yet many scouts said they weren't overly concerned with the injuries and they didn't factor significantly into his No. 2 status or being so close to remaining No. 1.
"He was so good [in 2015-16] in what could have been his draft year if not for the sake of a few days," said one scout who ranked Patrick No. 1. "He's a big, pro-style centre. He's not as flashy or as quick [as Hischier] but his size and skill will play well at the next level."
Patrick collected 41 goals and 102 points in 72 regular season games in 2015-16 and followed up with 13 goals and 30 points in 21 playoff games to earn WHL playoff MVP honours.
In addition to five first-place votes, Patrick received four second-place ballots and, from the scout who ranked Makar No. 1, one third-place tally.
The irony of Makar getting a No. 1 vote is that he's not even the consensus top-ranked defenceman. That status belongs to Finnish blueliner Miro Heiskanen, who is No. 3 on TSN's final list.
Heiskanen is a 6-foot-2, 172-pound all-around defender who rocketed up the charts this season, especially after dominating at the World U-18 Championship in April. Heiskanen plays a high-level, two-way game similar to Hall of Famer Nick Lidstrom. No one is suggesting Heiskanen is the "next Nick Lidstrom," only that Heiskanen has the ability to contribute significantly to the offence but also play a stellar, positionally sound and cerebral defensive game.
Heiskanen, at No. 3, and Makar, at No. 4 on TSN's final rankings, also represent another trend in this year's draft – a never-before-seen degree of volatility in rankings over the course of the season. That is, there was a much wider range of upward and downward mobility from the midseason rankings to the final.
To wit:
- Heiskanen was No. 13 at mid-term but vaulted all the way to No. 3 on the final list.
Six of 10 scouts surveyed had Heiskanen at No. 3 and two more had him at No. 4. The remaining two scouts had him at Nos. 7 and 9.
- Makar was No. 12 at mid-term and jumped eight spots to No. 4.
Seven of the 10 scouts surveyed had Makar as a top 5 pick, including the one who had him first overall. Makar was no lower than No. 7 on any scout's list.
That big-swing trend is evident throughout TSN's Final Top 31 ranking, notably for Owen Sound forward Nick Suzuki (No. 27 to 12); London forward Robert Thomas (No. 30 to 21); U.S. U-18 forward Josh Norris (No. 60 to 23); Swedish defenceman Erik Brannstrom (No. 45 to 29); Kingston forward Jason Robertson (No. 48 to 30); and Czech forward Filip Chytil (No. 71 to 31).
Of course, that worked in reverse too. Three Top 10 prospects at midseason fell significantly.
Swedish defenceman Timothy Liljegren went from No. 3 to 16; Finnish sniper Eeli Tolvanen, who plays in the United State Hockey League, went from No. 9 to 17; and Russian forward Klim Kostin, who underwent season-ending shoulder surgery in January, went from No. 10 to 18.
Makar, a 5-foot-11, 187-pound blueliner, is quite likely the most intriguing prospect. He was rated a B or second/third-round prospect entering the season, but rose to prominence in December at the World Junior A Challenge in Bonnyville, Alta.
Makar's dynamic offensive game immediately wowed NHL scouts and it was from that moment forward he became a person of interest.
The highest-chosen Canadian Junior A prospect drafted into the NHL is centre Kyle Turris, who went third overall from the Burnaby Express to the Phoenix Coyotes in 2007.
Any concerns Makar's game is one-dimensional – all offence – or that he's a sub 6-foot defenceman who isn't a physical specimen in terms of strength and power or that he's coming from a lower competitive level of hockey, are counter-balanced by dynamic skating and high-end offensive skill that leads many to believe he could have the highest ceiling of any prospect in the draft.
More than one scout has compared Makar's style of game as Erik Karlsson-like. Again, no one is saying Makar is the "next Erik Karlsson," but he plays a thrilling game that, if developed, could allow him to be elite.
"Makar could be the best player in this draft," one scout said. "It would be bold to take him at No. 1, ahead of Patrick or Hischier, but he really could be the home run in this draft."
So, at the very least, we'll call him this draft's MIP (Most Intriguing Prospect).
This year's draft, certainly from the perspective of marquee value and potential franchise players, doesn't compare to the last two drafts.
Hischier-Nolan is not in the same class as Connor McDavid-Jack Eichel or Auston Matthews-Patrik Laine, but scouts say we shouldn't be too quick to jump to conclusions on the overall strength of the 2017 draft class, especially in the first round, where a large number of quality centres and defencemen are available.
In fact, there is just one – well, maybe two – winger(s) in TSN's Final Top 10. That would be Mississauga Steelhead hard-driving, goal-scorer Owen Tippett. Heiskanen and Makar are the only defencemen in the top 10, but there are seven blueliners ranked between Nos. 14 and 25.
That means there are seven – well, perhaps eight – centres ranked in TSN's Top 10. Each of them appears to have a trait, or two, that prevents them from being categorized as elite, but scouts are still high on their chances of being pivots who can make a considerable impact in the NHL.
Start with No. 5-ranked Gabe Vilardi of the Windsor Spitfires.
Technically, he's been a winger for most of his time in the OHL, but he's always been a natural centre. The knock on Vilardi is that he's an awkward skater and the debate rages between scouts over whether he's a poor skater or one who gets there but doesn't look pretty doing it. Similar battle lines are drawn between whether he'll be a centre or a winger in pro hockey. Those scouts who think his skating is a legitimate concern see him as a winger; those who think his skating is substance over style think he could still be a big (6-foot-3, 203 pounds) NHL centre.
In any event, his hockey sense, ability to create offence and puck-protection talents makes him a consensus Top 5 prospect.
Casey Mittelstadt, the Minnesota high schooler from Eden Prairie who started and finished the season in the United States Hockey League, is No. 6 on TSN's final list. He is the undisputed top American in this year's draft.
Some scouts were disappointed Mittelstadt chose to use his draft year to finish his high-school career as opposed to playing in the USHL on a full-time basis. And Mittelstadt was unimpressive in the strength testing at the NHL combine, where he failed to do even one pull-up, completed just one bench press and recorded the worst VO2 max (aerobic capacity measurement) score of any prospect. At a shade under 6 feet tall but one pound shy of 200, fitness and conditioning do not appear, at this time, to be his forte.
"It's a testament to his skill, talent and potential he's still a top-five or top-six prospect," one scout said. "You can focus on what he isn't able to do because he hasn't trained as much [as other prospects] or you can easily imagine how much better he will be once he embraces strength and conditioning."
Swedish centre Elias Pettersson is next on the TSN list, at No. 7 and, like Mittelstadt, is a skilled, offensive pivot but has a rail-thin 162-pound, 6-foot-2 frame.
"If you think he's going to fill out, there's no other reservation, this is a skilled offensive player who can score goals or make plays," a scout said.
Portland Winterhawks two-way centre Cody Glass is No. 8 on TSN's final list and he is yet another example of the "out-of-nowhere" candidate who rapidly climbed the prospect ranks over the course of the season.
At the beginning of the WHL season, NHL Central Scouting classified Glass as a C prospect. He scored 27 points as a WHL rookie last season but used his skill and smarts to post 94 this season. He was No. 14 on TSN's midseason list. TSN director of scouting Craig Button rates Glass as the fourth-best prospect in the entire draft.
Another WHL centre – almost 6-foot-6 Michael Rasmussen of Tri-City – checks in at No. 9 on the TSN list. He had 32 goals and 55 points in 50 games – Rasmussen suffered a fractured wrist in early March – but it's a blend of talent and toughness that makes him so attractive.
Mississauga winger Tippett, a cousin of Tampa Bay prospect Mitchell Stephens, rounds out TSN's Top 10. Tippett is a shoot-first, pro-style winger who plays a straight-line game and had 44 goals in 60 games.
One goaltender made his way into TSN's Top 31. That is 6-foot-4 Boston University freshman Jake Oettinger, an American who is the clear consensus top stopper in this year's draft class. Oettinger was the only goalie unanimously viewed as a Top 75 prospect. Six of 10 scouts rated Oettinger as the best goalie prospect and he's the best goalie bet to get into the first round.
Only one goalie has been chosen in the first round the past four drafts: Ilya Samsonov, at No. 22 by Washington in 2015.
Other goaltenders who will challenge Oettinger for top goalie status include: Windsor Spitfire goalie Michael DiPietro, whose only flaw seems to be his height (6 feet); big Finnish netminder Ukko-Pekka Luukkonen (6-foot-6); and almost equally big American Keith Petruzzelli (6-foot-5) of Muskegon in the USHL. Those three netminders are ranked in TSN's second round.
Here is TSN Hockey's Top 31. For the full list of 100 players, click here off of our DraftCentre page on TSN.ca and TSN's mobile site:
TSN Hockey's Final Draft Ranking
1. Nico Hischier, C, Halifax (QMJHL)
HT: 6-1 WT: 176 S: L
GP: 57 G: 38 P: 86 PIM: 24
2. Nolan Patrick, C, Brandon (WHL)
HT: 6-2 WT: 198 S: R
GP: 33 G: 20 P: 46 PIM: 36
3. Miro Heiskanen, D, HIFK (SM Liiga)
HT: 6-0 WT: 170 S: L
GP: 37 G: 5 P: 10 PIM: 4
4. Cale Makar, D, Brooks (AJHL)
HT: 5-11 WT: 180 SH: R
GP: 54 G: 24 P: 75 PIM: 18
5. Gabe Vilardi, C, Windsor (OHL)
HT: 6-3 WT: 201 S: R
GP: 49 G: 29 P: 61 PIM: 12
6. Casey Mittelstadt, C, Green Bay (USHL)
HT: 6-1 WT: 201 S: L
GP: 25 G: 21 P: 64 PIM: 8
7. Elias Pettersson, C, Timra (SWE-Als)
HT: 6-2 WT: 161 S: L
GP: 43 G: 19 P: 41 PIM: 14
8. Cody Glass, C, Portland (WHL)
HT: 6-2 WT: 178 S: R
GP: 69 G: 32 P: 94 PIM: 36
9. Michael Rasmussen, C, Tri-City (WHL)
HT: 6-6 WT: 215 S: L
GP: 50 G: 32 P: 55 PIM: 50
10. Owen Tippett, RW, Mississauga (OHL)
HT: 6-0 WT: 200 S: R
GP: 60 G: 44 P: 75 PIM: 36
11. Martin Necas, C, Brno (CZE)
HT: 6-0 WT: 167 S: R
GP: 41 G: 7 P: 15 PIM: 6
12. Nick Suzuki, C/RW, Owen Sound (OHL)
HT: 5-11 WT: 183 S: R
GP: 65 G: 45 P: 96 PIM: 10
13. Lias Andersson, C, HV71 (SHL)
HT: 5-11 WT: 198 S: L
GP: 42 G: 9 P: 19 PIM: 18
14. Juuso Valimaki, D, Tri-City (WHL)
HT: 6-2 WT: 204 S: L
GP: 60 G: 19 P: 61 PIM: 34
15. Kristian Vesalainen, LW, HPK (SM Liiga)
HT: 6-3 WT: 207 S: L
GP: 26 G: 1 P: 6 PIM: 2
16. Timothy Liljegren, D, Rogle (SWE)
HT: 6-0 WT: 191 SH: R
GP: 19 G: 1 P: 5 PIM: 4
17. Eeli Tolvanen, RW, Sioux City (USHL)
HT: 5-10 WT: 170 S: L
GP: 52 G: 30 P: 54 PIM: 26
18. Klim Kostin, RW, Moscow (KHL)
HT: 6-3 WT: 196 b L
GP: 9 G: 1 P: 1 PIM: 4
19. Ryan Poehling, C, St. Cloud State (NCAA)
HT: 6-2 WT: 183 S: L
GP: 35 G: 7 P: 13 PIM: 12
20. Cal Foote, D, Kelowna (WHL)
HT: 6-4 WT: 210 S: R
GP: 71 G: 6 P: 57 PIM: 41
21. Rob Thomas, C, London (OHL)
HT: 6-0 WT: 185 S: R
GP: 66 G: 16 P: 66 PIM: 26
22. Urho Vaakanainen, D, Jyvaskala (SM Liiga)
HT: 6-0 WT: 185 S: L
GP: 41 G: 2 P: 6 PIM: 12
23. Josh Norris, C, USA NTDP (USHL)
HT: 6-1 WT: 192 S: L
GP: 52 G: 23 P: 51 PIM: 34
24. Kailer Yamamoto, RW, Spokane (WHL)
HT: 5-8 WT: 153 S: R
GP: 65 G: 42 P: 99 PIM: 46
25. Nicolas Hague, D, Mississauga (OHL)
HT: 6-6 WT: 215 S: L
GP: 64 G: 18 P: 44 PIM: 107
26. Jake Oettinger, G, Boston U (NCAA)
HT: 6-4 WT: 212 C: L
GP: 35 GAA: 2.11 SV%: .927
27. Isaac Ratcliffe, LW, Guelph (OHL)
HT: 6-6 WT: 200 S: L
GP: 67 G: 28 P: 54 PIM: 65
28. Conor Timmins, D, Sault Ste. Marie (OHL)
HT: 6-1 WT: 185 S: R
GP: 67 G: 7 P: 61 PIM: 69
29. Erik Brannstrom, D, HV71 Jr. (SWE-J20)
HT: 5-10 WT: 173 S: L
GP: 19 G: 9 P: 23 PIM: 18
30. Jason Robertson, LW, Kingston (OHL)
HT: 6-2 WT: 192 S: L
GP: 68 G: 42 P: 81 PIM: 29
31. Filip Chytil, LW, Zlin (CZE Jr.)
HT: 6-0 WT: 178 S: L
GP: 38 G: 4 P: 8 PIM: 16