Hockey dodges another bullet
Hockey has dodged another bullet. A helmetless Brian McGrattan survived a face-first fall to the ice Tuesday in an AHL fight. Common sense says that eventually a hockey player will not - and the sport will have blood on its hands again.
Steve Dryden, TSN Hockey Managing Editor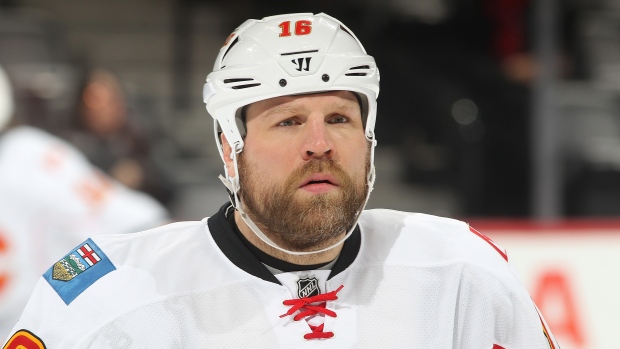 Hockey has dodged another bullet.
A helmetless Brian McGrattan survived a face-first fall to the ice Tuesday in an AHL fight.
Common sense says that eventually a hockey player will not - and the sport will have blood on its hands again.
Until fighting leads to automatic ejection at its highest levels, hockey will have no alibi if or when somebody else dies. Hockey has already lost one man (that we know of), Whitby, Ont., senior player Don Sanderson. But from a global hockey perspective, the 21-year-old died in vain. His death in 2009 didn't result in a seismic shift in how fighting is viewed or regulated.
The game, however, has forced a shift. It is now almost too good to accommodate fighting. Almost.
There has been major progress – notably the NHL finally ruling players cannot take helmets off in fights. Fisticuffs are on a precipitous decline, falling 50 per cent over the past seven NHL seasons.
But can hockey at large afford to wait for nature to take its ultimate course?
It has long been argued the only way fighting will essentially disappear is through evolution - not revolution. In other words, acceptance of a game without fighting has to come organically, not through some clumsy mechanical intervention or decree.
All that makes abundant sense, but hockey evolution needs a nudge. A push.
Until hockey and its guardians at all levels – including the unions and officials paid to protect players in all manner of ways – are prepared to follow the IIHF's lead and punish fighting with ejection, those leagues will be complicit if a fatality or catastrophic injury occurs.
Fighting remains deeply entrenched in hockey culture.
Nobody batted an eyelash Monday when Florida's Erik Gudbranson exacted revenge on Edmonton's Matt Hendricks for his dirty hit on teammate Aaron Ekblad. It was a staged fight that everybody – including Hendricks - knew was coming. The Oiler lived by the code and accepted his fate with Gudbranson. The NHL should have been white-knuckling it in the situation room as the 6-foot-5, 216-pounder pounded Hendricks, whose helmet and visor (thankfully) remained in place throughout the one-sided fight.
It's hard to fathom a major sport – whose reason for existence is not fighting in and of itself – continues to accept fighting as part of its fabric in 2016.
There is something oddly fitting about the McGrattan fight occurring on the same day the NHL announced a player who has three times as many career professional fights (73) as regular season points (24) will captain the Pacific Division all-star team.
The NHL, of course, wants no part of John Scott and the image he projects, but the fact it has failed to entirely wash out players of Scott's ilk makes them party to it.
McGrattan, who has 245 career fights in OHL, AHL and NHL, according to hockeyfights.com, tweeted Wednesday morning that he is okay and we are grateful for that: "Thanks for all the msgs. Everything is fine. i am not dead and will be back shortly!! Been around a long time and know the risks!!"
One of the last times we saw a frightening image like that of McGrattan lying face down, motionless on the ice, was in 2013 when George Parros lost a fight to Colton Orr.
This is what Tampa Bay GM Steve Yzerman told TSN's Darren Dreger in a follow-up story: "Yes, I believe a player should get a game misconduct for fighting. We penalize and suspend players for making contact with the head while checking in an effort to reduce head injuries, yet we still allow fighting. We're stuck in the middle and need to decide what kind of sport do we want to be. Either anything goes and we accept the consequences, or take the next step and eliminate fighting."
Then-Carolina Hurricanes' GM Jimmy Rutherford added: "We've got to get rid of fighting, it has to go."
These were hockey lifers saying this. We should listen.