Holtby earns shutout as Caps blank Oilers
Dmitry Orlov scored with 6:32 left in the third period, Braden Holtby made 33 saves and the Washington Capitals edged the Edmonton Oilers 1-0 Monday night.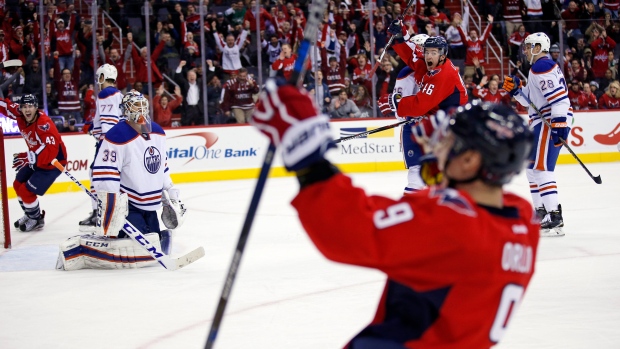 WASHINGTON - Dmitry Orlov scored the only goal but the Washington Capitals credited Braden Holtby with their victory Monday night.
Holtby made 33 saves, Orlov scored with 6:32 left in the third period and Washington edged the Edmonton Oilers 1-0.
Capitals coach Barry Trotz said his team was often inconsistent in front of Holtby.
"He absolutely deserved the shutout," Trotz said. "He's been one of our top players all year. Tonight he was by far our best player. There wasn't even anybody in the same universe as him."
Holtby made a number of tough stops on a night when Washington needed some help because its offence wasn't as effective as usual. He came up with several good glove saves that frustrated the Oilers, who generated some good scoring chances at times as they outshot the Capitals 33-30.
The Capitals also helped Holtby with 19 blocked shots, including nine in a first period when the Oilers pressured Washington on occasion.
"That's the key — if I can see it, then it's my job to stop it," Holtby said. "Not our strongest game, but we battled through. Shutouts only matter if it's 1-0 like it was so, yeah, it's a good night to have it."
Tom Wilson started the game-winning play by coming up with a puck in the right corner. He quickly sent it across the ice to Orlov, who fired a high slap shot past goalie Anders Nilsson from the left circle.
Orlov agreed these two points were thanks to Holtby.
"I think it's his win," Orlov said. "They're good offensively, so we needed to be ready and Holts played unreal."
Brooks Laich also got an assist as the Capitals won their second consecutive game. Washington increased the pressure on offence in the third, registering 15 of its 30 shots after Edmonton had kept the Capitals quiet before that.
Nilsson finished with 29 saves and turned in a second straight strong performance. He made 19 saves in last Friday's 5-1 victory at New Jersey that started Edmonton's five-game Eastern swing.
This game was much different from the one played on Oct. 23 in Edmonton when the Capitals earned a 7-4 victory. There wasn't nearly as much offence, as both teams got better performances on defence and in goal.
In fact, neither team could generate much offence in the first two periods, and Edmonton came up empty on a 4-minute power play. Washington centre Nicklas Backstrom got a double-minor for high-sticking midway through the second period, but the Oilers could not score on their four shots.
Both teams missed on breakaways — the Oilers failed to convert on a two-on-none — about 8 minutes into the third before Holtby robbed Edmonton defenceman Eric Gryba on a quick glove save with 11:46 left.
"We didn't get the points but I think we've improved from a month ago when we played against (Washington)," Edmonton coach Todd MacLellan said. "The points are very, very important in the standings, but the growth and the development of the team is just as important. I think we lost the points but grew as a team."
NOTES: The Capitals had scored at least four goals in seven of their last 10 games against the Oilers. ... Washington improved to 9-1-1 in its last 11 home games against Edmonton. ... It was the second and final meeting between the teams this season. ... Edmonton defenceman Justin Schultz (back) missed his 12th straight game but is expected to return soon.