Horvat scores two, Canucks beat 'Canes
Bo Horvat scored his second goal of the game with 66 seconds left in regulation as the Vancouver Canucks defeated the Carolina Hurricanes 3-2 on Wednesday night.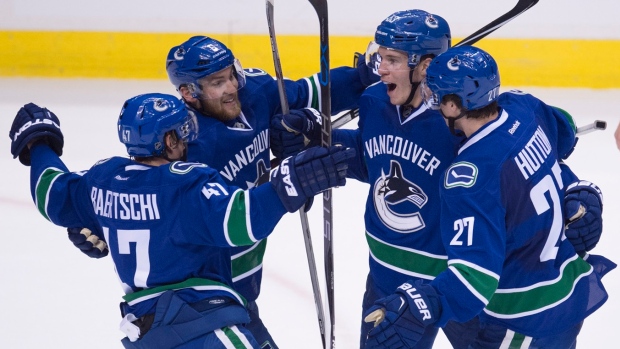 VANCOUVER - Bo Horvat couldn't have been happier to see the calendar flip to 2016.
The second-year centre scored twice, including the winner with 66 seconds left in the third period, as the Vancouver Canucks defeated the Carolina Hurricanes 3-2 on Wednesday night.
Horvat, who had gone 27 games without a goal before scoring in Monday's 3-2 loss to Arizona, took a pass in the slot from Sven Baertschi on a power play and fired home his fifth of the season with Carolina defenceman Jaccob Slavin off for delay of game.
"It boosts your confidence quite a bit," said Horvat. "To get two of them tonight and help the team win, definitely it's pretty satisfying."
Baertschi added a goal for a two-point night of his own, while Jacob Markstrom stopped 26 shots in his sixth straight start for the Canucks (16-16-9) with Ryan Miller out injured.
Jordan Staal, with a goal and an assist, and John-Michael Liles replied for the Hurricanes (16-18-7), who got 18 saves from Eddie Lack in his return to Vancouver.
"That's how it goes sometimes," Lack said of the winner. "We're really working hard on our penalty kill and getting better and better. It was a good play by them and a good shot by Bo."
Vancouver's power play has struggled recently, going just 1 for 26 before Horvat's second goal of the night, and wasted a two-man advantage for 41 seconds early in the third.
"I thought we showed some resilience after we didn't score on the 5-on-3," said Canucks head coach Willie Desjardins. "It was good to see we got one on the power play late. We battled back."
A fan favourite in Vancouver before getting dealt to Carolina at the draft when the Canucks decided to go with Miller and Markstrom as their goaltending duo, Lack stopped Horvat on three great scoring chances in the first period.
"I didn't think it was ever going to go in for me," said Horvat. "(Lack) played well tonight."
But he couldn't stop his former teammate a fourth time as Horvat scored his first of the night by cutting in off the wing at 7:15 of the third to give Vancouver a 2-1 lead.
Carolina got that one back with exactly eight minutes left in regulation when Staal jumped on a loose puck off a broken play and snapped his eighth of the campaign before the Canucks won it late.
"Tough ending for sure," said Hurricanes head coach Bill Peters. "Tough penalty to take and tough way to end the game."
After registering just two shots in the first, the Hurricanes put in a much better effort in the middle period and grabbed the lead while shorthanded at 8:02 on a shot that Markstrom wanted back. Staal stole the puck at the Carolina blue line and moved into the Vancouver zone before feeding Liles, whose weak shot fluttered under Markstrom's glove for his second of the season.
"I just misread it completely," said Markstrom.
The Canucks replied with 2:21 left in the second thanks in part to a bad Hurricanes' line change. Adam Cracknell floated a pass up to Baertschi — who returned to the lineup after missing the last two games with a neck injury — and he beat Lack over the glove for his sixth.
"Our guys battled back huge," said Markstrom. "I've just got to buy dinner for Baerts and Bo."
Horvat had an good opportunity to open the scoring on a partial breakaway less than four minutes into the first, but Lack was there with a poke check. Horvat had another break later in the period only to see Lack again close the door.
Jared McCann and Ben Hutton then found iron behind Lack on shots that stayed out before Horvat saw the Carolina goalie thwart his third chance of the period to keep things scoreless.
"I wanted it," Lack said of being back in the city where he played two seasons. "Obviously when I come back like this I wanted it, and it's really tough losing it with a minute to go."
---
Follow @JClipperton_CP on Twitter