How Crosby's dominance among NHL players remains unparalleled
Sidney Crosby is top of the TSN polls for a fifth straight year - reaffirming his status as the best hockey player in the world. Crosby was the overwhelming choice as the NHL's No.1 player in balloting by a selection of league general managers and coaches and TSN experts. The Penguins' captain received 85 per cent of first place votes. Crosby, chosen first overall in the 2005 NHL Entry Draft, has been chosen first overall all five years of the TSN Top 50 Players poll. He was the 2013-14 Art Ross Trophy, Hart Trophy and Ted Lindsay Award winner, marking the second time in his nine-year NHL career he swept the three highest regular season honours.
Steve Dryden, Sr. Managing Editor, Hockey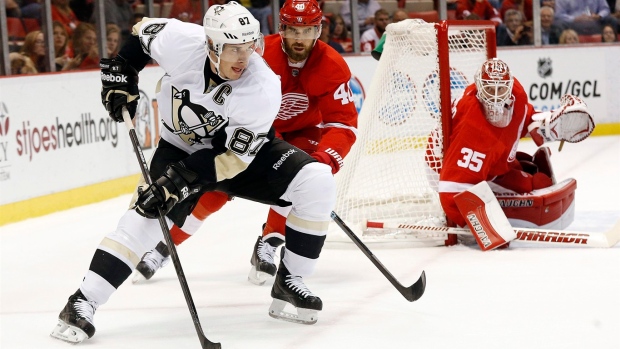 A challenge to Sidney Crosby's supremacy seemed within the realm of possibility when ballots went out for voting on TSN Hockey's Top 50 this year.
Sure, Crosby was the big individual regular season winner in 2013-14 but it was conceivable that consecutive (and disappointing) playoff exits could diminish the Pittsburgh centre's greatness, however slightly - and leave an opening in voters' minds for a rival to wedge in and earn serious consideration.
Didn't happen.
Eighty-five per cent of voters on a panel of NHL coaches, general managers and TSN experts named the 2013-14 Art Ross Trophy, Hart Trophy and Ted Lindsay Award winner No. 1 on their ballots. It was a rout again – he earned 88 per cent of No. 1 votes in 2013 - making it five straight years Crosby has been voted the world's best player in the TSN poll.
Only Chicago Blackhawks centre Jonathan Toews kept it from being unanimous.
There is but one conclusion. Crosby remains unparalleled, if not unstoppable – witness five pointless games in a seven-game second round playoff loss to the New York Rangers – with the latter saying less about No. 87 and more about the lack of Pittsburgh's depth and extraordinary depth of competition in today's game.
Entering his milestone 10th NHL season, Crosby has never scored at less than a 100-point full-season pace and is fourth all-time in points per game (1.40). Joining him in the top five are Wayne Gretzky (1.92), Mario Lemieux (1.88), Mike Bossy (1.50) and Bobby Orr (1.39).
If the measure of a hockey player is the company he keeps, then Crosby belongs among the pantheon of all-time greats.
The faces of the game have followed a clear lineage since the start of the 20th century: Frank McGee, 'Cyclone' Taylor, Howie Morenz, Eddie Shore, 'Rocket' Richard, Gordie Howe, Bobby Hull, Orr, Guy Lafleur, Gretzky, Lemieux, Jaromir Jagr and now Crosby.
The only recent blemishes for Crosby have been unproductive post-season finishes against Boston in 2013 and the Rangers in 2014. But he remains, in the minds of most, the most dangerous player on the planet. That includes the playoffs, where he stands sixth all-time in points per game (1.20) behind Gretzky (1.84), Lemieux (1.61), Messier (1.25), Orr (1.24) and Bossy (1.24).
Toews was the only other player to receive No. 1 votes and he placed second in balloting, improving upon his No. 3 ranking in 2013. The Chicago superstar – who was actually used more than Crosby during Canada's gold medal run in Sochi - is the consummate captain and champion, winning two World Junior Championships, two Stanley Cups and of course, two Olympic gold medals.
Steven Stamkos, meanwhile, continued his inexorable climb up the rankings, moving from No. 10 (2010) to No. 6 (2011) to No. 4 (2012 and 2013) to No. 3 this year. It may be Stamkos and not Toews who eventually supplants Crosby. At No. 4 is Ryan Getzlaf who has scored more points than anyone but Crosby since a dreadful 2011-12 season. And at No. 5 is two-time Cup champ and analytics darling Anze Kopitar who made the year's most significant breakthrough, rising from No. 18 in 2013.
Completing the exclusive group are centre Evgeni Malkin (No. 6), who trails only Crosby in regular season and playoff points per game since 2005-06; defenceman Drew Doughty (No. 7), who based on Stanley Cup and Olympic performances, is the game's best big game blueliner; rearguard Shea Weber (No. 9), the NHL's leading goal-scorer from the blue line since entering the league in 2005; and right winger Patrick Kane (No. 10), who earns as many style points as actual points for the works of art he creates on ice.
Here are 10 more takeaways from TSN Hockey's Top 50:
1. NHL goal leader Alexander Ovechkin, who ranked No. 2 the first two years of the poll, is at No. 12 this season.
2. Jamie Benn experienced the biggest rise in the rankings, moving 22 places from No. 37 to No. 15.
3. Henrik Lundqvist is the top-ranked goalie at No. 16 and only netminder to make the list all five seasons.
4. First Team All-Star Zdeno Chara (No. 6 to No. 23) and Eric Staal (No. 28 to No. 45) experienced the biggest falls from grace, dropping 17 places.
5. Phil Kessel, whose 94 goals over the past three seasons rank fourth, moved to No. 38 from No. 43, but third-leading scorer Corey Perry (95 goals) is at No. 14.
6. Four players named to the previous four Top 50 lists were voted off the list: 30-year-old Rick Nash, 34-year-olds Henrik and Danel Sedin and 39-year-old Marty St. Louis.
7. Only six of 30 teams are not represented: Calgary, Vancouver and Winnipeg, along with Buffalo, Florida and New Jersey.
8. Chicago and Boston have the highest representation with five players each. Colorado boasts a league-high three players on the list who are 23 or younger - Matt Duchene (23), Nate MacKinnon (19) and Gabe Landeskog (21) – plus goalie Semyon Varlamov (26).
9. Eight players earned Top 50 status for the first times in their careers – including 30th-ranked Tuukka Rask and Kyle Okposo at No. 50.
10. Missing the cut by one at No. 51 is St. Louis Blues captain David Backes.