How DeBoer is deploying his embarrassment of riches
The underlying numbers show Sharks coach is already taking full advantage of the addition of superstar defenceman Erik Karlsson, Travis Yost writes.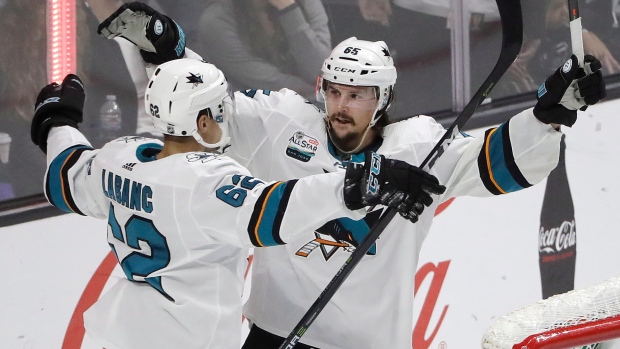 One of the prevailing questions heading into the 2018-19 regular season concerned the San Jose Sharks and how they would assemble their lineup with the addition of superstar defenceman Erik Karlsson.
The Sharks adding such a weapon right before the open of the season surely sent shockwaves through the NHL. The league already was flush with Stanley Cup contenders ­– Tampa Bay, Toronto, Washington, Pittsburgh, Winnipeg, Nashville and Vegas already had rosters in place to seriously chase down hockey's most coveted trophy. The last thing any of those teams needed was another organization getting on equal footing. By the early looks of it that's precisely what has happened.
San Jose split their opening two games – a 5-2 loss against Anaheim in the opener, followed by a 3-2 victory against Los Angeles at Staples Center. But the underlying numbers are much more convincing, particularly at 5-on-5.
In their opening pair of games, San Jose has outshot the competition 121 to 61 – a whopping 67 per cent of the shots. And expected goals, which take into account both shot volume and shot quality, have San Jose at around 65 per cent. (Another way of saying this: San Jose owned the puck against two playoff contenders.)
Like Toronto in the East, I've been following San Jose closely to try to understand what head coach Peter DeBoer would do with his lineups. A lot of the focus there had been on how he would assemble the defensive pairings. But I was also curious about which pairings would match up with his three scoring lines.
From a simple deployment perspective, this is what DeBoer attempted over the first two games:
There are a few takeaways here. Clearly San Jose could 'front load' their forward group and create a couple of truly terrifying lines, but DeBoer is trying a more balanced approach. That means Evander Kane – who already has a pair of goals – gets to be the point-man on his line, and guys like Timo Meier and Kevin LaBanc are being pushed into minutes with a bunch of stars. DeBoer has also really balanced the usage of his top three lines – more on that in a moment.
On the defensive side, he's stuck with Marc-Edouard Vlasic and Erik Karlsson as a unit. I suspect that, regardless of natural ebb and flow over the course of the season, DeBoer will use most of the regular season to get these two guys as comfortable with one another as possible.
It's probably the best defensive pairing in the league – you can make the argument that the unit has the best offensive defenceman and best defensive defenceman on the same unit. That's meant Brent Burns anchoring the team's second pairing, where he's seen some time with both Justin Braun and Joakim Ryan.
From a usage perspective, the minutes appear very balanced. I think depth was a real issue for San Jose last year relative to some of the other Cup contenders like Winnipeg, Nashville, and Vegas, so I'd be surprised if DeBoer didn't take full advantage of the deepening of his lineup. Through the opening pair of games, minutes are clustered nicely: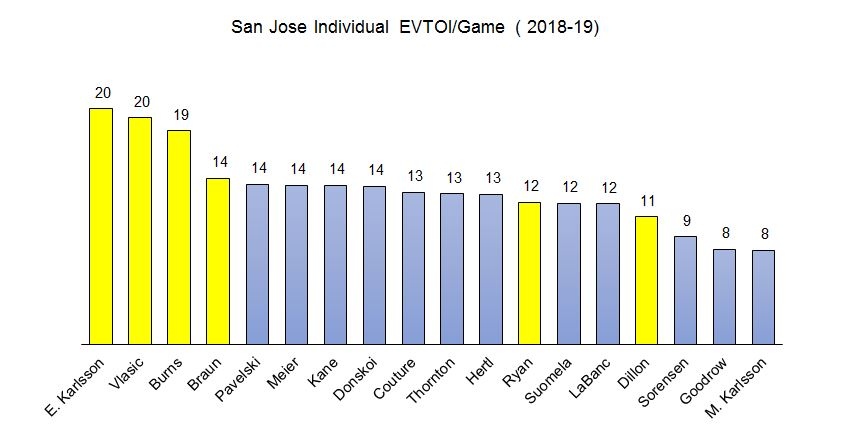 Karlsson, Vlasic, and Burns have interchangeable ice time and it's fair to say that San Jose's top four are really "1A" and "1B" first pairings. But look at the balance between the forward groups! San Jose's top nine have basically played the same exact number of minutes at 5-on-5 together, with DeBoer just rolling from one unit to the next. I would expect this trend to continue for the year.
Digging further into this, I wanted to see what lines and pairings were matching up with one another over the course of the game. Since we know that there are effectively two pairings here – the Karlsson unit and the Burns unit – we can easily look at ice time together.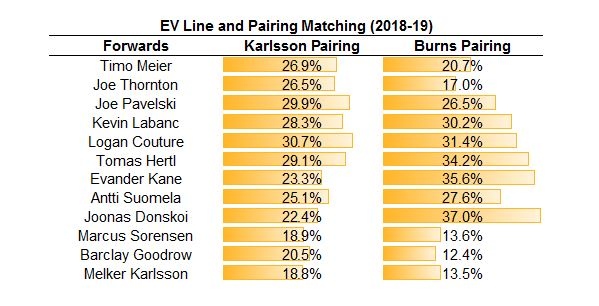 I suspect these results will get more interesting as the season rolls on but you can certainly see that Karlsson/Vlasic appear to be the anchors behind the Joe Thornton line, which means that Burns and company will get some softer, more offensive-friendly minutes playing with the team's middle-six lines. It's hard not to notice that more than one in every three shifts for Burns has meant playing with the likes of Kane and his unit, which could be a pretty deadly combination against weaker competition.
Either way, it's an embarrassment for riches for DeBoer and the rest of the coaching staff. They have three scoring lines, two high-end defensive pairings and enough depth on their fourth line and third pairings to cause problems for most teams. Despite the 1-1 record to start the year, San Jose looked decisively better than both of their California foes.
Two games aren't evidence of much just yet, but there's certainly enough in those limited minutes to start teasing out patterns and effectiveness. So far, everything is looking good for a Sharks team that appears to have reopened a Stanley Cup window.