How often will Penguins pair Crosby and Malkin?
Every time Penguins stars Sidney Crosby and Evgeni Malkin have been used on the same line, the ice immediately tilts in Pittsburgh's favour, Travis Yost writes.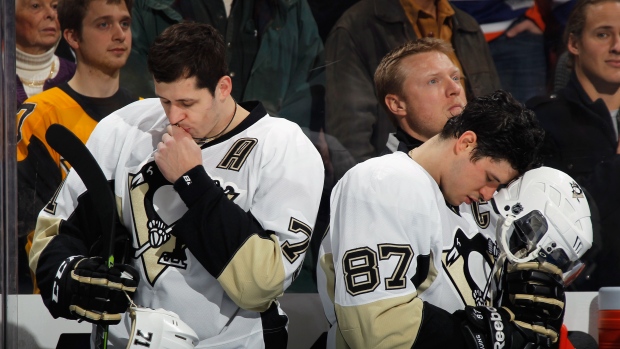 If you pay even casual attention to the NBA, you likely have heard about Golden State's famed "death lineup." It is, for all intents and purposes, the group of five players Warriors head coach Steve Kerr goes to when his team is in need of a big run.
There are a number of reasons the group has been successful, but their performance is the result of throwing traditional basketball lineup concerns aside to put a bunch of super talented players on the court at the same time. Any limitations Golden State's five-man unit might have – height being one of them – is offset by the poison pill other teams have to swallow when trying to defend against their attack. With so much skill spread around the court, defences are forced to vacate certain areas of the floor in order to apply pressure to what they perceive to be the most concerning element of attack. But generally, closing that one door means opening two others, and before you know it, the Warriors are polishing off another massive scoring run.
In the NHL, I've been thinking a bit about how this Stanley Cup final will play out. It's funny, but the San Jose Sharks and Pittsburgh Penguins really are quite similar – there is skill scattered throughout their lineups, and the question marks (bottom defence pairings and goaltenders, the latter if only because of the relative lack of experience) essentially cancel each another out. It's made me wonder which team is going to throw out the first adjustment, and what that adjustment should be.
Watching the Penguins storm through the Eastern Conference, I wonder if that adjustment comes in the form of intermittently uniting Sidney Crosby and Evgeni Malkin on the same line. At the very least, it'd be the closest thing the NHL could put forward as their version of the death lineup.
It's worth pointing out that Pittsburgh head coach Mike Sullivan has gone to this well a bit in the playoffs, and though they've only logged a couple dozen shifts together, they've absolutely dominated.
This, of course, isn't surprising. We have seen tiny pieces of this in prior years, with the likes of Chris Kunitz and Jussi Jokinen as the third man with the two stars. More recently, that role has gone to the likes of Patric Hornqvist and Phil Kessel.
Every single time Malkin and Crosby have been dropped on the same line, the ice immediately tilts in Pittsburgh's favour. But don't take my word for it – just look at how all of the key performance metrics fall in Pittsburgh's favour when the dynamic duo is assembled. We'll use Corsi% and ExpectedGoal% to illustrate the advantage due to the minute limitations for some groups.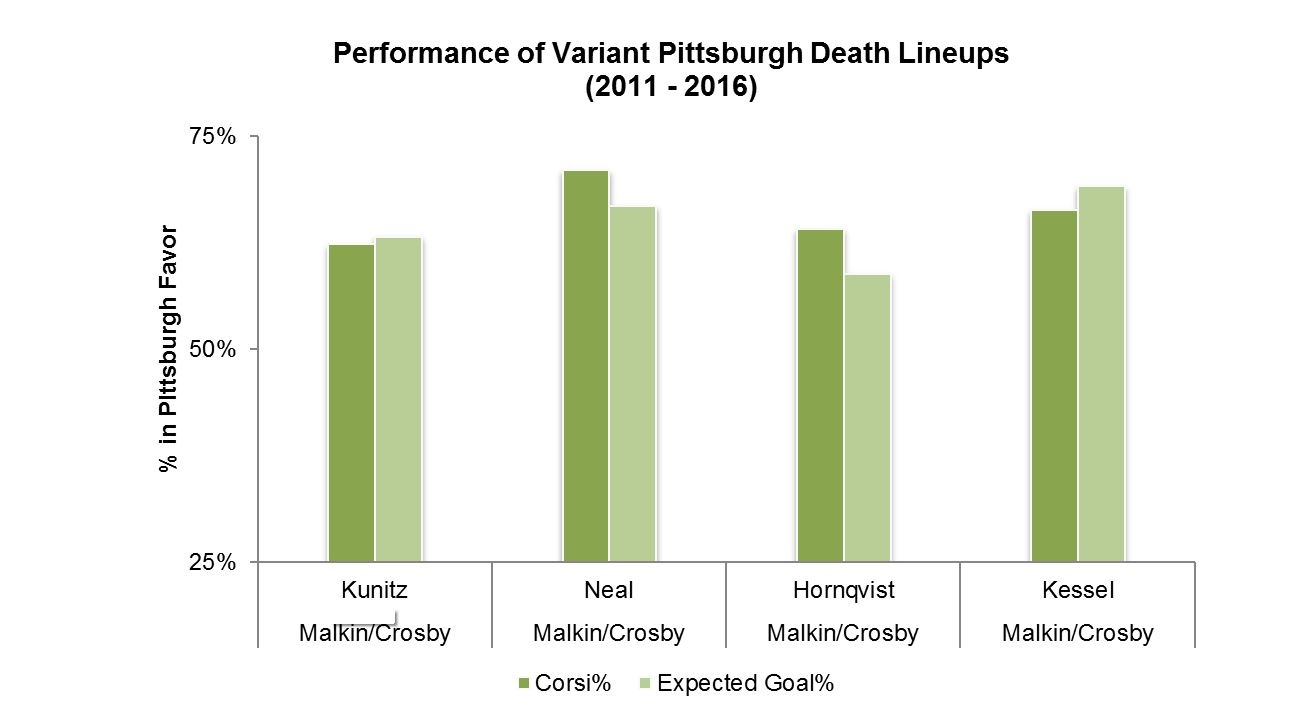 Fifty per cent would indicate that every shot generated in Pittsburgh favour would be met by a shot in the opposition's favour. Every percentage point you move north of that break-even line means the ice tilts incrementally in favour of Pittsburgh.
No matter who the third forward is (though it's generally been someone that anyone would consider top-six calibre or better), the Penguins aren't just winning the territorial battle – they're absolutely drilling the competition to a degree we rarely see. When your opponent is giving up about 70 per cent of the raw shots or the shots adjusted for shot quality, there's little hope in keeping your team off the scoreboard. That's just reality.
So, yes, little doubt in my mind that any combination of Malkin/Crosby/Player X would and will create the NHL's death lineup. Still, there are important questions for Sullivan to consider. At what point in games does the Crosby/Malkin combo become a real option, and where do you draw the line? It's understandable that these two generational talents haven't played much together, given that hockey fundamentally incentivizes teams to spread talent across their lineups. But one would imagine that in any instance where Pittsburgh is chasing a lead (let's call it down a goal or more in the third period), the idea could be visited. When time becomes your enemy, you become less risk averse, and subsequently less worried about what happens down the rest of the lineup.
The other question directly corresponds to this matchup. San Jose is a tremendously talented opponent but no one, not even Sharks coach Peter DeBoer will tell you that his team's success is driven from the bottom-up. The Sharks have made a living tormenting teams with their Joe Pavelski-Joe Thornton-Tomas Hertl trio. To date, no team has been able to create the requisite talent grouping to slow this unit down.
When Pittsburgh has home ice and can hard match against that unit, does it make sense to play the likes of Crosby and Malkin together? It's certainly an interesting question – one I'd give some serious thought to as this series develops.