How score effects become more pronounced in the postseason
Leafs Nation is currently searching for any reason to hope.
The opening games in Boston were, in a word, disastrous. Toronto looked outclassed on special teams. They couldn't clear anything in front of the net. Frederik Andersen couldn't buy a save and backup Curtis McElhinney, on in relief, wasn't any better.
Perhaps of greatest concern is the way Boston's vaunted top line ran roughshod over anything Toronto threw their way. Through Game 2, they are averaging nearly 100 shots per-60 minutes at even strength, which is absolutely mind-blowing and easily the best number observed this postseason.
The only saving grace is that Toronto is headed back home and the series might still be salvageable. If you believe the old adage that a series isn't in doubt until a home team loses, then Toronto – at least for a day – still has some breathing room.
But there's no doubt that the first two games for the Leafs were frustrating beyond words. This was a team that looked fantastic all regular season, regardless of competition. Both clubs were dominant in the regular season and differentiating in performance between the two was a nearly impossible task.
Toronto came in the superior offensive team with an outrageously good power play. Boston came in with a bit better balance, and certainly better on the defensive side. For all of these reasons (and more), I would argue that Toronto isn't dead in this series just yet.
One point I do want to challenge though is something I saw floated over the weekend. Ten people will give you 10 different answers on what they saw, but an awful lot of people seem to think that the games were very competitive – and that, for one reason or another, the score just didn't reflect it.
It's probably true that the score wasn't kind to Toronto. After all, the goaltending has been non-existent, and that alone can make a competitive team look uncompetitive in a hurry. (Ask the 2015-17 Carolina Hurricanes about this.)
But one thing that cannot be glossed over is just how impactful score effects are. Score effects are a known phenomenon by now. Teams with leads tend to sit back and protect defensively, trading in offensive opportunities for net-front protection and a more conservative game. Trailing teams tend to get more aggressive, trading in defensive protection for increased offensive zone opportunities.
We see this time and time again in the regular season, and it's one of the big reasons why we score adjust all our preferred statistical measures, including goals, scoring chances, and shot attempts.
The playoffs, though, are score effects on steroids. Teams will get ultra-aggressive or ultra-conservative in a hurry, and as leads expand, teams will throttle accordingly. Consider, for a minute, the raw goals, shots, and scoring chances at 5-on-5 for Toronto and Boston in the first two games of the series:

Anyone looking at this might reasonably conclude that these games were incredibly close, and that the percentages – shooting percentage, save percentage, or both – killed Toronto in the end. But the issue here is that we aren't properly accounting for the fact that Boston had a multi-goal lead for about half of Game 1. Game 2 was even worse. Boston had a two-goal lead after 10 minutes and a four-goal lead after 15.
This fundamentally changes how teams play. Whether it's human behaviour, coaching strategy, or a combination of variables, we know that score effects will impact these measures. And that only gets more pronounced during the postseason.
Perhaps the truest form of performance is with the score tied. There is no obvious incentive to play a different style with the scoreboard locked, but there is as soon as the goals become disparate. Below, you'll find just how variant performance gets – I calculated true score-tied, score-leading, and score-trailing performance for each of our performance measures in every single game from the past three regular seasons. Then I repeated the exercise for the playoffs.
Here's how it changes: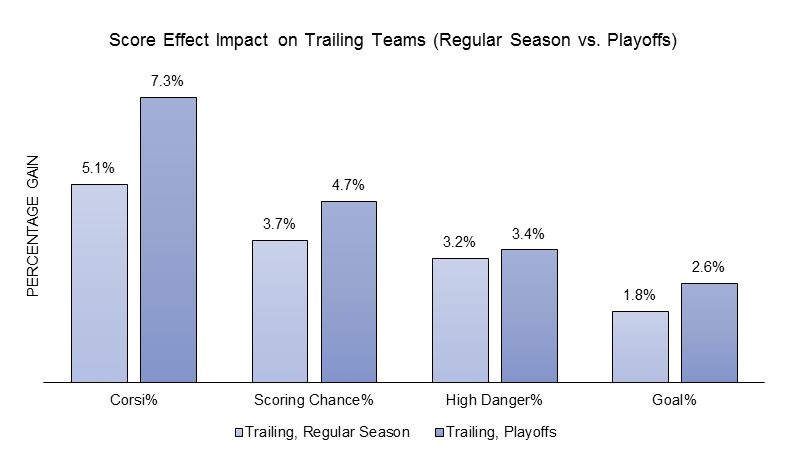 What does this say? Let's start with Corsi% as one example. A 50 per cent Corsi% team normally would expect to be about a 55.1 per cent Corsi% team when trailing in a game during the regular season. That's a big jump. But in the playoffs, that same team would expect to be about a 57.3 per cent Corsi% team. That's a 43 per cent delta from the regular season to the playoffs!
And, as you can see, it's generally true for any measure. Scoring Chance% increases by 28 per cent. Dangerous shot attempts by 6 per cent. And goals by 39 per cent. So whichever measure you prefer, know that scoring effects are demonstrably more pronounced.
That's what makes analyzing playoff games like the two Toronto and Boston just played so difficult. There weren't normal game swings. The games weren't competitive in any way, which makes it increasingly difficult to say if the good moments Toronto has had in the series were a product of anything other than Boston sitting back and playing a much more conservative game.
That doesn't mean that Toronto is out of it. Again, the Leafs possess one of the league's deadliest offences and will now play two games on home ice. All of the evidence we have from the regular season suggests Toronto is one of the league's better teams. If they can get any sort of goaltending (or, perhaps, try to stay out of the penalty box), there's a chance they can get back into this series.
That's easier said than done against this Boston team.