Panthers beat Capitals for first win of season
Jonathan Huberdeau had a goal, two assists and the shootout winner as the Florida Panthers recovered after giving up a three-goal lead in the second period and beat the Washington Capitals 6-5 on Friday night for their first victory of the season.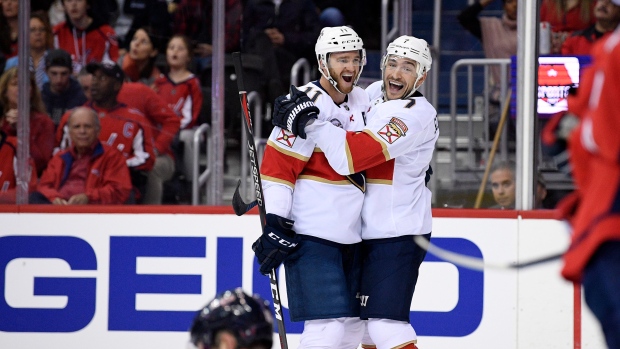 WASHINGTON — A dominant first period and a three-goal lead had the Florida Panthers feeling a little too good about cruising toward their first victory of the season.
"You feel comfortable, but I think we can't feel too comfortable," forward Jonathan Huberdeau said.
The Panthers blew that lead and allowed the tying goal with 85 seconds left in regulation before Huberdeau scored the shootout winner to beat the Washington Capitals 6-5 on Friday night and end a four-game season-opening skid.
Huberdeau and Vincent Trocheck each had a goal and two assists and scored in the shootout to give Florida a badly-needed boost.
"We needed to get into the win column," Trocheck said. "We definitely needed that win and, hopefully, the floodgates will open now."
Florida has been a team of floodgates this season, scoring and allowing three consecutive goals for the second game in a row. This time, they went from a 1-all tie to up 4-1 on goals by Evgenii Dadonov, Colton Sceviour and Jared McCann and lost it when Washington's Brett Connolly, Jakub Vrana and Devante Smith-Pelly all beat James Reimer in a span of less than 12 minutes.
In a wacky, back-and-forth game that became a battle of backup goaltenders, the Panthers got the one or two saves and the production they needed to get over the hump. Michael Hutchinson stopped 10 of the 11 shots he faced in regulation and overtime and made a couple of more saves in the shootout, and shootout goals by captain Aleksander Barkov, Trocheck and Huberdeau sent them home happy.
"It's a sense of relief, for sure," said Huberdeau, who scored a 5-on-3 power-play goal with 50.2 seconds left in the second period that gave Florida a 5-4 lead. "Being so close every game to get a win, now we finally got it, the first one."
The first one could have come in regulation, but Nicklas Backstrom scored a 6-on-4 goal on the power play with backup Pheonix Copley pulled for the extra attacker and 1:25 left in the third. Getting to overtime allowed the defending Stanley Cup champions to salvage a point from a rough, inconsistent effort.
"We were like two different teams the first period and then the rest of the game after that," Capitals centre Lars Eller said. "There was a lot of good stuff and some bad stuff we've got to correct."
Washington starter Braden Holtby got the hook after allowing four goals on 11 shots in the first period, including Trocheck's 9:11 in that went in off Eller's skate. Much like that goal, Holtby was hardly to blame as the victim of some inexplicable turnovers by his teammates.
The move to Copley to start the second and some line-shuffling by coach Todd Reirden sparked the Capitals, who beat Reimer four times on 20 shots to send him to the bench. Copley stopped 18 of 19 shots to help the comeback, which was as much a sign of the Panthers' maddening up-and-down play as anything else.
"That snowball effect again — we got rolling and shot ourselves in the foot a little bit," Florida coach Bob Boughner said. "But we found a way to win tonight. We talked about winning the first game and how good it's going to feel, get the monkey off our back a little bit. Now I think we can move ahead. It would've been tough losing that game."
NOTES: Panthers D Mark Pysyk left the game in the second period with an upper-body injury after taking a hit from Alex Ovechkin and did not return. Boughner said Pysyk was still being evaluated. ... F Dmitrij Jaskin returned to the Capitals' lineup, replacing Nathan Walker.
UP NEXT
Panthers: Get defenceman Mike Matheson back from his two-game suspension when they return home to face the Detroit Red Wings on Saturday.
Capitals: Begin a three-game Western Canadian road trip at the Vancouver Canucks on Monday before visiting Edmonton and Calgary.
___
Follow AP Hockey Writer Stephen Whyno on Twitter at https://twitter.com/SWhyno
___
More AP NHL: https://apnews.com/tag/NHL and https://twitter.com/AP_Sports