Huitema excited for chance to play at home
B.C. teen has already made her mark as a member of Canada's women's national soccer team. Now she's set to experience her first taste of the Canada-USA rivalry at home in Vancouver.
Meaghen Johnson, Special to TSN.ca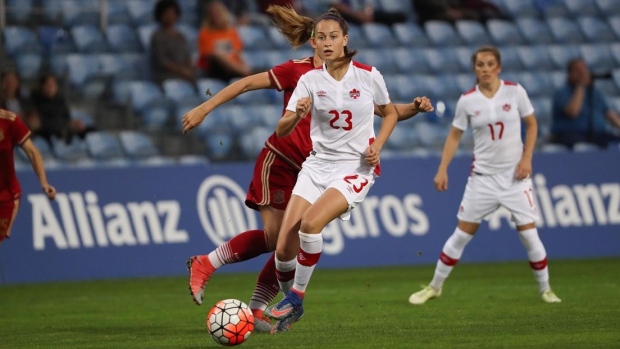 Seventy-six minutes, four matches, two goals, one unforgettable year.
It's been a remarkable 2017 for Jordyn Huitema. At just 16, she's made the jump to Canada's women's national soccer team, and it doesn't look like she's going anywhere anytime soon.
Huitema made her senior team debut this past March as a 15-year-old, starting in the final of the Algarve Women's Cup. Three months later, she scored her first two goals for Canada in a friendly against Costa Rica. She also became the first player to score for Canada's under-17, under-20, and senior women's national teams in the same year.
While 2017 has been full of personal milestones, Huitema downplays her achievements.
"I don't see a substantial difference," she told TSN about the development of her game. "No player can see a jump that big. Definitely the women around me have helped me take that stride. You don't see giant leaps, but I think that the work behind the scenes and everything I've been putting in has kind of contributed to where I am now."
Now, Huitema is set to experience her first taste of the Canada-USA rivalry, as the teams face off in a pair of friendlies. The first game goes Thursday, live on TSN1 (10 p.m. ET, 7 p.m. PT). The Chilliwack, B.C. native is also set to play her first game at home in Vancouver, with a crowd of more than 27,000 expected at BC Place.
"I'm excited, especially to represent your country in front of your home crowd. It's an incredible feeling," she said. "Honestly, the fans don't understand how much they contribute. The fact that we're getting 25,000-plus people coming in – they're like the 12th player. It's just electrifying to hear them, and knowing they have our back."
Huitema was just 14 when she was first invited for evaluation at the national team's training camp. She has been developing with the Whitecaps FC Girls Elite program for two years, and last month she won the Whitecaps' Most Promising Player of the Year Award.
A lot of expectations are already being thrust on the teenager, much like another young Canadian soccer player: Alphonso Davies for the men's national team. As a forward, Huitema has all the necessary attributes to excel: speed, skill and size (at nearly six feet, she towers over many of her teammates).
Earlier this year, head coach John Herdman said Huitema is "one of the closest things" he has seen to Christine Sinclair (and added wryly: "No pressure.") While Huitema appreciates the comparison, she knows she has a long way to go.
"Everyone says things about Christine and I, but honestly, I believe in my heart that I can't be compared to her, especially at this moment in time," Huitema said. "I feel that there's so much that I have to do to even have our names compared."
Like many of the young women currently on the roster, Huitema grew up with the 34-year-old Sinclair as her role model. Now, she gets to play by her side. Has she gotten used to being her idol's teammate?
"No. Not at all," she laughs. "Every day I just sit back and watch her do her thing. It's just mesmerizing. Her tactical awareness and just her soccer smarts is insane. You can tell she's put in so much work to get to where she is. It hasn't just come naturally, and it's not just luck. It's dedication and it's hard work.
"I don't think I'll ever get to the point where she'll just be a teammate. I think I'll always be starstruck when I'm around her."
After the two friendlies against the Americans, Huitema will turn her attention to the CONCACAF Under-20 Women's Championship in January, with the top three teams qualifying for the 2018 FIFA Under-20 Women's World Cup.
Next year, the national team will begin its qualification for the 2019 FIFA Women's World Cup in France.
Despite a busy and promising future, Huitema is keeping her focus on the present.
"For me, it's just taking it day by day and step by step, continuing to work hard and just seeing where it takes me."