Friendlies against U.S. will provide glimpse of the future for women's national team
Head coach John Herdman is using the series to give young players a taste of an intense rivalry on the big stage, Meaghen Johnson writes.
Meaghen Johnson, Special to TSN.ca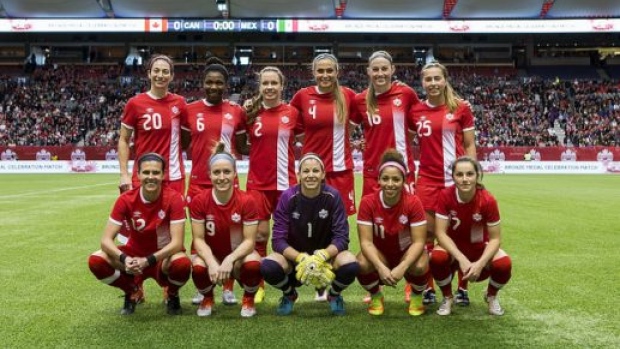 It's being billed as the fiercest rivalry in women's sport. While the Canadian and American women's hockey teams might disagree, it's hard to argue the sentiment.
The Canadian women's national soccer team will renew hostilities with the U.S. this week in a pair of friendlies. They will first meet Thursday in Vancouver at BC Place, live on TSN1 (10 p.m. ET, 7p.m. PT). They will then wrap up the series on Sunday in San Jose.
"Whenever we play the U.S., it's like Christmas," said Canadian head coach John Herdman. "It's the team everyone wants to play."
This will be the last set of matches for both teams in 2017. The sides will likely meet again next year, as qualifying begins for the 2019 FIFA Women's World Cup in France. Canada sits fifth in the FIFA World Rankings after reaching an all-time high of fourth last year, while the U.S. remains the No.1 team in the world.
Here is what you need to know for Thursday's friendly:
Youth is served
Herdman continues to turn to his young players on the roster, so much so that Kadeisha Buchanan and Ashley Lawrence, both just 22, are now considered veterans.
Buchanan won't be on the pitch for Canada this week, as she wasn't released by her club team. Veteran midfielder Sophie Schmidt will also miss both games.
Instead, Herdman has named six teenagers to his roster, all current or former members of Canada Soccer's EXCEL Program. Fifteen of the 19 players on the roster are 25 or younger. Two 16-year-old defenders, Jayde Riviere and Ariel Young, are making their debut with the senior team, along with midfielders Julia Grosso and Maegan Kelly.
"The last time we played the U.S. in Winnipeg, I put a back four out there with three players under the age of 18," Herdman said. "You know how I roll. I'm not frightened to give these young kids a shot. This far out from a pinnacle event, you provide players with opportunities that are ready. If someone's ready, they'll get game time. They'll get a chance to come up against some of the best players in the world."
Up front, 23-year-old Janine Beckie and 18-year-old Deanne Rose have become regulars alongside captain Christine Sinclair. Beckie leads the team with six goals in nine matches this year, including a hat trick against Costa Rica in June – the last time the national team played.
Tale Of The Tape
| | CANADA | USA |
| --- | --- | --- |
| FIFA RANK | 5 | 1 |
| 2017 RECORD | 6-1-2 | 11-0-3 |
| TOP SCORER | Christine Sinclair (259) | Carli Lloyd (97) |
| MOST CAPS | Christine Sinclair (168) | Carli Lloyd (244) |
| TOTAL ROSTER CAPS | 731 | 1,227 |
| AVERAGE AGE | 23.3 | 26.8 |
| YOUNGEST PLAYER | 3 Players (16) | Andi Sullivan (21) |
"I know it's cliché to say, but my teammates make it happen for me," said Beckie. "This team is the most unselfish team I've ever been on. I couldn't even tell you that I had six goals. We just see the score at the end of the game."
Sinclair and Rose have also each recorded three goals this year for Canada.
"I think we've had a good relationship between the three of us for a little over a year now," Beckie added. "We started to kind of get that cohesion around Olympic qualifying last year. We all have very different skillsets. That plays really well when you put us three together. You throw in Nichelle Prince and Adriana Leon in the mix and you have some definite danger up there for the opposition."
There are also high hopes for 16-year-old Jordyn Huitema, who will get her first taste of the Canada-U.S. rivalry.
"I haven't had the opportunity to play them yet, but I've played their youth teams and I know it's a scrap to get that win," said Huitema. "I know it's going to be a difficult game, and I know that 15 minutes in, 20 minutes in, everyone is going to feel like they're in pain and they're really getting tired, but it's going to be an exciting game."
Huitema made her national team debut as a 15-year-old earlier this year at the Algarve Women's Cup, the third-youngest woman to play for Canada (behind Kara Lang and Jessie Fleming). In June, she scored her first two goals for the senior team against Costa Rica. Huitema is a member of Whitecaps FC Girls Elite program, and last month she won the Whitecaps' Most Promising Player of the Year Award.
In midfield, 19-year-old Fleming continues to display wisdom beyond her years. Fleming has played the entire 90 minutes in each of Canada's nine games this year. She even wore the captain's armband for the first time in Canada's second friendly against Costa Rica, after Sinclair was substituted off. While she has one goal and one assist in 2017, her greatest strengths – poise, decision making and ball distribution – often can't be found in the box score.
When asked about how her game has developed, Fleming said, "I've probably just matured. John's helped me develop to be able to play at this level. It's a lot different than NCAA or club. I'm not the biggest player on the pitch, so finding a way to find myself space, working on vision awareness, knowing how to get the best out of my teammates, building my partnerships has really helps."
One-sided rivalry
Canada hasn't beaten the U.S. in more than 16 years. The Americans have won 27 of the last 32 meetings, outscoring Canada 76-19 over that span.
"Typically in the past, it's been like a Rocky movie that, unfortunately, Rocky never wins," said Herdman.
Canada's last win came on March 11, 2001 in the Algarve Women's Cup. Charmaine Hooper scored twice, and a 17-year-old Sinclair added her 17th career international goal. She's scored 151 goals since then, putting her 16 back of American Abby Wambach for most all-time.
"I've been on the wrong end of a lot of results against the U.S.," Sinclair said. "I'd love to be able to change that, especially being here in Vancouver, my hometown. It's just a great opportunity to play the best team in the world right now."
This is Canada's first meeting with the Americans since Feb. 21, 2016, when the teams played in the final of the CONCACAF Women's Olympic Qualifier in Houston. It was a relatively meaningless match, as both teams had already punched their ticket to Rio. As such, Herdman once again gave many of his younger players a chance to start, with veterans like Sinclair (who was dealing with a calf injury), Schmidt and Diana Matheson coming off the bench.
Canada ended up losing 2-0. After the game, Herdman actually gave his runner-up medal to a fan in the crowd, and later said, "I don't play this game for medals. It's nice to be able to give a medal like that to someone in the crowd. Maybe you inspire them to do something good in their lives as well. I don't play this for medals. Not silver ones, anyway."
It's been an up-and-down year for the Americans, which is an odd thing to say for a team that has recorded 11 wins and three losses. However, seven of those wins came against opponents ranked outside the top 10 at the time, and the three defeats all came in tournaments the Americans hosted.
The U.S. placed fourth in the four-nation SheBelieves Cup in March, finishing behind France, Germany and England. They were then runners-up in the Tournament of Nations held over the summer, finishing behind Australia, who at the time was ranked seventh in the world. Australia's 1-0 victory over the U.S. was the Matildas' first-ever win over the Americans in 28 matches.
"We made a commitment this year to play a very aggressive schedule," said U.S. head coach Jill Ellis. "We've had a lot of different players in, a lot of new players in. Everything over the past five or six games for us has been about our focus on ourselves, so playing such a great opponent gives us an opportunity to learn more about ourselves."