Hunter tops final Scouting Bureau rankings ahead of draft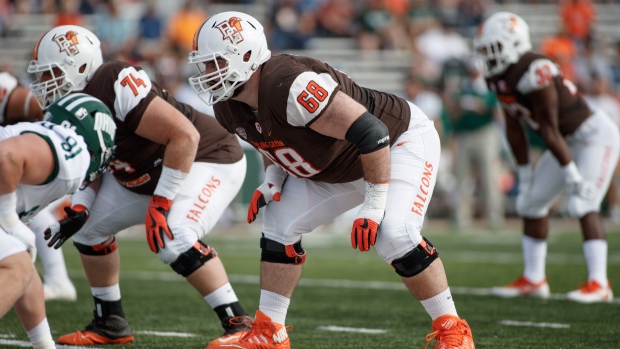 The CFL Scouting Bureau released its final rankings ahead of next month's CFL Draft.
Bowling Green offensive lineman Ryan Hunter topped the list, jumping two spots from his third ranking in the winter edition. Hunter, who played left tackle for the Falcons, was named a Mid American Conference (MAC) Distinguished Scholar-Athlete and named to the Academic All-MAC team this past season.
Coming in at second and third were receiver Mark Chapman and offensive lineman Dakoda Shepley, with both players jumping eight spots from the winter edition.
Chapman, who played for the Central Michigan Chippewas last season, and led the team in receptions (54) and receiving yards (805), was named third-team All-MAC.
Shepley, the top-rated USports player in the rankings, was a Canada West All-Star for the University of British Columbia.
Rounding out the Top 5 are offensive lineman Trey Rutherford, a Connecticut product that was second in the rankings in the winter, and David Knevel, an offensive lineman from Nebraska who was first in the winter rankings.
SPRING SCOUTING BUREAU RANKINGS
| Rank | Name | Position | School | Hometown |
| --- | --- | --- | --- | --- |
| 1 (3) | Ryan Hunter | OL | Bowling Green | North Bay, ON |
| 2 (10) | Mark Chapman | REC | Central Michigan | Port Huron, Michigan |
| 3 (11) | Dakoda Shepley | OL | UBC | Windsor, ON |
| 4 (2) | Trey Rutherford | OL | Connecticut | Markham, ON |
| 5 (1) | David Knevel | OL | Nebraska | Brantford, ON |
| 6 (12) | Mark Korte | OL | Alberta | Spruce Grove, AB |
| 7 (4) | Peter Godber | OL | Rice | Toronto, ON |
| 8 (5) | Julien Laurent | DL | Georgia State | Toronto, ON |
| 9 (7) | Rashaun Simonise | REC | Okanagan (CJFL) | Vancouver, BC |
| 10 (6) | Godfrey Onyeka | DB | Laurier | Brampton, ON |
| 11 (13) | Jackson Bennett | DB | Ottawa | Cumberland, ON |
| 12 (15) | Andrew Pickett | OL | Guelph | Kitchener, ON |
| 13 (18) | Ryan Sceviour | OL | Calgary | Calgary, AB |
| 14 (9) | Darius Ciraco | OL | Calgary | Burlington, ON |
| 15 (8) | Régis Cibasu | REC | Montreal | Kinshasa, Congo |
| 16 (-) | Bo Banner | DL | Central Washington | Bellingham, WA |
| 17 (-) | Daniel Petermann | REC | McMaster | Stoney Creek, ON |
| 18 (-) | David Mackie | RB | Western | Jackson's Point, ON |
| 19 (-) | Micah Teitz | LB | Calgary | Calgary, AB |
| 20 (-) | Isaiah Guzylak-Messam | DB | Laurier | Hamilton, ON |