Hurricanes to name captain after camp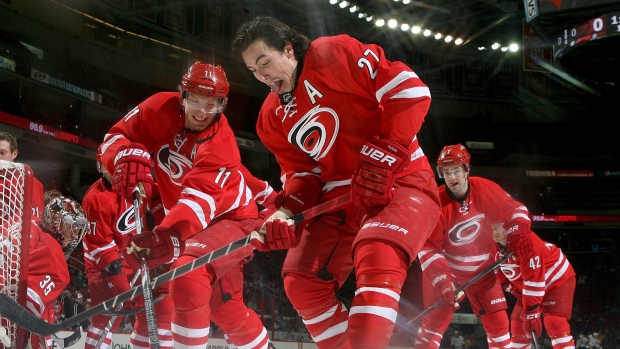 The Carolina Hurricanes will name a captain for the 2017-18 season after training camp ends, head coach Bill Peters confirmed Tuesday.
"Someone is going to wear one, for sure," Peters told the Raleigh News and Observer. "Our leadership group is fine and we've got real good candidates. They'll all provide leadership whether they wear a letter or not."
The Hurricanes have been without a captain since trading Eric Staal to the New York Rangers in February 2016. Jordan Staal, Jeff Skinner, Victor Rask, and Justin Faulk all served as alternate captains last season.
Peters said the decision would be left up to the team for who becomes the 14th player in franchise history to don the "C".
"It will be a group decision," Peters said. "I think it's important to get everybody's ideas. When you ask people, not only do I ask them but I also ask them why? Give me an example of why you picked that guy. Give me another one. Give me an example of how he showed leadership."
Jordan Staal, Eric's younger brother, has served as alternate captain since joining the team in 2012 and could be a prime candidate to take over.
Peters said Tuesday he does not regret going without a captain last season and would be willing to do so again this season.
"We went with four As and I don't think looking back we necessarily say, 'We should have done this.' I think we were comfortable with that decision," Peters said. "And quite honestly, I'd be comfortable without one this year. I could go that way, too. I still think we've got a good group in the locker room who are leaders."