Ice Chips: Habs to start Niemi vs. Vegas
Keep updated on all the injury news and roster updates from around the NHL with daily Ice Chips.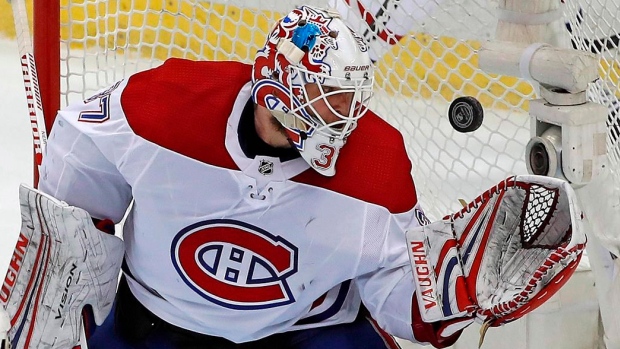 Keep updated on all the injury news and roster updates from around the NHL with daily Ice Chips.
Montreal Canadiens
Antti Niemi will start in net tomorrow night against the Vegas Golden Knights. Niemi (3-1-0) has started in two other games at home this season, only when Carey Price was sick.
Price has played in 12 games this season, dropping three straight with a record of 5-4-3.
Tomas Plekanec has been put on unconditional waivers, after reaching a mutual agreement to part ways.
---
Toronto Maple Leafs
Coach Mike Babcock says Frederik Andersen will start tonight vs. New Jersey, according to TSN's Kristen Shilton. The 31-year-old made 36 saves for the win against the Vegas Golden Knights on Tuesday night. He has made eight starts in a row while only giving up two goals or less in seven of those matchups.
Since Andersen (8-5-0) starts today, it is likely that Garret Sparks will be between the posts tomorrow night, according to Babcock.
---
Washington Capitals
John Carlson has a lower-body injury, and although will be absent tonight, coach Todd Reirden hopes to have him back in the lineup against Arizona on Sunday. The defenceman has five goals and 13 assists in 14 games.
Brooks Orpik is still listed on the IR with a lower body injury, where he will miss his fifth game in a row, according to NHL's Tom Gulitti. The 38-year-old is scheduled to be out for 10 games total.
Jonas Siegenthaler and Madison Bowey have been called up, where Siegenthaler will make his NHL debut against the Columbus Blue Jackets.
Defenceman Aaron Ness has been recalled from his morning skate to the Capitals' AHL affiliate, the Hershey Bears.
Friday morning skate lineup, per NHL's Gulitti:
Ovechkin-Kuznetsov-Jaskin
Stephenson-Backstrom-Oshie
Vrana-Eller-Connolly
Burakovsky-Boyd-DSP
---
Boston Bruins
Jakob Forsbacka Karlsson was recalled from Boston's AHL affiliate team, the Providence Bruins. The 22-year-old made his NHL debut on April 8, 2017 against the Washington Capitals. He has appeared in nine games this season for Providence, with one goal and three assists.
General Manager Don Sweeney provided an update on defenceman Charlie McAvoy, who has no timeline of return, but is making progress with his concussion. The 20-year-old has not played since October 18.
---
Tampa Bay Lightning
Defenceman Cameron Gaunce has been reassigned to the Syracuse Crunch, Tampa Bay's AHL affiliate. Gaunce was recalled in late October, but did not play at all. To date, he has played in 32 NHL games and 541 AHL games with various teams.
---
Pittsburgh Penguins
Friday night's lineup, per Pens TV host Josh Getzoff:
Simon-Crosby-Rust
Hagelin-Malkin-Hornqvist
Guentzel-Sheahan-Kessel
Wilson-Cullen-ZAR (Sprong rotating)
Johnson-Letang
Dumoulin (Oleksiak rotating)-Ruhwedel
Maatta-Riikola
Derick Brassard has not played since October 25, missing six games to date with a lower-body injury. Coach Sullivan mentioned at today's practice that it was Brassard's first time on the ice since his injury. This season, the 31-year-old has one goal and four assists in eight games.
---
Chicago Blackhawks
Forward Marcus Kruger will not particiapte in today's practice because of a left leg injury, the team announced. He will not travel to Philadelphia, and will therefore miss tomorrow's game.
---
St. Louis Blues
Friday night's projected lineup, per Jeremy Rutherford:
Schwartz-O'Reilly-Tarasenko
Fabbri-Thomas-Perron
Steen-Bozak-Soshnikov
Sanford-Barbashev-Sundqvist
Gunnarsson-Pietrangelo
Dunn-Parayko
Edmundson-Schmaltz
Johnson
Cam Atkinson is out of tonight's lineup due to illness.
Brayden Schenn did not skate with the team today. He left last Saturday's game due to soreness, and missed Tuesday's matchup against the Carolina Hurricanes.
---
Detroit Red Wings
Coach Jeff Blashill said he planned on both Andreas Athanasiou and Frans Nielsen are returning to the ice tonight against the Rangers. Athanasiou and Nielsen were both injured on October 28, and have missed the last four games.
Friday night's projected lineup:
Mantha-Larkin-Helm
Athanasiou-Nielsen-Nyquist
Abdelkader-Glendening-Bertuzzi
Rasmussen-de la Rose-Frk
Daley-Green
DeKeyser-Jensen
Kronwall-Cholowski
Howard
Bernier
---
Winnipeg Jets
Friday night's projected lineup:
Ehlers-Scheifele-Wheeler
Connor-Little-Perreault
Tanev-Lowry-Laine
Petan-Copp-Roslovic
Morrissey-Trouba
Chiarot-Byfuglien
Morrow-Myers
Hellebuyck
Brossoit
---
Philadelphia Flyers
James van Riemsdyk is on the ice, but is still 1-2 weeks away from playing, reports NHL's Adam Kimelman. The 29-year-old has been out of the action since October 6, with a lower-body injury.
---
San Jose Sharks
Friday night's lineup against the Blues:
Kane-Pavelski-Donskoi
Meier-Couture-Labanc
Sorensen-Thornton-Goodrow
Chartier-Suomela-Karlsson
Ryan-Burns
Dillon-Karlsson
Vlasic-Braun
Dell
---
Ottawa Senators
Defenceman Erik Burgdoerfer has been re-assigned to the Belleville Senators, Ottawa's AHL affiliate. The 29-year-old has only played one NHL game this season.
---
New Jersey Devils
Goaltender Eddie Lack has been assigned to New Jersey's AHL affiliate, the Binghamton Devils. He was already in the minors, but previously it was part of a conditioning loan.
Jesper Bratt is scheduled to make his seasonal debut tonight against the Toronto Maple Leafs. Bratt broke his jaw before the season started, and has yet to play. His rookie season brought 13 goals and 35 points.
Stefan Noesen has not played since October 30, and has since been on the IR list for a lower-body injury. The winger could be in the lineup tonight, but will be a game time decision according to New Jersey's beat reporter, Amanda Stein.
---
Colorado Avalanche
Tyson Jost will be back in the lineup for tonight's game against the Winnipeg Jets. The 20-year-old suffered a head injury on October 26.