Ice Chips: Avalanche send Jost to AHL
Keep updated on all the injury news and roster updates from around the NHL with daily Ice Chips.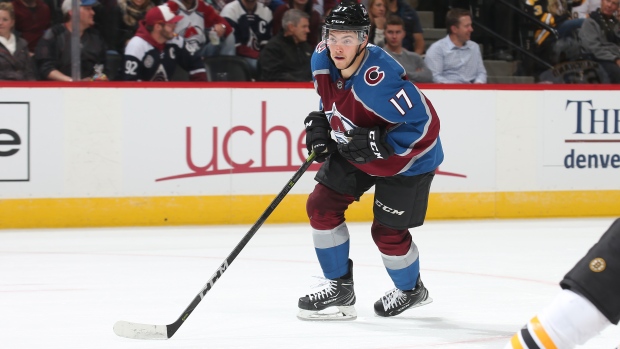 Keep updated on all the injury news and roster updates from around the NHL with daily Ice Chips.
---
Colorado Avalanche
The Colorado Avalanche have assigned forward Tyson Jost to the AHL's Colorado Eagles. The 10th overall pick in 2016, Jost has 15 points (six goals, nine assists) in 43 games this season. Jost has been on Colorado's active roster since opening night.
The Avs also sent down defenceman Ryan Graves to the AHL. Graves has played in eight games with Colorado this season, registering two assists.
---
Montreal Canadiens
The Habs have recalled defenceman Karl Alzner from the AHL's Laval Rocket. He will travel with the team to Columbus today.
Alzner has played just nine games in the NHL this season, registering one assist, as he has struggled to find a place in the Habs' lineup. He has two points (one goal, one assists) in 11 games with Laval.
The 30-year-old has three years left after this season on his five-year deal with a cap hit of $4.6M.
Habs lines from practice this morning in Brossard:
Paul Byron's three-game suspension will keep him out of game action until the Saturday of Super Bowl weekend. Carey Price gets the start in net on Friday night against the Columbus Blue Jackets.
Drouin - Danault - Gallagher
Tatar - Domi - Lehkonen
Hudon/Peca - Kotkaniemi - Armia
Agostino - Chaput - Deslauriers/Byron
Mete - Weber
Reilly - Petry
Kulak - Benn
Price
Niemi
---
Vancouver Canucks
The Canucks have recalled forward Tanner Kero from the AHL's Utica Comets. He has 36 points (16 goals, 20 assists) in 43 games with Utica. According to TSN's Farhan Lalji, this move appears to be precautionary due to Bo Horvat's injury last night, as he took a hit late in the third period from Zack Kassian in last night's game against the Edmonton Oilers. Horvat appeared to be in some discomfort (left knee). He left the bench but returned and played in the overtime and shootout.
Elias Pettersson is still expected to play tomorrow.
---
Toronto Maple Leafs
Morning skate combos for the Leafs ahead of their game against the Tampa Bay Lightning. Frederik Andersen gets the start in net, his second start since missing time with a groin injury and the flu. The Leafs are coming off a 6-3 loss to the Colorado Avalanche on Monday night.
Johnsson-Tavares-Marner
Hyman-Matthews-Nylander
Marleau-Kadri-Kapanen
Lindholm- Gauthier -Brown
Rielly-Hainsey
Gardiner-Zaitsev
Dermott-Ozhiganov
Marincin-Holl
Andersen starts
---
Winnipeg Jets
Jets lines from their morning skate ahead of tonight's game against the Nashville Predators:
Connor-Scheifele-Wheeler
Laine-Little-Roslovic
Perreault-Lowry-Tanev
Lemieux-Copp-Appleton
Morrissey-Trouba
Kulikov-Myers
Morrow-Niku
Hellebuyck
Broissoit
---
Nashville Predators
Predators lines at practice ahead of tonight's matchup with the Jets:
Forsberg-Johansen-Arvidsson
Fiala-Jarnkrok-Smith
Sissons-Bonino-Watson
Hartman-Gaudreau-Grimaldi
Josi-Subban
Ekholm-Ellis
Hamhuis-Weber
Rinne
Saros
---
Columbus Blue Jackets
Forward Brandon Dubinsky has returned to practice today after missing the last four games with a hamstring injury. He last played against the Tampa Bay Lightning on Jan. 8. In 32 games this season, he has 10 points (four goals, six assists).
---
Tampa Bay Lightning
Lightning morning skate line rushes ahead of tonight's game against the Toronto Maple Leafs:
Palat-Stamkos-Gourde
Johnson-Point-Kucherov
Killorn-Cirelli-Erne
Miller-Paquette-Callahan
*Joseph-Martel look to be scratches
Hedman-Girardi
McDonagh-Cernak
Sergachev-Stralman
*Coburn looks to be taking his turn out in the rotation
---
Minnesota Wild
Head coach Bruce Boudreau says that newly acquired forward Pontus Aberg will make his Wild debut against his former team (Anaheim Ducks) tonight. Aberg has 19 points (11 goals, eight assists) in 37 games this season. Goaltender Alex Stalock gets a second straight start in goal.
---
New Jersey Devils
Defenceman Ben Lovejoy is out tonight against the New York Islanders with an upper-body injury. The 34-year-old has six points (one goal, five assists) in 43 games this season. Goaltender Mackenzie Blackwood appears to be getting the start in net. The 22-year-old rookie has appeared in 10 games with the Devils this season with a record of 5-2, a .935 save percentage and a 2.25 GAA.
---
Waivers
The following player(s) have been placed on waivers as of noon ET today:
F Matt Lorito, New York Islanders