Ice Chips: Bjugstad day to day for Panthers
Nick Bjugstad day to day with upper body injury, apparently unrelated to Tuesday's hit and will not play Saturday night.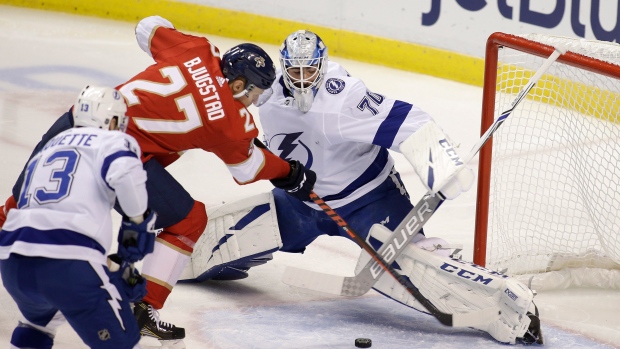 Keep updated on all the injury news and roster updates from around the NHL with daily Ice Chips.
---
Florida Panthers
Nick Bjugstad is day to day dealing with an upper body injury, which is apparently unrelated to Tuesday's hit from Boston's Connor Clifton. The 26-year-old took part in Wednesday's skate, and played on Thursday night against the Colorado Avalanche. The winger has four goals and six assists this season.
The Athletic's George Richards also reported that Denis Malgin will be in the lineup Saturday night. The 21-year-old has been day to day with an upper-body injury as of Nov. 26.
---
Ottawa Senators
Ottawa's morning practice lines, per TSN's Brent Wallace:
Tkachuk - White - Stone
Boedker - Tierney - Batherson
Dzingel - Smith - Paarjarvi
McCormick - Paul - Pyatt
Chabot - Demelo
Lajoie Ceci
Harpur - Jaros
Anderson
McKenna
According to the team, GM Pierre Dorion confirmed that Matt Duchene and Bobby Ryan have both been placed on the IR. Duchene is considered week-to-week with his groin, and there's no current timetable for Ryan's return from his concussion.
Head coach Guy Boucher confirmed that Max Lajoie and Max McCormick will both return to the lineup. Lajoie has 12 points this season, while McCormick has one goal in 11 games.
---
Boston Bruins
Morning lines at Saturday morning's practice:
Marchand - Krejci - Pastrnak
Heinen - Cave - Backes
Donato - JFK - Nordstrom
Smith - Kuraly - Wagner
Krug - Carlo
Grzelcyk - McAvoy
Moore - Kampfer
The team announced that Jake DeBrusk is absent from Saturday's morning skate. The 22-year-old has 10 goals and two assists this season.
---
Columbus Blue Jackets
Saturday night's lineup against the Washington Capitals:
Panarin-Dubois-Atkinson
Foligno-Jenner-Anderson
Dubinsky-Wennberg-Duclair
Bjorkstrand-Nash-Hannikainen
Murray-Jones
Savard-Nutivaara
Werenski-Harrington
Bobrovsky
---
Calgary Flames
The Flames have recalled Alan Quine from Calgary's AHL affiliate, the Stockton Heat. He has yet to play an NHL game for the Flames, after being put on free agency by the New York Islanders.
---
Chicago Blackhawks
Connor Murphy has been taken off the IR. Murphy has been out for the past seven weeks due to a back injury.
Gustav Forsling has been placed on IR with an upper-body injury. The 22-year-old was originally listed as day-to-day with his shoulder. He has been back and forth with Chicago's AHL affiliate, the Rockford IceHogs, yet has played 11 NHL games with five points.
---
Colorado Avalanche
Semyon Varlamov will be between the posts on Saturday night for the Avs. The 30-year-old has a record of 10-6-3, with 2.43 goals-against average and a .923 save percentage.
---
Pittsburgh Penguins
Casey DeSmith will start in net for the Penguins on Saturday night. DeSmith has started 14 games this season (18 games played) and owns a save percentage of .923.
---
St. Louis Blues
Jaden Schwartz was skating solo Saturday morning, while still dealing with an upper-body injury. He did not participate in the team's practice, and was placed on IR on Nov. 23.
---
Winnipeg Jets
Connor Hellebuyck will get the nod in net on Sunday against the Flyers. The 25-year-old has started in 22 games this season, owning a 12-8-1 record.
---
Vegas Golden Knights
Marc-Andre Fleury will be between the posts for the Golden Knights on Saturday. The Flower will be looking for his third straight win, owning a 16-9-1 record with a 2.43 GAA and .912 save percentage.
---