Ice Chips: Hutchinson loaned to AHL's Marlies
Keep updated on all the injury news and roster updates from around the NHL with daily Ice Chips.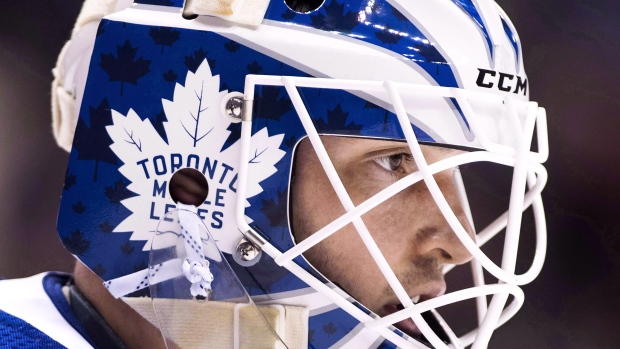 Toronto Maple Leafs
Goaltender Michael Hutchinson has been loaned to the AHL's Toronto Marlies. This was because Frederik Andersen has been activated from injured reserve. The 28-year-old Hutchinson has played in five games for the Maple Leafs, with a 2-3-0 record, a 2.64 goals-against average and .914 save percentage.
---
Ottawa Senators
Thomas Chabot is practising with the Ottawa Senators in a regular jersey, per TSN's Brent Wallace. The 21-year-old suffered an upper-body injury after taking a hit from New York Islander Matt Martin at the end of December. The defenceman has 38 points (10 goals and 28 assists) in 38 games.
Goalie Craig Anderson is also a full participant in Monday's practice, after just skating for the first time since his concussion on Friday. The 37-year-old has missed the past 10 games, with no timetable for his exact return. In 30 starts, he holds a record of 14-13-3, with a save percentage of .905 and 3.58 goals-against average.
Morning skate lineup, per TSN 1200:
Tkachuk Tierney Stone
Dzingel Duchene Ryan
Smith Pageau Paajarvi
Balcers Paul Boedker
Chabot DeMelo
Lajoie Ceci
Borowiecki Jaros
Wolanin Harpur
Falk
---
Boston Bruins
Tuukka Rask will start in net Monday night against the Montreal Canadiens. In his last five games, the 31-year-old has a 5-0-0 record with a .955 save percentage and 1.40 goals-against average.
Morning lines:
Marchand - Bergeron - Pastrnak
DeBrusk - Krejci - Backes
Heinen - JFK - Donato
Kuraly - Acciari - Wagner
Chara - McAvoy
Krug - Carlo
Grzelcyk - Miller
Rask
Halak
---
Philadelphia Flyers
Carter Hart will be between the pipes for the Flyers on Monday night against the Minnesota Wild. The 20-year-old has a season record of 3-5-1, with a save percentage of .916 and a 2.54 goals-against average.
---
Washington Capitals
Pheonix Copley will start Monday night as the Capitals play the St. Louis Blues, giving Braden Holtby the night off. Copley has a record of 10-2-3, with 2.56 goals-against average and a .916 save percentage.
---
Montreal Canadiens
Carey Price will start in net on Monday night against the Boston Bruins. The 31-year-old has a record of 17-13-4 with a 2.67 goals-against average and .910 save percentage.
---
Colorado Avalanche
Semyon Varlamov is between the pipes on Monday night against the Toronto Maple Leafs.
Nikita Zadorov will be back in the lineup after dealing with a lower-body injury. The 23-year-old has five points (three goals and two assists) in 34 games.
---
Buffalo Sabres
Carter Hutton will be in net as the Sabres take on the Edmonton Oilers on Monday night. He has a 14-13-3 record with a 2.62 goals-against average and .916 save percentage.
---
NHL Game Notes
Matthews Last 9GP
Goals 1
Assists 6
PPPts 0
+/- -3
Shots/Gm 3.1
Worst Records – Dec 4 to Present
Team GP W L OTL Pts%
Colorado Avalanche 18 4 11 3 .306
Ottawa Senators 19 5 12 2 .316
Detroit Red Wings 20 5 11 4 .350
Philadelphia Flyers 20 5 11 4 .350
Anaheim Ducks 17 5 8 4 .412
New York Rangers 17 5 8 4 .412
Price Last 5 Starts
Rec 2-3-0
GAA 1.63
SV% .946
SO 2
Sabres Nov 29 to Present
(since 10 game win streak ended)
Rec 6-10-4
GF/G 2.6
GA/G 3.05
PP 9/57(15.8%)
PK 49/57(86%)
Oilers Last 7GP At Home
Rec 1*-6-0
GF/G 2.57
GA/G 4.43
PP 5/16(31.3%)
PK 11/15(73.3%
*Won in a shootout
(Were 10-4-1 at home prior)
Hawks (41P) at Devils (41P) - 7PM (Jan 14)
NJ 2-0-0 vs CHI in 17-18, 11GF. NJ 4-0-2 last 6GP vs NJ
NJ: (17-20-7)
3-1-0 last 4GP at home, 6GA, PK 13/13
Palmieri (0P) last 4GP
CHI: (16-22-9)
1-2-3 last 6GP, 22GA, PK 15/20
Kane (3G, 7A) 5 game PT streak
Blues (42P) at Capitals (59P) - 7PM (Jan 14)
STL 1-0-0 vs WSH in 18-19, 5-2 win at home. WSH 2 straight wins at home vs STL
WSH: (27-12-5)
3-0-1 last 4GP, 9GA, PK 14/16
Ovechkin (2G, 1A) last 2GP
STL: (19-20-4)
Won 2 straight, 1GA in each game, PK 6/7. Have not won 3 straight in 18-19
O'Reilly (3G, 7A) last 9GP
Avalanche (48P) at Leafs (58P) - 7PM (Jan 14)
COL 2-0-0 vs TOR in 17-18. COL 2 straight wins in TOR
TOR: (28-14-2)
2-4-0 last 6GP, 14GF, PP 1/12 (shutout twice)
Marner (2G, 1A) last 2GP
COL: (20-17-8)
0-6-1 last 7GP on road, 34GA, PK 15/21
Rantanen (3G, 3A) last 4GP
Wild (47P) at Flyers (38P) - 7PM (Jan 14)
MIN 2-0-0 vs PHI in 17-18, 2 shutouts.
PHI: (16-23-6)
1-7-2 last 10GP, 19GF, PP 3/28
Couturier (1G, 4A) last 3GP
MIN: (22-19-3)
1-2-0 last 3GP, 11GA, PK 8/10
Parise (2A) last 2GP
Canadiens (53P) at Bruins (56P) - 730PM (Jan 14)
BOS 2-1-0 vs MTL in 18-19, MTL 1-0-0 in BOS (shutout).
BOS: (26-15-4)
6-1-0 last 7GP, 24GF, PP 8/24
Pastrnak (1G, 0A) last 4GP
MTL: (24-17-5)
2-3-0 last 5GP, 8GF, PP 1/15
Domi (0G, 8A) last 16GP
Sabres (52P) at Oilers (45P) - 9PM (Jan 14)
BUF 2-0-0 vs EDM in 17-18, outscoring them 8-1. BUF 4 straight wins vs EDM, 18GF.
EDM: (21-21-3)
1-2-0 last 3GP, 13GA, PK 4/7
McDavid (4G, 2A) last 4GP
BUF: (23-16-6)
1-3-0 last 4GP, 12GF, PP 1/10
Eichel (0P) last 4GP