Ice Chips: Morrow replaces Benn for Habs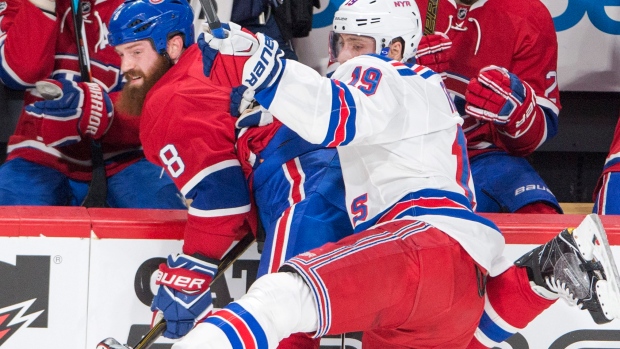 Keep updated on all the injury news and roster moves from around the NHL with daily Ice Chips.
---
Montreal Canadiens
Joe Morrow will make his regular-season debut against the San Jose Sharks Tuesday night, while Jordie Benn sits out.
---
Edmonton Oilers
Although ruled out for Tuesday night's game against the Carolina Hurricanes, forward Leon Draisaitl (concussion/eye) was on the ice prior to the Oilers' optional game day skate.
According to TSN's Ryan Rishaug, Matt Benning will not play Tuesday due to illness.
Projected lineup vs. Hurricanes - Ryan Rishaug, TSN
Forwards
Maroon - McDavid - Yamamoto
Lucic - Nugent-Hopkins - Strome
Jokinen - Letestu - Kassian
Khaira - Malone - Slepyshev
Defencemen
Klefbom - Larsson
Nurse - Russell
Auvitu - Gryba
Goaltenders
Brossoit starts
Talbot
---
Toronto Maple Leafs
Practice Lines - Mark Masters, TSN
Forwards
Hyman - Matthews - Nylander
Marleau - Kadri - Komarov
van Riemsdyk - Bozak - Brown
Martin - Moore - Marner
Leivo, Fehr
Defencemen
Gardiner - Zaitsev
Rielly - Hainsey
Rosen - Carrick
Borgman
Goaltenders
Andersen starts
McElhinney expected to play vs. Detroit Wednesday
---
Winnipeg Jets
According to TSN's Sara Orlesky, the Jets have recalled forward Brendan Lemieux and placed forward Adam Lowry on injured reserve retroactive to Oct. 12.
---
Washington Capitals
According to Isabelle Khurshudyan of the Washington Post, it's not a sure thing that forward Lars Eller (illness) will play Tuesday night against the Maple Leafs.
---
Boston Bruins
According to Fluto Shinzawa of the Boston Globe, David Backes practised Tuesday. He has been out all season recovering from diverticulitis. Shinzawa added that centre Ryan Spooner (lower body) and defenceman Adam McQuaid (upper body) both did not participate in practice on Tuesday and forward Patrice Bergeron (lower body) was on the ice for practice, but was in a non-contact jersey.
---
Chicago Blackhawks
Chicago Blackhawks forward Nick Schmaltz appears on track to return to the team's lineup Wednesday against the St. Louis Blues, according to a report from the Chicago Tribune.
Blackhawks head coach Joel Quenneville said he was optimistic Schmaltz would return Wednesday, according to the Tribune, and the 21-year-old has been practising on a line with Patrick Kane and Ryan Hartman.
Schmaltz is recovering from an upper-body injury suffered earlier in the season. - Chicago Tribune
---
Colorado Avalanche
Colorado Avalanche forward Tyson Jost will return Tuesday from a knee injury that cost him the last two games, according to a report from the Denver Post.
Jost was originally injured last week against the Boston Bruins after getting checked into the boards by Bruins defenceman Adam McQuaid. The 19-year-old returned to that game but missed the Avalanche's next two games with a bone bruise, according to the Post report.
The 10th overall pick from the 2016 entry draft is on track to play Tuesday against the Nashville Predators. - Denver Post
---
Pittsburgh Penguins
The Penguins have placed defenceman Matt Hunwick on injured reserve due to an unspecified injury.
Defenceman Ian Cole could return to the Pittsburgh Penguins' lineup Tuesday against the New York Rangers after missing three games, according to the Tribune Review.
Cole has been out since taking a Roman Josi slapshot to the face last week. - Tribune Review
---
Buffalo Sabres
According to Mike Harrington of the Buffalo News, forward Kyle Okposo (illness) will play Tuesday night against the Vegas Golden Knights. Okposo has missed the last two games due to illness.
---
Nashville Predators
The Predators announced that defenceman Yannick Weber (upper body) has been placed on injured reserved. Weber sustained the injury in last Thursday's game against the Dallas Stars after being hit hard by Martin Hanzal. The Preds also recalled centre Frederick Gaudreau. He has recorded one goal and three assists in three games with the AHL's Milwaukee Admirals.
---
San Jose Sharks
San Jose Sharks defenceman Paul Martin is expected to miss his team's game against the Montreal Canadiens Tuesday, as well as the Sharks subsequent five-game road trip, according to the Mercury News.
Martin, who has played in two games for the Sharks this season, suffered a setback from his off-season ankle surgery, according to the Mercury News report. - Mercury News
---
St. Louis Blues
Alex Steen returned to St. Louis Blues practice Monday and could be in the lineup Wednesday when the Blues take on the Chicago Blackhawks, according to a report from St. Louis Post-Dispatch.
It was Steen's first time on ice since suffering a broken hand in the pre-season. Head coach Mike Yeo wouldn't confirm Steen would be in the lineup Wednesday, according to the Post-Dispatch. - St. Louis Post-Dispatch