Ice Chips: Flames place Ramo on waivers
Keep updated on all the injury news and roster moves from around the NHL with daily Ice Chips. The Calgary Flames placed goaltender Karri Ramo on waivers.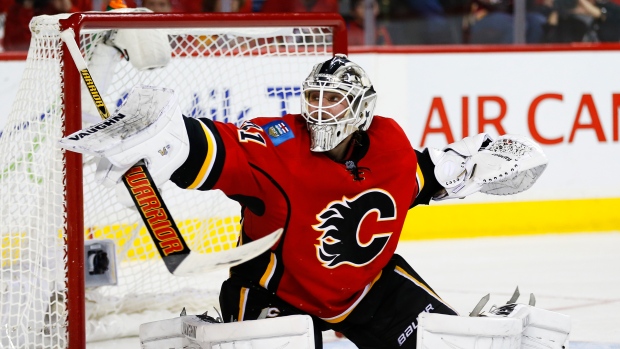 Keep updated on all the injury news and roster moves from around the NHL with daily Ice Chips.
Calgary Flames
Goaltender Karri Ramo was placed on waivers and was not on the ice today. Hiller will start for the Flames on Friday. Coach Hartley said there's nothing to talk about until 10am tomorrow morning concerning Ramo and the goaltending situation. - Jermain Franklin, TSN
Smid's (neck) work load has been ramped up. Hartley says he looks good, they're just looking for the green light from Smid's surgeon. - Jermain Franklin, TSN
Flames Practice Lines
Forwards
Gaudreau-Monahan-Hudler
Ferland-Backlund-Frolik
Colborne-Bennett-Jones
Raymond-Stajan-Jooris
Bollig
Defence
Giordano-Wideman
Russell-Engelland
Smid/Kulak-Hamilton
Goalies
Hiller
Ortio
Edmonton Oilers
Projected Lines vs Red Wings
Forwards
Hall-Nugent-Hopkins-Miller
Pouliot-McDavid-Yakupov
Korpikoski-Lander-Purcell
Slepyshev-Letestu-Klinkhammer
Defence
Klefbom-Schultz
Sekera-Fayne
Ference-Gryba
Goalie
Talbot (pretty sure starts)
Ottawa Senators
Defenceman Marc Methot skated with the team during practice on Wednesday. He suffered a concussion Oct. 14 against the Blue Jackets. - Bruce Garrioch, Ottawa Sun
Toronto Maple Leafs
Jake Gardiner will not play tonight against Buffalo. Gardiner has an undisclosed injury and is considered day-to-day. Mike Babcock offered few details on the injury. Martin Marincin replaces him alongside Dion Phaneuf tonight. - Jonas Siegel, TSN
Tyler Bozak will miss his second straight game with a lower-body injury. Peter Holland was moved into his place for tonight's game. - Jonas Siegel, TSN
Projected Lines vs Buffalo Sabres
Forwards
van Riemsdyk-Kadri-Komarov
Matthias-Holland-Boyes
Winnik-Spaling-Lupul
Grabner-Arcobello-Parenteau
Defence
Marincin-Phaneuf
Hunwick-Rielly
Harrington-Polak
Goalies
Bernier
Reimer
Chicago Blackhawks
The Blackhawks have placed defenceman Duncan Keith on long-term injured reserve. - Team Release
Pittsburgh Penguins
Send defenceman Tim Erixon to the AHL. - Dave Molinari, Pittsburgh Post-Gazette
Waivers
Defenceman Bobby Sanguinetti (Buffalo Sabres) and winger Tom Kühnhackl (Pittsburgh Penguins) placed on waivers.
Winger Tanner Glass (New York Rangers) cleared waivers.
GAME NOTES
Maple Leafs (3P) at Sabres (2P) - 7PM
BUF was 2-1-1 vs TOR last season
BUF has won 5 straight at home vs TOR
both teams have 1 win, both against CBJ
BUF (1-4-0):
lost 2 straight, both on road, both by 1G
7/12 on PK last 3 games
Ennis (1G, 1A) past 2GP
TOR (1-3-1):
only team that has not scored first in any of their games
1-1-1 last 3GP, 1/9 on PP
outscored 6-1 in 1st pd this season
Komarov (3G) has scored in 2 straight games
Flyers (5P) at Bruins (4P) - 8PM
BOS was 3-0-0 vs PHI last season, 4GA
BOS has won 6 straight vs PHI and have won 5 straight at home
BOS (2-3-0):
0-3-0 at home, 16GA, 7/10 on PK
Krejci (4G, 5A) 5 game PT streak
PHI (2-2-1):
0-1-1 on the road, outscored 10-3, 6/10 on PK
Couturier (1G, 2A) 3 game PT streak
Red Wings (6P) at Oilers (4P) - 9:30PM
DET was 2-0-0 vs EDM last season, 9GF, 4/9 on PP
DET has won 8 straight vs EDM and have gone 15-0-1 past 16 vs Oilers
EDM (2-4-0):
won 2 straight, both on the road, 3GA, 5/6 on PK
0-1-0 at home, 0/5 on PP
2GF or less in 5 of 6 games this season
McDavid (2G, 2A) last 2GP
DET (3-2-0):
lost 2 straight, 9GA, 5/8 on PK
1-1-0 on the road, both games decided by 1G, 7GA
Zetterberg (2G, 7A) has a PT in all 5 games
Hurricanes (2P) at Avalanche (4P) - 10PM
COL was 1-0-1 vs CAR last season, both games decided by 1G
COL has won 10 straight at home vs CAR, 10 wins, 2 ties past 12 at home vs CAR/HFD
CAR has never won in COL, last win in COL by franchise was HFD Feb 9/96
COL (2-3-0):
1-2-0 at home, 12GF, 5/10 on PP
Soderberg (2A) past 2GP
CAR (1-4-0):
1-2-0 on the road, 1GF in 2 of the games, 1/10 on PP
Skinner (1G, 1A) past 2GP