Ice Chips: Lindholm a GTD vs. Bruins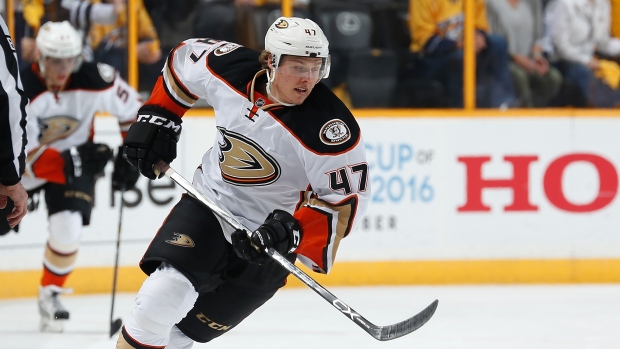 Keep updated on all the injury news and roster moves from around the NHL with daily Ice Chips.
---
Anaheim Ducks
Defenceman Hampus Lindholm has been ruled a game-time decision for Wednesday's game against the Boston Bruins. Lindholm (undisclosed) missed the team's skate Wednesday, but did take to the ice on his own. He palyed 21:56 against the Tampa Bay Lightning on Sunday.
Lindholm owns three goals and five points in 10 games since returning from off-season shoulder surgery.
---
Ottawa Senators
Bobby Ryan and Matt Duchene skated together during Wednesday's morning skate. Ryan has missed the last eight games with a broken finger.
He looked comfortable handling and shooting the puck according to TSN's Ian Mendes. There should be an update regarding Ryan's status for Thursday's game against the Pittsburgh Penguins shortly.
Here are the lines according to TSN's Brent Wallace:
Hoffman-Brassard-Stone
Dzingel-Duchene-Ryan
Pyatt-Pageau-Didomenico
Burrows-Thompson-Wideman
---
Montreal Canadiens
Charlie Lindgren will start between the pipes against the Arizona Coyotes on Thursday, the team announced.
In five games so far this season, he has a GAA of 1.93 to go along with a .957 save percentage.
Habs forwards Torrey Mitchell (flu) and Max Pacioretty (therapy day) did not practice on Wednesday. Head coach Claude Julien said that there is a strong chance a forward gets called up because of Mitchell's illness.
Goalie Antti Niemi, who was picked up off waivers from the Florida Panthers on Tuesday, participated in practice for the first time as a member of the Canadiens. - John Lu, TSN
Wednesday's practice lines - NHL.com
Hudon - Plekanec - Gallagher
Galchenyuk - Drouin - Byron / Froese
de la Rose - Danault - Shaw
Benn - Weber
Alzner - Petry
Mete - Morrow / Davidson
Lindgren
Niemi
---
Toronto Maple Leafs
Wednesday's practice lines - Kristen Shilton, TSN
Forwards
Hyman-Matthews-Nylander
Marleau-Kadri-Komarov
van Riemsdyk-Bozak-Marner
Martin-Moore-Brown
Leivo-Soshnikov
Defence
Rielly-Hainsey
Gardiner-Zaitsev
Borgman-Carrick
Polak
---
Pittsburgh Penguins
Defenceman Matt Hunwick has been cleared to start practising and will travel with the team to Ottawa, the team announced.
"He's making progress. He was cleared to practice today, and that's a big step for him. We'll see how he reacts," head coach Mike Sullivan said.
Hunwick has been out since Oct. 14 with a concussion.
---
Anaheim Ducks
Goaltender Ryan Miller (lower body) is a couple days away from joining the Ducks for a regular practice head coach Randy Carlyle said.
"I would say he's a couple days away from joining us for a regular practice," Carlyle told the Orange County Register of Miller. "It's just always these nagging injuries. We just have enough of them."
In four games so far this season, Miller has a GAA of 1.88 and a save percentage of .943.
---
Boston Bruins
Centre David Krejci (back) will not play Wednesday after making it through an entire on-ice session Tuesday. He is probable for Thursday's contest against Los Angeles.
In six games so far this season, he has one goal and five assists.
---
Florida Panthers
The Panthers announced that they have recalled forward Chase Balisy from the AHL's Springfield Thunderbirds.
---
Dallas Stars
The Stars have reassigned forward Jason Dickinson to the AHL's Texas Stars. In four games so far this season, the 22-year-old has zero points.
---
Detroit Red Wings
Left winger Darren Helm will not play Wednesday according to Ansar Khan of MLive.com.
Helm suffered an undisclosed injury Saturday and while the Detroit Free Press initially reported he was probable to play Wednesday against the Calgary Flames, he will miss his first game of the season.
---
Washington Capitals
Defenceman Christian Djoos did not participate in Capitals practice Wednesday, calling into question for Thursday's matchup with the Colorado Avalanche.
He is considered day-to-day with an upper-body injury.
---
Los Angeles Kings
Injured Kings forward Marian Gaborik is within a couple of weeks of returning from a knee injury, general manager Rob Blake told the Los Angeles Times. If he continues to progress, he may be back on the ice by early December.
Gaborik participated in practice Sunday for the first time in about six weeks. He has not played yet this season.
---
Colorado Avalanche
The Avalanche have recalled forward Vladislav Kamenev, who is expected to join the team on Wednesday. The 21-year-old was acquired in the three-team deal that saw Matt Duchene land in Ottawa and Kyle Turris arrive in Nashville.
---
New Jersey Devils
The Devils have activated Michael McLeod off injured reserve and assigned him to the Mississauga Steelheads of the AHL.
Winger Marcus Johansson (concussion) has started to skate on his own according to Andrew Gross of NorthJersey.com.
Johansson last played on Nov. 1 against the Vancouver Canucks when he got tangled up battling for the puck behind the net and slammed his head into the boards.
In 10 games so far this season, the 27-year-old has three goals and two assists.
---
TSN Game Notes
Flames (20P) at Red Wings (18P) - 730PM
CGY is 1-0-0 vs DET this season, winning at home. CGY has won 3 straight vs DET
DET (8-8-2):
1-2-2 last 5GP at home, 12GF, 1/13 on PP
Mantha (4G, 4A) last 7GP
CGY (10-7-0):
won 2 straight, 13GF, both at home, 1/5 on PP
Gaudreau (5G, 7A) 7 game PT streak
Rangers (20P) at Blackhawks (18P) - 8PM
CHI was 1-0-1 vs NYR last season, 1GA in each game.NYR have won 4 straight in CHI, 2 shutouts
CHI (8-8-2):
1-3-0 past 4GP, 15GA, 9/11 on PK
Kane (1G, 2A) last 2GP
NYR (9-7-2):
won 6 straight, 26GF, 8/19 on PP
Nash (5G, 3A) last 7GP
Bruins (16P) at Ducks (17P) - 10PM
ANA was 2-0-0 vs BOS last season. 9GF. ANA has won 7 straight vs BOS
ANA (7-7-3):
1-3-2 last 6GP, 13GF, 4/21 on PP
Rakell (1G, 6A) last 5GP
BOS (6-6-4):
0-2-1 last 3GP, 5GF, 1/12 on PP
Pastrnak (4G, 2A) last 5GP