Ice Chips: Koivu sent home
Keep updated on all the injury news and roster updates from around the NHL with daily Ice Chips.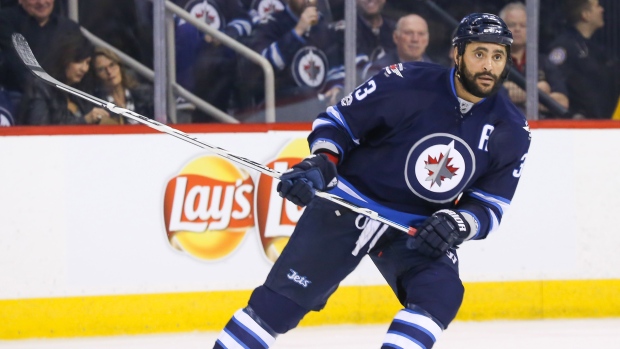 Keep updated on all the injury news and roster updates from around the NHL with daily Ice Chips.
---
Minnesota Wild
Wild captain Mikko Koivu has been sent home to be evaluated by team doctors and will miss tonight's game in Edmonton, per Michael Russo of The Athletic Minnesota.
Koivu was likely injured in an awkward collision with Flames captain Mark Giordano during Thursday night's game in Calgary.
In 27 games played this season, Koivu has 4 goals and 17 assists.
---
Winnipeg Jets
Jets head coach Paul Maurice announced that defencemen Dustin Byfuglien (concussion) and Dmitry Kulikov (upper-body injury) will both return to the lineup for Friday's game against the St. Louis Blues.
He also stated that defenceman Josh Morrissey is close to returning.
Jets' forward Andrew Copp (undisclosed) was also placed on the injured reserve on Friday.
---
Montreal Canadiens
The Montreal Canadiens placed defenceman Xavier Ouellet on waivers Friday.
Ouellet, 25, has three assists in 19 games with the Canadiens this season and last dressed on Nov. 21. The 25-year-old signed with the Canadiens in July on a one-year, $700,000 contract.
The move clears a roster spot for defenceman Noah Juulsen, who has been out since Nov. 19 due to a facial fracture.
---
Edmonton Oilers
The Oilers will host the Minnesota Wild on Friday.
These lines were used during Friday morning's practice:
Chiasson-McDavid-Draisaitl
Khaira-RNH-Puljujarvi
Lucic-Brodziak-Kassian
Zykov-Spooner-Rattie
Klefbom-Larsson
Nurse-Russell
Gravel-Benning
Extras: Marody, Garrison, Wideman
Talbot was in the starter's net.
---
Pittsburgh Penguins
The Penguins placed forward Dominik Simon (lower-body injury) on injured reserve Friday and recalled Jean-Sebastien Dea from the AHL.
Simon has four goals and 13 points in 26 games with the Penguins this season. He suffered a lower-body injury in Tuesday's win over the Colorado Avalanche.
Dea was re-claimed by the Penguins off of waivers from the New Jersey Devils last week. He scored three goals and posted five points in 20 games with the Devils.
---
Today's Games
San Jose Sharks (14-10-5) at Dallas Stars (15-10-3) - 8 p.m.
The Stars have won 5 straight at home against the Sharks (two shutouts)
Stars forward Jamie Benn has five goals and seven points in his last six games.
Sharks forward Logan Couture has two goals and 10 points in his last nine games.
St. Louis Blues (9-13-4) at Winnipeg Jets (17-8-2) - 8 p.m.
Jets' forward Patrik Laine scored five goals in his last game against the Blues.
Jets' forward Blake Wheeler is on a 10-game point streak (one goal, 10 assists).
Minnesota Wild (15-11-2) at Edmonton Oilers (14-12-2) - 9 p.m.
The Wild have won nine of their last 10 games against the Oilers.
Oilers forward Connor McDavid has four goals and 13 points in his last 10 games.
Carolina Hurricanes (12-11-4) at Anaheim Ducks (15-10-5) - 10 p.m.
The Ducks have won their last five games against the Canes.
The Ducks have also won five straight in general.