Ice Chips: Tkachuk could return next week
Keep updated on all the injury news and roster updates from around the NHL with daily Ice Chips. Senators rookie Brady Tkachuk skated with his team on Friday, wearing a non-contact jersey.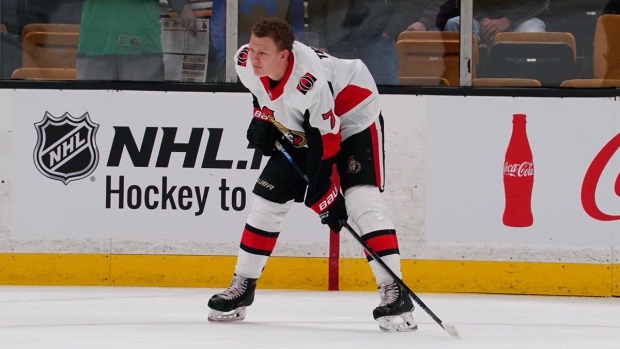 Keep updated on all the injury news and roster updates from around the NHL with daily Ice Chips.
Ottawa Senators
Senators rookie Brady Tkachuk skated with his team on Friday, wearing a non-contact jersey. The 19-year-old has missed the last six games with a torn ligament in his leg, but could return to action sometime next week, head coach Guy Boucher announced.
---
Toronto Maple Leafs
Lines at Friday's practice:
Hyman-Tavares-Marner
Marleau-Kadri-Kapanen
Johnsson-Lindholm-Brown
Ennis-Gauthier-Leivo
Rielly-Hainsey
Gardiner-Zaitsev
Dermott-Ozhiganov
Marincin-Holl
Andersen
Sparks
---
Winnipeg Jets
Connor Hellebuyck will get the nod for the second straight game in Finland for the Jets on Friday.
The 25-year-old stopped 36 of 38 shots in Thursday's 4-2 win over the Florida Panthers in Helsinki.
In other lineup news, Nic Petan will draw into the lineup in place of Jack Roslovic and Joe Morrow will replace Dmitry Kulikov on the blueline, Paul Maurice confirmed Friday.
---
Florida Panthers
Head coach Bob Boughner confirmed Roberto Luongo will start against the Jets on Friday in the second game of their Global Series in the Finland. Luongo has been out since Oct. 6 with a knee injury.
---
Boston Bruins
Bruins coach Bruce Cassidy said Thursday he's leaning giving Jaroslav Halak a second straight start on Saturday when the the Bruins take on the Nashville Predators after four days off.
"I think Halak has been better than Tuukka, so he's got a few more starts than we originally scripted," Cassidy said, per Joe Haggerty of NBC Boston.
Halak and Tuukka Rask have both started six games this season, though Halak owns a clear edge in the statistics.
Halak, who carries a $2.75 million cap hit on the two-year deal he signed as a free agent in July, has a 4-0-2 record while Rask's record sits at 3-3. Halak owns a 1.51 goals-against average and a career-best .947 save percentage to Rask's 3.15 GAA and .902 save percentage. The 33-year-old Halak also has two shutouts this season while Rask has none.
The two have rotated starts over the team's past four games, but it was Halak who started last - on Tuesday against the Carolina Hurricanes. Rask has not started back-to-back since allowing four goals in a loss to the Calgary Flames on Oct. 17. Halak then made two straight starts before Cassidy started rotating the two.
October struggles are not new for Rask, who had a 1-3-2 record in the month last season with a 2.93 GAA and a .896 save percentage. He finished the season 34-14-5 with a 2.36 GAA and .917 save percentage.
Rask is signed through 2020-21 at a $7 million cap hit. He will turn 32 in March.
---
TSN Game Notes
Sebastian Aho (4G-13A in 12 GP)
Aho, who has recorded at least one helper in each contest, can set the NHL record for longest season-opening assist streak, a mark set by:
Edmonton's Wayne Gretzky in 1982-83 (7-20—27 in 12 GP)
Boston's Ken Linseman in 1985-86 (2-19—21 in 12 GP)
Most Career Points Outside North America
Byfuglien 6
Theo Fleury 6
Kopitar 6
Vanek 5
Andy McDonald 5
Mike Hoffman 4*
*14 others with 4 points
Most Hat-Tricks Since Start of 16-17
Laine 5
Ovechkin 5
McDavid 4
Forsberg 4
Tavares 4
Lowest Shots/Game in 18-19
Team GP Sh/G
Anaheim Ducks 14 24.9
New York Islanders 12 25.7
Vancouver Canucks 14 26.2
Detroit Red Wings 13 28.2
Ottawa Senators 12 28.2
Panthers (7P) at Jets (13P) - 2PM (Nov 2)
WPG has won 4 of their past 5GP vs FLA
WPG: (8-4-1)
won 2 of their past 3GP, 6GA, PK 9/11
Wheeler (1G, 9A) 7 game PT streak
FLA: (2-5-3)
1-3-1 last 5GP, 18GA, PK 15/22
Dadonov (4G, 4A) 7 game PT streak

Hurricanes (13P) at Coyotes (12P) - 10PM (Nov 2)
CAR 1-0-1 vs ARZ in 17-18, OL in ARZ. CAR 6-0-1 last 7GP in ARZ
ARZ: (6-5-0)
Won 4 straight, outscoring opponent 20-4, PK 14/15
Keller (5G, 2A) last 6GP
CAR: (6-5-1)
Lost 2 straight, both at home, 3GF, PP 2/7
Aho (4G, 13A) has a point/assist in all 12GP

Avalanche (16P) at Canucks (14P) - 10PM (Nov 2)
COL 2-0-1 vs VAN in 17-18, 1-0-1 in VAN.
VAN: (8-6-0)
Won 2 straight, both at home, 2GA in each game, PK 5/7
Virtanen (3G) past 2GP
COL: (7-4-2)
lost 2 straight, both on the road, 9GA, PK 7/9
Landeskog (3G, 2A) has scored in 3 straight GP