Ice Chips: Plekanec a game-time decision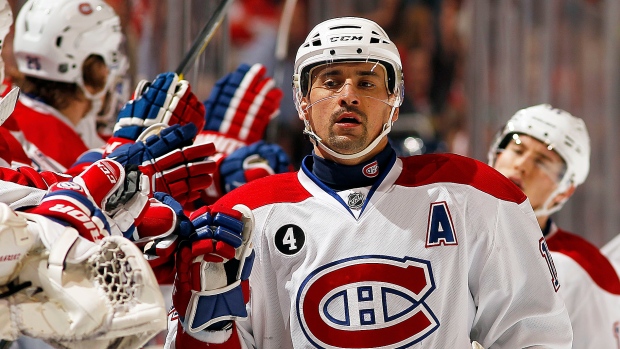 Keep updated on all the injury news and roster moves from around the NHL with daily Ice Chips.
Montreal Canadiens
Canadiens head coach Michel Therrien says forward Tomas Plekanec, who has the flu, will be a game-time decision against the Winnipeg Jets Wednesday night.
---
Calgary Flames
---
Dallas Stars
Defenceman Jamie Oleksiak suffered an upper-body injury Tuesday night on a hit from the Anaheim Ducks' Corey Perry. Stars head coach Lindy Ruff says it's not yet known how long Oleksiak will be out. - Dallas News.
Forward Jamie Benn is getting closer to returning to the lineup after being out since Dec. 31 with a foot injury suffered against the Florida Panthers. - Dallas News
---
Tampa Bay Lightning
---
Pittsburgh Penguins
---
Anaheim Ducks
The Ducks announced Wednesday that defenceman Shea Theodore and forward Stefan Noesen have been recalled from the San Diego Gulls (AHL), while reassigning defenceman Brandon Montour to San Diego. - Anaheim Ducks
---
Nashville Predators
---
Game Notes
Most Career Points Since 2005-06 Season
Points Games
Alex Ovechkin 999 879
Sidney Crosby 982 740
Joe Thornton 946 899
Henrik Sedin 850 891
Daniel Sedin 814 871
Most Career Goals at Time of 1,000th Point
NHL History
Brett Hull 560
Alex Ovechkin 544
Bobby Hull 527
Mike Gartner 521
Keith Tkachuk 511
Source: Elias Sports Bureau
Panthers (44P) at Islanders (38P) - 7PM
FLA is 1-0-0 vs NYI this season, OTW at home. Teams split 2GP in NY last season
NYI (15-15-8):
1-1-2 past 4GP, 12GF, 3/13 on PP
Tavares 2P shy of 500 career, 0P last 2GP
FLA (18-16-8):
2-2-0 past 4GP, 6GF, 1/17 on PP
Jagr (0P) last 2GP
Canadiens (56P) at Jets (43P) - 730PM
Teams split 2GP last season, WPG winning at home. WPG has won 2 straight at home vs MTL
WPG (20-20-3):
1-2-0 past 3GP at home, 7GF, 3/10 on PP
Ehlers (5G, 2A) 5 game PT streak
MTL (25-10-6):
won 3 straight on the road, 11GF, 4/12 on PP
Plekanec (1G, 1A) last 2GP
Penguins (57P) at Capitals (57P) - 8PM
WSH is 1-0-1 vs PIT this season, 1-0-0 at home. 3GA. WSH 3-0-1 last 4GP at home vs PIT
WSH (26-9-5):
won 6 straight, outscoring opponent 24-9, 28/31 on PK
Ovechkin (2G, 3A) last 4GP
PIT (26-8-5):
won 5 straight, outscoring opponent 22-10, 4/13 on PP
Crosby (5G, 6A) last 8GP
Sharks (52P) at Flames (46P) - 930PM
Teams have split 2GP this season, both in SJ. CGY was 1-1-1 at home vs SJ last season
CGY (22-19-2):
won 3 straight at home, 4GA, 10/10 on PK
Gaudreau (1G, 1A) past 6GP
SJ (25-14-2):
won 2 straight, 11GF, 0/4 on PP
Burns (1G, 6A) last 3GP