Ice Chips: Sens send Puempel to Binghamton
Keep updated on all the injury news and roster moves from around the NHL with daily Ice Chips. The St. Louis Blues signed veteran forward Scott Gomez to a one-year/two-way contract.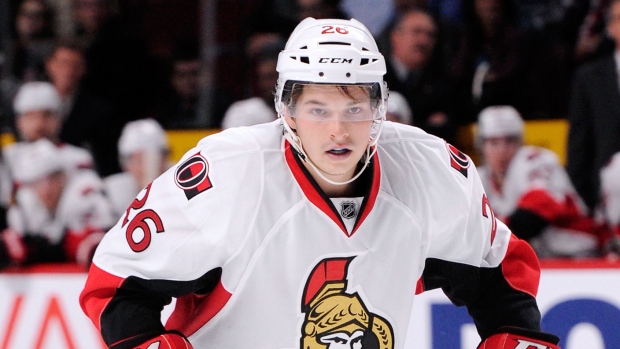 Keep updated on all the injury news and roster moves from around the NHL with daily Ice Chips.
Toronto Maple Leafs
- Jonathan Bernier starts tonight against Montreal. Bernier is 1-5-3 lifetime against the Habs with a 3.07 GAA and .900 save percentage.
- Though he was sent down Tuesday – the Leafs needed to get down to 23 players – there appears a good chance that Scott Harrington will be recalled from the Marlies after noon to play tonight. Toronto will have an open roster spot once Richard Panik clears waivers or is claimed.
- Michael Grabner, Roman Polak and Frankie Corrado project as the scratches. Each got extra work after the skate this morning.
- Repeating a tradition from Detroit, Mike Babcock had extra stalls in the Leafs dressing room labeled with Leaf greats, Johnny Bower, Red Kelly and George Armstrong.
Projected Lineup
van Riemsdyk - Kadri - Boyes
Matthias - Bozak - Lupul
Winnik - Spaling - Parenteau
Komarov - Holland - Arcobello
Hunwick - Phaneuf
Marincin - Rielly
Gardiner - Harrington
Bernier
Reimer
Ottawa Senators
Head coach Dave Cameron announced Kyle Turris and Chris Neil will be the alternate captains this season. Chris Neil and Chris Phillips wore the A's last season but Phillips is out with a back injury. If and when Phillips does return, Cameron says he will revisit the letters.
Clarke MacArthur skated again today but without a regular line. Cameron says MacArthur still needs medical clearance and wouldn't say if he will play Thursday or not.
After two days of skating on the fourth line, Shane Prince was an extra forward Wednesday morning and Matt Puempel took Prince's spot on the fourth line. After practice, Puempel was sent down to Binghamton of the AHL.
Hoffman - Turris - Stone
Lazar - Zibanejad - Ryan
Michalek - Pageau - Chiasson
Puempel - Smith - Neil
Prince/MacArthur
Methot - Karlsson
Wiercioch - Ceci
Cowen - Borowiecki
Wideman
Anderson
O'Connor
Injured:
G- Hammond - Groin (Oct.1) out 2 weeks
D- Phillips - Back - indefinite (possible 2nd half season return)
Calgary Flames
The Flames eliminated the Canucks from the playoffs last season so there's a little extra juice on the visitors' side and the Flames know that they need to be. -TSN
Dougie Hamilton and Michael Frolik will be making their regular season debut as Calgary Flames. Hamilton's teammates were giving him a hard time for not completing a drill properly this morning. - TSN
This will also be the first regular season opening game for rookies Sam Bennett, Micheal Ferland and Brett Kulak. Although Bennett and Ferland both have the experience of last season's playoff run. Bennett said he's more excited than nervous to play the season opener. - TSN
Projected Lineup
Gaudreau-Monahan-Hudler
Bouma-Backlund-Frolik
Ferland-Bennett-Jooris
Billie-Stajan-Jones
Giordano-Hamilton
Russell-Wideman
Kulak-Engelland
Ramo - starting
Hiller
PP1
Wideman-Russell
Gaudreau-Monahan-Hudler
PP2
Hamilton-Giordano
Bennett-Backlund-Ferland
St. Louis Blues
Place forward Patrik Berglund on long-term injured reserve after having surgery on his right shoulder in late August. He will be re-evaluated in four months. - Team Release
Signed veteran forward Scott Gomez to a one-year contract worth $575K in the NHL/$200K in the AHL plus some bonuses. - TSN
Vancouver Canucks
Recall goaltender Richard Bachman from AHL. Jacob Markstrom has a lower body injury and will be evaluated Tuesday. - Team Release
Markstrom is getting "checked out" according to Desjardins which may include an MRI. He said that the injury occurred right at the end of practice and did not specify what the injury was. - TSN
Ben Hutton will make his NHL debut on the blue line for the Canucks. - TSN
Sutter said he hasn't played the wing since his junior days. He's playing with the Sedins. - TSN
Projected Lineup
Daniel-Henrik-Sutter
Baertschi-Horvat-Vrbata
Burrows-McCan-Hansen
Prust-Cracknell-Dorsett
Extra: Virtanen
D:
Edler-Tanev
Hamhuis-Bartkowski
Hutton-Sbisa
Extra: Weber
G:
Miller
Bachman
Waivers
Richard Panik (TOR) and Jordan Schroeder (MIN) clear waivers. Daniel Cleary (DET) and Tom Nilsson (NYI) placed on waivers.