Ice Chips: Weber, Drouin at optional skate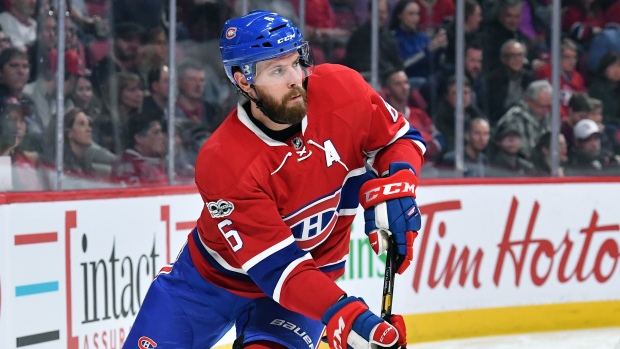 K​eep updated on all the injury news and roster moves from around the NHL with daily Ice Chips.
Montreal Canadiens
Defenceman Shea Weber and forward Jonathan Drouin took part in the Habs' optional skate Friday.
Both players missed the Habs' 3-0 loss to the Minnesota Wild Thursday. Weber was injured at the end of practice Thursday while Drouin injured his hand Tuesday against the Vegas Golden Knights.
The Canadiens recalled goaltender Zach Fucale from the AHL's Laval Rocket on an emergency basis Friday, as Al Montoya is dealing with an upper-body injury. The team is already without Carey Price, who is dealing with a lower-body injury.
Price was working solo with goalie coach Stephane Waite again ahead of the optional skate.
---
Toronto Maple Leafs
Goaltender Frederik Andersen and defenceman Jake Gardiner were back on the ice Friday after taking a maintenance day Thursday. TSN Maple Leafs reporter Kristen Shilton believes Andersen will start Friday night against the Boston Bruins.
Forward Auston Matthews did not take part in the optional skate Friday, marking the fourth day he's missed since playing against the Vegas Golden Knights on Monday night.
---
Anaheim Ducks
The injuries just continue to pile up for the Anaheim Ducks, who were forced to play AHL-call up Reto Berra on Thursday night when goaltender Ryan Miller left with an lower-body injury. The Ducks were already without John Gibson, who is in the concussion protocol after exiting Tuesday's game following a blow to the head. The Ducks picked up a 4-1 win on Thursday, with Berra stopping all six shots he faced.
---
Washington Capitals
Matt Niskanen, Tyler Graovac and Brett Connolly were all on the ice at the Capitals' morning skate according to Isabelle Khurshudyan of The Washington Post. None of them are expected to play tonight against the Pittsburgh Penguins, but Connolly (upper-body injury) may return Sunday, reports Khurshudyan. He was medically cleared to return to action yesterday.
---
TSN Game Notes
Most Career GP – Penguins History
Player GP
Mario Lemieux 915
Jaromir Jagr 806
Sidney Crosby 799
Jean Pronovost 753
Evgeni Malkin 723
Rick Kehoe 722
3PT games this season
Stamkos TB 4
Wheeler WPG 4
Scheifele WPG 4
Tavares NYI 4
Leafs Goal Leaders in November
Player G GP
Connor Brown 4 5
Nazem Kadri 3 5
Tyler Bozak 2 5
Patrick Marleau 2 5
Teams Yet To Win 2 Straight This Season
ARZ
BOS
NHL (reg+post)
Crosby vs Ovechkin
37 Wins 24
30 G 38
53 A 32
83 P 70
NHL + International
Crosby vs Ovechkin
41 Wins 24
32 G 38
57 A 32
89 P 70
Senators (17P) vs Avalanche (16P) - 2PM (Sweden)
OTT was 2-0-0 vs COL last season, 3GA
COL (8-6-0):
3-1-0 past 4GP, 19GF, 5/14 on PP (lost last)
Barrie (6A) 4 game assist streak
OTT (6-3-5):
1-2-1 past 4GP, 18GA, 8/14 on PK
Duchene (1G, 1A) last 5GP
Bruins (15P) at Maple Leafs (20P) - 7PM
TOR was 4-0-0 vs BOS last season, 18GF
TOR (10-7-0):
won 2 straight, 7GF, 1/6 on PP
Kadri (5G) last 3 home games
BOS (6-5-3):
2-2-2 last 6GP, 16GA, 14/14 on PK
Pastrnak (3G, 2A) 3 game PT streak
Penguins (20P) at Capitals (17P) - 7PM
PIT is 1-0-0 vs WSH this season, winning in WSH. WSH has won 2 of past 3 at home vs PIT(lost last)
WSH (8-7-1):
3-1-0 last 4GP, 11GF, 1/13 on PP
Ovechkin (3G) has scored in 3 straight games
PIT (9-6-2):
2-1-1 last 4GP, 9GF, 4/15 on PP
Kessel (3G, 7A) last 8GP
Panthers (10P) at Sabres (12P) - 7PM
BUF was 2-1-1 vs FLA last season, 2-0-0 at home.
BUF (5-8-2):
2-3-0 last 5GP, 12GF, 1/16 on PP
Kane (3G, 1A) last 4GP
FLA (4-8-2):
0-3-2 last 5GP, 25GA, 15/20 on PK
Huberdeau (2G, 9A) points in 8 of past 9GP
Hurricanes (13P) at Blue Jackets (19P) - 7PM
CBJ are 1-0-0 vs CAR this season, OTW in CAR. CBJ have won 2 straight at home vs CAR
CBJ (9-6-1):
0-2-1 last 3GP, 12GA, 8/12 on PK
Jones (1G, 3A) last 4GP
CAR (5-5-3):
1-2-2 last 5GP, 11GF, 1/14 on PP
Williams (1G, 5A) last 5GP
Islanders (18P) at Stars (16P) - 830PM
NYI were 2-0-0 vs DAL last season, 8GF.
DAL (8-7-0):
3-4-0 last 7GP, 19GF, 8/21 on PP
Benn (1G, 1A) last 5GP
NYI (8-5-2):
1-1-1 last 3GP, 10GF, 4/9 on PP
Bailey (2G, 14A) has PTS in 9 of past 10GP
Jets (19P) at Knights (15P) - 1030PM
First meeting between teams
VGK (9-5-1):
coming off a 1-4-1 road trip, 24GA, 14/19 on PK
Neal (1G, 1A) last 6GP
WPG (8-3-3):
5-0-3 past 8GP, 28GF, 9/26 on PP
Wheeler (1G, 8A) last 3GP