IEM Katowice reaches 46 million unique viewers
Andrew Robichaud, TSN.ca Staff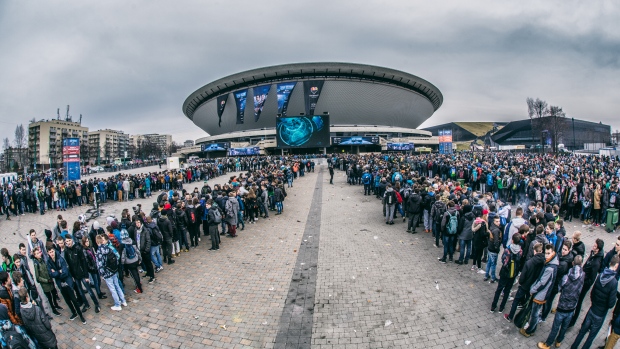 The Intel Extreme Masters Season XI World Championship reached unprecedented heights with 173,000 guests in attendance and 46 million unique viewers online for the annual event and festival that ran over two weekends in February and March.
ESL also solidified it's most broadcasted event with 70 partners across the globe, both linear and digital, producing content in 19 languages.
"Intel Extreme Masters Katowice shattered all expectations with record breaking attendance and viewership," General manager of the Virtual Reality and Gaming Group at Intel Frank Soqui said in a press release. "The gaming community's passion for esports was on display and Intel is proud to continue delivering the best gaming experiences to fans around the world, whether that's with IEM tournaments, driving growth in VR content, or improving how people play with Intel processors and technology."
IEM Katowice featured top-tier esports competitions in League of Legends, Counter-Strike: Global Offensive, StarCraft 2 and Heroes of the Storm. To complement these tournaments, ESL and Intel joined forced with SLIVER.tv to create a virtual-reality stadium experience. The 360-degree live stream grew by 200 per cent over the 340,000 unique viewers reached in its debut at IEM Oakland.
"I cannot believe the event in Katowice is five years old already, and every time it's bigger and more amazing," Vice president of Pro Gaming at ESL Michal Blicharz said in a press release. "We're humbled and proud to be able to come back to this audience every year and share this wonderful experience with everyone in the Spodek Arena as well as the whole esports world watching."
Check out all the winners at IEM Katowice:
League of Legends: Flash Wolves
Counter-Strike: Global Offensive: Astralis
StarCraft II: Jun "TY" Tae Yang
Intel Challenge Katowice 2017: Team Secret
Heroes of the Storm Global Championship Western Clash 2017: Team Dignitas
CROSSFIRE IEM Expo Invitational: SuperValiant Gaming
Polish Cybersport Cup: Pompa Team