In defence of Jiri Tlusty
There isn't a single NHL franchise that wouldn't benefit from the inclusion of the free agent winger in their lineup come opening night, TSN's Travis Yost writes.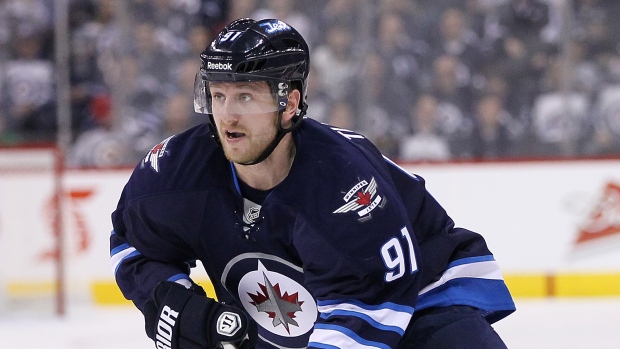 As the hockey calendar inches closer, teams are starting to fill out their camp rosters with professional tryout (PTO) invitations. Generally, PTOs are extended to fringe players hoping to beat out the final guy for a roster spot, but this year's have a bit of a different feel. Legitimately talented players like Curtis Glencross and Brad Boyes have accepted invites in lieu of waiting around for contract offers.
You might ask why these proven veteran talents - who still have plenty left in the tank and are almost certainly deserving of another contract - would accept a PTO. I don't think there's one neat and clean answer, but I do suspect a lot of it has to do with the weird 2015 free-agent landscape. It started with impressive (and honestly unbelievable) financial restraint at the opening of free agency that has extended into September. That has left some players, naturally worried that the money has dried up, willing to take even half-offers to prove their stuff and latch onto a team.
GMs mostly avoided the big mistakes this year by holding their wallets tight, but I do think some teams have become overly gun-shy. Guys like Glencross and Boyes would instantly improve just about every team in the league, and had they been offered, I suspect they would have signed cheap on a one- or two-year deal. For teams with real playoff aspirations, the small cost of one of these second or third-line tweeners is more than worth it. The fact that executives are letting their competition grab up these guys on lowly camp invitations is doubly concerning.
It's worth noting that not every proven commodity looking for a contract is prepared to swallow their pride. Jiri Tlusty is one of those names still outstanding, and based on recent reporting, it sounds like he's more than willing to hold-out for a real contract offer. TVA's Renaud Lavoie has suggested he's turned down as many as five PTO offers, and may consider a KHL offer if no NHL offer manifests.
The thing about Tlusty is you don't need to find some arcane statistic at the corner of the internet to defend his game – or his decision to wait for a true contract offer. Tlusty has developed into a reliable scorer since leaving Toronto, highlighted by a 23-goal season in the lockout-shortened 2012-13 season.
I can easily show you that Tlusty has been a productive offensive talent. But I can also show you that any concerns about defensive inability potentially negating his offensive production are easy, too. First, we'll look at the goal-scoring aspect. What forwards have produced at the most similar of rates at 5-on-5 over the last four seasons? And what are they currently being paid?
Goal-Scoring Comparison
Player
Goals Per 60
AAV ($MM)

Thomas Vanek

0.88

$6.5

Brandon Saad

0.88

​

$6.0
Patric Hornqvist

0.88

​

$4.3
Michael Ryder

0.88

​

UFA

Patrice Bergeron

0.87

$6.9

Benoit Pouliot

0.87

$4.0
Jiri Tlusty

0.87

UFA

Jaden Schwartz

0.86

$2.4

Matt Beleskey

0.86

$3.8

Artem Anisimov

0.85

$4.6
Remember, this is strictly a goal-scoring comparison – no one on this planet is comparing the overall contributions of, say, Patrice Bergeron to Tlusty. It is interesting though that so many of these players are carrying fairly large multi-year contracts, where Tlusty is just trying to angle for a single offer. The only exception would be Michael Ryder, whose age (he turns 36 in March) is probably acting as a red flag of sorts.
But, maybe you're concerned about other parts of Tlusty's game. He may be a decent goal-scorer, but goals alone don't speak to the rest of his game. And with so much focus (rightfully so) on competent neutral and defensive zone play these days, maybe there's a concern that Tlusty is hurting his team to the point that pure goal-scoring prowess is being marginalized by poor play elsewhere.
The thing is, that doesn't pass the smell test. Tlusty has logged hundreds of games at the NHL level – a large enough sample to wade through on-ice goals and see whether or not Tlusty is having an adverse effect on his team's overall play.
For the same players listed above, I've listed out two stats. The first is raw Goal% , where 50% is average. The second is RelativeGoal%, which indicates whether a player's respective team was better or worse with the player on the ice versus off of the ice (0.0% indicates the team average).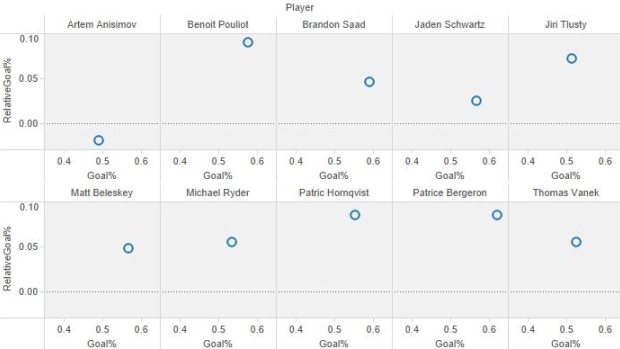 As you likely suspected, this list is a pretty impressive group of talent. Outside of Artem Anisimov, every forward is above break-even in raw Goal% (indicating that their teams have out-scored the opposition with them on the ice). And, every forward has had a relatively positive impact on their team's performance. When you have this kind of four-year impact on goal-scoring, you're generally carrying a multi-year deal. Rightfully so.
That's what makes Tlusty's toiling in free agency so curious. He's clearly a respectable scorer. He's clearly had a positive impact on his team's play. And, at 27, he's right at the top of most NHL aging curves.
The Takeaway
There isn't a single NHL franchise that wouldn't benefit from the inclusion of Jiri Tlusty in their lineup come opening night. He's a respectable second/third-line winger who chips in regularly offensively with no signs of defensive decay. To the extent that a team has the available cap space and a roster spot to fill, he should be at the top of the list of players to sign before camp gets underway.