In Russia, fond memories for a hockey series forgotten
With just a few weeks left in 2014, few have given much thought to the 40th anniversary of the 1974 Summit Series between the Soviets and WHA. TSN Senior Correspondent Rick Westhead provides a historic look at the series that's become largely forgotten in Canada.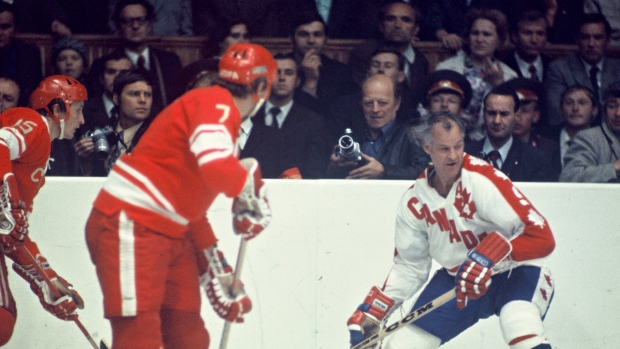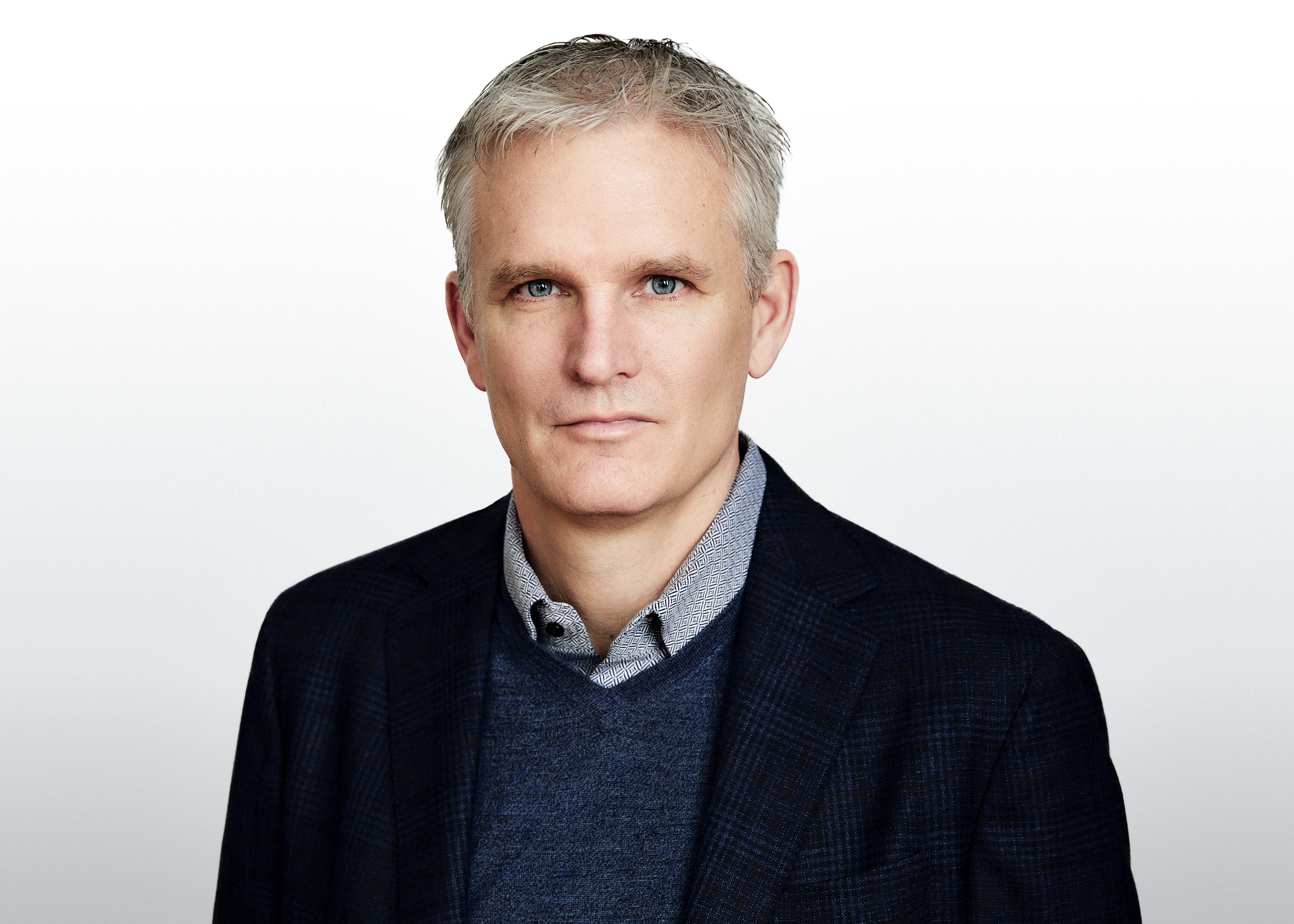 They were called Team Canada Two.
It was 1974, two years after Canada's white-knuckle hockey victory over the Soviet Union.
Paul Henderson, whose last-minute goal delivered the series win for Canada in 1972, had bolted the National Hockey League to play in the upstart World Hockey Association.
Bobby Hull, Gordie Howe, Frank Mahovlich and Gerry Cheevers had left the NHL, too, trading tradition for bigger paychecks.
But three seasons in with bills mounting, the WHA was struggling to convince fans, TV networks and sponsors alike that its brand of hockey was on par with the NHL. League officials were quick to agree to a plan conceived by the Canadian Amateur Hockey Association that spring for a high-profile rematch - a second eight-game series of Canadian stars against the best Soviets.
As a Sept. 4, 1974, headline in The Globe and Mail put it, "Success against Russians would prove parity with NHL."
Two years ago, Canada marked the 40th anniversary of the Summit on Ice. There was a gala dinner and members of Team Canada '72 were inducted into Canada's Walk of Fame. Hockey fans reveled in the memories of the dramatic Canadian victory.
Yet with only a couple of weeks left in 2014, few here have given much thought to the 40th anniversary of another Canada-Russia series, one that ended quite differently.
In 1974, the Soviet team, faster, younger and less caught up with controversy than the Canadians, won four games to Canada's one victory.
So even as the 1974 series has become largely forgotten in Canada, many Russian hockey fans have warm memories of the series 40 years ago this fall.
"In 1972, we learned that our hockey players were as good as those in Canada," said Seva Kukushkin, who covered both the 1972 and 1974 series for the Soviet Tass news agency.
Two years later, Kukushkin says the Soviets learned something else, though his claim is one that many hockey historians would surely challenge.
"In 1974," Kukushkin says in an interview, "we learned our hockey players could beat the best players from Canada. It wasn't celebrated with parades in the street, but it wouldn't have been like that in 1972 even if we had won. It just wasn't how our country acted at that time. Hockey was great, but it wasn't the only thing we had at the time. We had accomplishments like sending a man into space."
Still, this was how the sports newspaper Sovietski Sport put it in a headline after the final Soviet victory in Game Eight: "No more doubts about the strongest one."
"In eight games with the Canadian team, composed of pro hockey players fro the World Hockey Association, our team had four victories, played a tie three times, and lost only one game," the Sovietski Sport article read. "So all the talk about 'who's the best? Which game style is better?' I think are exhausted. Soviet hockey, no doubt is the most progressive."
*
The 1974 series came at a time of landmark change in both East and West. In North America, as the hockey series kicked off, Frank Robinson was hired as Major League Baseball's first black manager. In Moscow, the city's first bowling alley opened. Its population was surging so much that contractors were not allowed to build any apartments with fewer than nine stories.
It was a period of scientific innovation - some cutting edge, some questionable in hindsight.
While Russian scientists shot electrodes into the legs of their hockey stars, a move doctors believed would increase their strength 50 per cent without adding muscle mass, newspaper ads that ran during the 1974 series trumpeted the fact Team Canada's medical advisors had ordered 960 cans of the sugary orange pop C-Plus to rehydrate their star players during and after games.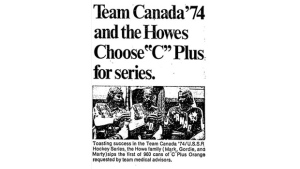 "I remember looking at the Russians drinking water on the bench thinking, 'maybe they're ahead of us with that,'" Mark Howe said with a chuckle.
For many Canadians, the 1974 series has been lost to the fog of time.
"In 1972, it was bare bones, Cold War, us versus them hockey," said Russell Field, a sports historian at the University of Manitoba. "In 1974, the series wasn't just seen as a fight over hockey supremacy. It was also about the messy political battle between the NHL and WHA."
*
In 1972, the Soviet team started strong, winning 7-3 in Game 1.
"My favourite moment of that series was after the first game," Kukushkin says. "All the Russian players were lined up on the blue line. The Canadians had gone to the dressing room. They didn't know it was custom to come back out and shake hands. And while they waited for the Canadians to come back, the Russians were just so happy, standing there."
Henderson says that happiness bred overconfidence, which he said would be the undoing of the Soviet team. That same overconfidence, he added, befell Team Canada two two years later after the first few games.
Gordie Howe was silver-haired and a trim 46 when he arrived in Edmonton for training camp, two weeks before the start of the series. Like the other 24 other Canadian players on the team, Howe had already been given a new pair of skates to break in before the series and had been asked to adhere to a new 30-minute daily workout regime purportedly developed by NASA called "Total Isokinetics," which, according to a Globe and Mail report, involved throwing 10-pound medicine balls at the bellies of teammates.
Each Team Canada player was given a collection of columns about Russian life that Toronto Star columnist Gary Lautens had written during his visit to the Soviet Union that summer.
"The outlook this time must be different," Canadian coach Billy Harris said at the time. "Two years ago, they wanted not only to win eight straight, the Canadian team wanted to kick hell out of the Russians. They are too good a hockey team for that but still...they are just people. Why the mystique? It's a waste of time hating the Communist system. In '72, the players complained strongly about the lack of comfort and so on in Russia. I was there as a player in 1969, I know. But that's no reason to get so upset you almost forget the objective."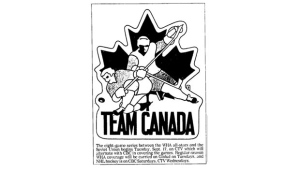 Howe had missed the 1972 series because he had left the NHL's Red Wings to sign a contract with the WHA's Houston Aeros and he told reporters he would be grateful to put to rest a question that had dogged him for years.
"I've always got a ton of mail from people asking me what my citizenship is," he said. "Now everybody will believe I'm a Canadian."
One by one, the WHA's star players trundled into camp. Former Maple Leafs and Bruins forward Mike "Shakey" Walton arrived and headed to the tennis court. Goalie Gerry Cheevers showed up, with more on his mind than hockey.
"I ran two horses at Bowie yesterday and I'll be damned if I can find the results," an exasperated Cheevers, owner of 10 thoroughbreds, exclaimed to reporters at one point. "Doesn't anybody print race results any more?"
Frank Mahovlich arrived and quickly dropped to the ground to do some push-ups for a few grateful photographers waiting for a shot.
Several players on the 1972 team had said preparation for the watershed series could have been better. There were no exhibition games for Team Canada to speak of that year so players got used to playing alongside one another during scrimmages.
Two years later, in 1974, organizers agreed to pay five major junior teams $1,000 apiece for play Team Canada Two in a series of exhibition games and hired Lars-Erik Sjoberg, a Swedish player with the Winnipeg Jets, to skate with the Canadians and offer some advice about the Russian team's tendencies.
There was a buzz over the series, though many players say it didn't come close - how could it have? - to the 1972 spectacle.
Nevertheless, fans across Canada were talking about the series.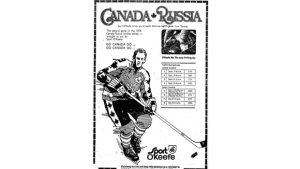 Prime Minister Pierre Trudeau agreed to drop the puck at the first game in Quebec City. The WHA said the four games in Canada sold out, with tickets at Toronto's Maple Leaf Gardens costing as much as $144 apiece ($675 in inflation-adjusted 2014 dollars).

The Firestone store chain advertised colour TVs for rent for as little as $3.50 a week for fans who couldn't get tickets. The Toronto-Dominion Bank developed a series of Russian-language commercials for the series with English subtitles, hoping to create a buzz on Canadian TV while advertising their financial services (There were no TV commercials in the Soviet Union).
Advertisers were paying $18,000 a minute for spots for time during the five commercial breaks during each period, and the WHA promised TV coverage would be cutting edge with seven fixed cameras, handheld and slow motion cameras and, unlike 1972, no ugly rink boards ads to give broadcasts an amateur appearance. (Hockey Canada had paid $100,000 for the board rental space to be cleared off).
Russian broadcaster Nikolai Ozarov, the Foster Hewitt of Russian hockey was quietly advised he wouldn't be allowed to announce the games from his customary spot at the end of the Soviet bench because it would block the vantage points of some fans.
And there would be cash for the players: $6,000 for each Canadian (Henderson said players in 1972 didn't receive compensation) and a flat $25,000 for the Soviet team, some of whom were already household names in Canada.
Of the 27 Soviet players in 1974, 17 had also played in 1972, including forwards Yakushev, Valerei Kharlamov and goalie Vladislav Tretiak, who said he'd gained valuable intelligence about Canadian stars in 1972 when he met before the series with Jacques Plant, who explained the strong points of each Canadian player and how to play goal against them.
As in 1972, the 1974 Soviet team had speed to burn and uncanny passing skills (Team Canada players marveled over how one Russian was berated for missing a single breakout pass all practice).
"Hey, Bobby, push your eyeballs back in your head," Howe told Hull, as Hull watched a Russian practice one morning before the series began.
Though it might not have been as pitched as in 1972, there's no doubt many players, particularly the ones who didn't play two years earlier against the Soviets, felt pressure building as the first game approached. "How are you supposed to play after eating a meal like that?" Hull bellowed after a pre-practice lunch of East Coast salmon.
As the Canadian training camp wound down, coach Billy Harris made a ill-fated pledge: all of the Canadians would play in the series. In 1972, several of the Canadian NHL stars quit the series midway through because they weren't getting any ice time. Harris wouldn't risk that fiasco. He would get everyone into games - a promise that would haunt him.
*
"I've never been so tight," Hull said after Game 1. "I could barely move my legs during the warm-up."
As Trudeau dropped the puck at the ceremonial face-off before Game One on Sept. 17 in Quebec, a then-14-year-old Igor Larionov among the millions of Russians glued to their TV sets, a group of Soviet fans held up a sign: "Welcome Soviet Hockey Players, Win 5-2."
"We all watched it," Larionov recalled. "It wasn't the same at '72 but it was great hockey, great for us to get a chance to see Bobby Hull and Gordie Howe."
Coming off their two-week training camp, playing against a Soviet side that had been working out for months, the Canadian coaches realized fatigue would be an issue, so they had their four lines change every 45 seconds. It was a savvy move. Canada would outshoot the Soviets 15-9 in the third period, and 34-28 overall, in a game that finished 3-3.
"The Soviet team was reeling under the pressure of Team Canada at a time when the aging legs of the Canadians were supposed to respond no longer," Toronto Star reporter Jim Kernaghan wrote. The Russians had been preparing for the series since July, with no player older than 30 and an average age on the team of 24. The Canadian average age was 30.
It was after Game 2 in front of 16,485 fans in Toronto at Maple Leaf Gardens that Team Canada Two had its best chance to both capture the collective imagination of Canadians and breathe life into the WHA.
Canada went up 2-0 after the first period, the second goal of which came thanks to a pretty passing play between Gordie Howe, his son Mark and Ralph Backstrom. But after the play, the elder Howe wound up with badly bruised ribs.
"He actually told me I did it to him," Mark Howe said. "After the goal, I went and hugged him hard, and he had his arms up in the air."
Canada won 4-1. A team of aging stars and under-appreciated role players began to believe they could win the series. Luck was on their side. In the third period, Russia's Vladimir Petrov beat Cheevers with a shot over his shoulder that hit the top of the net, a bit of the cross bar, and caromed back out. The goal light came on but the play continued. The supposed goal was waved off. "The Russians wuz robbed - for a change," crowed the headline in the Toronto Star.
"Who's afraid of the big bad bear? Not Team Canada," The New York Times wrote of the game.
"This team representing Canada is much better than the one two years ago," Tretiak said the following day, holding a new watch he was given by the Russian team as a reward for his solid play during the Toronto game. "There's no comparison. This is a team that makes its breakaways. In the game in Toronto, I think they had 10 two-on-one breakaways against us."
Then came a gaffe that doomed the Canadian team, and perhaps, some say, the WHA itself.
*
Harris's promise doomed Team Canada Two.
Out of the lineup for Game 3 was money goaltender Gerry Cheevers, replaced with Don McLeod. Mahovlich, Gordie Howe, Rejean Houle and Rick Key were similarly scratched. Added to the lineup were Marty Howe, Al Hamilton and Tom Webster.
The Russians cruised to an 8-5 win, after leading 7-2 at one point during the third period.
"I gambled and lost," Canadian coach Billy Harris told reporters afterward. "But the worst that could happen was the series would be tied. We weren't embarrassed and I'd make the same decision again, considering the circumstances."
Actually, the worst thing wasn't that the series was then tied.
Henderson said the move cost Harris the trust of Team Canada's senior players.
"Changing the lineup was ridiculous," he said. "After that, I pretty much treated it as a vacation, going to Russia. I didn't get a chance to look around in 1972 at museums or the sights, so went I went over with my wife in 1974, after Harris made the lineup change, and told us basically it was a joke, I guess I decided to play tourist."
If Game 3 left the Canadians staggering, Game 4 in Vancouver left them motionless on the canvas.
The first period opened with promise after Hull scored a hat trick to give Team Canada a comfortable 5-2 lead.
"Decades from now, grizzled old-timers will still be harkening back to the thrilling 1974 afternoon in Vancouver's Pacific Coliseum when Bobby Hull mowed the Russians down," Toronto Star sports editor Jim Proudfoot wrote. "They'll brag to their grandchildren that they witnessed with their very own eyes the three mighty shots the Golden Jet bombed into the enemy nets during the first period of an international hockey skirmish."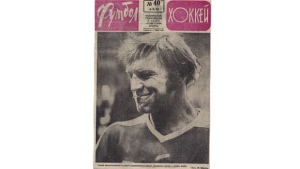 But then the Soviet team rallied, and the game finished in a 5-5 tie.
While Team Canada stopped off in Europe for a few exhibition games, their plane packed with orange pop and steaks for their pre-game meals, the Soviets headed straight home, ever motivated.
"Their motivational situation is a little different than ours," Team Canada coach Billy Harris said. "I've often thought how different it might be if you were to close all the border crossings out of Canada, if every hockey player in Canada was told, 'You can't leave the country for your holidays unless you make the national hockey team."
There are two sides to every story, of course, and through Russian eyes, the Canadians were ones with heavy motivation.
"The WHA is fighting for its life and that has to provide a strong incentive," Alexander Yakushev said on Oct. 1. "Last time in the 1972 series we were considered the dark horses. This time they are. It's bigger than you think. When we read about the average ages of the players on the Canadian team, we thought we'd be able to beat them relatively easily.
"Gordie Howe playing at age 46 with his two sons on the same team. Well, it's fantastic. What else can you say?"
Years later, Yakushev still remembers the tournament fondly.
"My favourite thing was that we were playing against the biggest hockey stars, Bobby Hull and Gordie Howe," Yakushev said this week in an interview through a translator. "Everyone was proud of it; everyone remembers it. We didn't see or read much about these players, but heard a great deal. Then all of a sudden we are playing against them."
*
It was 74 degrees in Moscow when Team Canada arrived, a classic Indian summer.
Team Canada flags, and stickers reading "A Friendly Canadian" in English and Russian, were all over the Soviet capital. Relations between west and east had thawed enough that on Sept. 25, the Detroit Red Wings acquired the negotiating rights to Tretiak, should he ever be allowed to play outside Russia.
If 1972 is remembered for Alan Eagleson's showdown with Soviet authorities, Kukushkin said 1974 was more relaxed.
While Communist Party apparatchiks filled the 14,000-seat Luzhniki Arena in 1972, blue-collar fans were actually able to get tickets in 1974.
"I don't really remember much of what happened on the ice, but I do remember a huge difference between '72 and '74 with Moscow," said Henderson. "In '72, I had a deal with a company that gave me 15 pairs of pants in a year, and I wore some to Moscow, really bright colours. The whole city was dark and drab and grey. But by the time we went back there in '74, there was a big difference. Lots more colour, more openness."
Or maybe not.
"I remember us all in a bus going from the rink in Moscow, and there are fans around outside and lots of police and Paul reaches out the window to hand a package of gum to a kid," Mark Howe said. "All of a sudden, police grabbed the kid, bundled her into the back of a police van, and she was gone."
The Russians won 3-2 in Game 5 and 5-2 in the following game, which was marked by an incident when Rick Ley bloody the face of Soviet star Valerie Kharlamov (The same Russian star who was slashed by Bobby Clarke during the 1972 series).
"Canadians are renowned masters of power fighting but when certain hockey players replace strength with brutality, they undermine the authority of Canadian hockey," a sports journalist named D. Ryzhkov wrote after Game 6 in a Soviet newspaper game story. "It's the best players who usually are victims of the brutal moves, the ones whose games excite and are admired by Canadian and Soviet hockey fans."
Russia's Pravda newspaper wrote simply, "real pros were expected to come, and disappointment is always bitter."
In Game 7, they skated to a 4-4 draw. "Lulled by the Canadians' slowness, it seemed like the key Soviet players fell under their influence," Russia's Sovietski Sport newspaper reported. "There was an impression that they forgot who they were dealing with. And Canadians are just tough customers. They've proven many times that they can get out of difficult situations with honour."
The Russians won the final game 3-2. In four games in Russia, Canada lost three times and added a tie. In 1972, Team Canada won three of four games in the Soviet capital.
The Canadians were disappointed, none mores than Cheevers, who complained some of the Canadian players had found listening devices hidden in their rooms.
An Oct. 7, 1974, editorial in The Toronto Star was less than flattering of their Russian hosts.
"Defeat is painful and never more galling for Canadians than when we have laid our hockey prestige on the line," the paper wrote. "The failure of Soviet officials to speed the Canadian team through customs in time for a practice and their assignment of Canadian players and their wives to a third-rate hotel (equivalent to a 10th-rate hotel in Canada) may have more to do with slovenliness than a desire to harass."
Sour grapes, Russians said.
In a column recapping the series in Sovietski Sport, then-retired defenceman Alexander Ragulin, who starred for the Soviets during the 1950s, wrote, "At certain times I used to meet Canadian hockey players and I was convinced that each failure really hurt their self-esteem. It wasn't surprising in games that they could be so aggressive.
"During our games with amateurs it almost never got to serious fights, as they played by the rules. But the pros, whether it's NHL or WHA players, often openly fight with their sticks, with the Soviet hockey players' breeding doesn't allow. It would never occur to us to hit a rival in the face simply for having the puck taken away. Unfortunately, many Canadians have a different opinion."
Considering Howe and Hull, Henderson and Mahovlich, and Cheevers starred for Team Canada Two, perhaps it's worth asking why so few Canadians today recall the 1974 series.
"The 1976 Canada Cup gets remembered because Canada won going away, but it's not remembered as much as it might have been because the final was against Czechoslovakia, not the Soviets," said Field, the University of Manitoba historian. "But no one talks about '81, where we lost badly, or the 1979 Challenge Cup, when an NHL All-Star Team got spanked badly by the Soviets. Winning really does matter to the collective memory."
That's a sentiment Henderson, for one, relates to.
He said he almost couldn't believe it when he was asked to reminisce about 1974.
"My goodness," Henderson said. "I honestly can't remember the last time anyone asked me about 1974. I just don't ever talk about it."