Indians vs. Blue Jays in Game 5 of ALCS - as it happened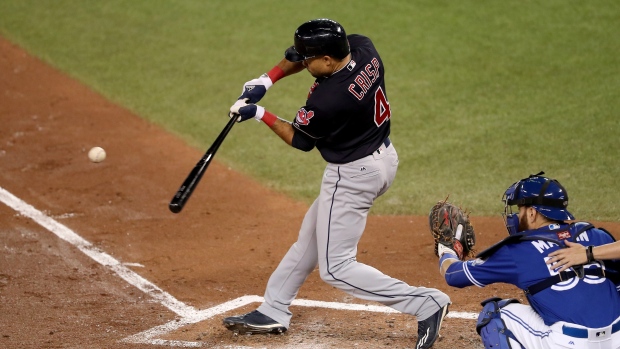 Stay up to date on all the action from Game 5 of the American League Championship Series with our live blog:
9th Inning
Bautista on base with leadoff double. Donaldson and Encarnacion strike out swinging. Tulowitzki flies out to end the series.
Miller out of the game for Cody Allen.
Roberto Osuna allows leadoff double to Lindor, who has three hits on the night. After Napoli flied out, Ramirez moves Lindor on fielder's choice at first.
8th Inning
Pinch hitter Dioner Navarro singles off Miller. Carrera, Pillar and Barney go down end the inning.
Joe Biagini in to pitch for the Jays, takes down three straight Cleveland batters to end top of 8.
7th Inning
Encarnacion flies out to the warning track. Tulowitzki and Martin ground out to end the inning.
Brett Cecil comes in to record three straight outs for Jays.
6th Inning
One pitch, two outs for Miller as Donaldson hits into a double play to end the inning.
Bautista raps a one out single off Shaw, Andrew Miller into the game for the Indians.
Estrada gives up nothing in the top of the sixth inning as the Indians lead 3-0.
5th Inning
Saunders follows up with a single but strikeouts from Carrera and Pillar end the bottom of the fifth, 3-0 Indians.
Russell Martin hits a one out single in the 5th inning, Bryan Shaw replaces Merritt on the mound for the Indians.
Estrada retires the side in the top of the fifth inning, needs the bats to get going in support.
4th Inning
Merritt has still faced the minimum as he follows a Donaldson single with an Encarnacion double play, 3-0 Indians after four innings.
Coco Crisp hits a solo homer with two out in the fourth inning, 3-0 Indians.
Andrew Miller has started to get warm in the Indians bullpen.
3rd Inning
Merritt has retired all nine Blue Jays he's faced so far as he gets the bottom of the order in the third.
Santana does the only damage in the third inning as the Indians lead 2-0.
Carlos Santana hits a no-doubter to centre, 2-0 Indians.
2nd Inning
Another three up, three down inning for Merritt as he hold a 1-0 lead over the Blue Jays.
Estrada gets the Indians three up, three down with a pair of strikeouts in the top of the second inning. 1-0 Indians.
1st Inning
Ryan Merritt sits the Blue Jays down in order in the bottom of the first as the Indians continue to lead 1-0.
Mike Napoli drills a pitch to left, Carrera misplays it (E7) allowing Lindor to score from first, 1-0 Indians heading to the bottom of the first.
Underway in Toronto
Pre-Game
Here is how the two teams will lineup for Game 5 of the ALCS.