Inferno upset Les Canadiennes for CWHL win
The Calgary Inferno upset Montreal's Les Canadiennes 8-3 on Sunday afternoon to win their first ever Clarkson Cup, the championship of the Canadian Women's Hockey League.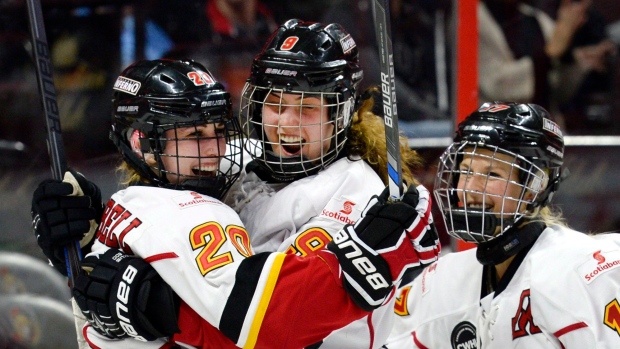 OTTAWA - Hayley Wickenheiser can now say she's won at every level of women's hockey.
The five-time Olympian and her Calgary Inferno teammates captured their first ever Clarkson Cup on Sunday with an impressive 8-3 victory over Montreal's Les Canadiennes.
Following the game Wickenheiser admitted winning the Canadian Women's Hockey League championship holds a special place among her many accomplishments.
"I was thinking to myself I've pretty much won every championship except for this one and just to do it with this group of players," said the 37-year-old Wickenheiser. "This league is interesting in the sense that you've got some players that are pro players like myself and some of the other national team players and then you've got women who are working 9 to 5 jobs and they come to the rink at night to practice. They don't get a chance to train.
"I was thinking about those players. We've got a police officer, a teacher, a lawyer and for those girls to win a championship like this it really means a lot to them. That's why this league matters."
Wickenheiser will have little time to relish the victory as she will be preparing for the upcoming world championships.
This was the Inferno's first appearance in the final whereas Montreal has appeared in six of eight Clarkson Cup finals and have won three.
Montreal (21-3) came in as the favourite after finishing the regular season in first place and having a 4-2 record over Calgary, but the Inferno got out front early and never looked back.
"Our girls played with a lot of heart," said Calgary coach Scott Reid. "We just decided to leave it out on the table.
Blayre Turnbull, Brianne Jenner, Jessica Campbell and Rebecca Johnston each scored twice for the Inferno as Delayne Brian faced 41 shots.
Marie-Philip Poulin, Noemie Marin and Kim Deschenes scored for Les Canadiennes. Charline Labonte faced 25 shots.
Les Canadiennes were reeling from the loss and struggled to explain how things fell apart so badly in such a big game.
"I have to admit I'm a little surprised considering our preparation," said Montreal coach Dany Brunet.
Labonte, who will play in the upcoming World Championships, was far from her best on this day.
"Charline did her job like everyone else," said Brunet. "We can't point fingers at one person. We had a good season. Everyone did their best and that's what's important, but unfortunately we didn't get the result we wanted."
Held at Ottawa's Canadian Tire Centre, this marked the first time a Clarkson Cup final was played in an NHL arena.
An announced crowd of 4,082 witnessed some of the best in the women's game as the Inferno boasted nine members of the Canadian Olympic women's team including Jenner, Johnston, Hayley Wickenheiser, and Meghan Mikkelson. The Canadiennes roster included Poulin, Labonte and former Olympic team member Caroline Ouellette.
Leading 5-2 to start the third the Inferno put the game out of reach early as Campbell deflected Meaghan Mikkelson-Reid's point shot on the power play. Montreal made it 7-3 on Deschenes' goal.
Montreal pulled its goalie with under six minutes remaining, but never managed the comeback. Jenner scored her second into an empty net.
"It was our night," added Wickenheiser. "We couldn't really be denied."
A solid second period by the Inferno allowed them to take a 5-2 lead after 40 minutes. Campbell made it 3-1 Calgary as she jumped on a rebound out front at the two-minute mark and Turnbull made it 4-1 with a great move at the halfway point of the period.
Les Canadiennes cut the lead in half as Marin beat Brian from in close, but the Inferno responded 23 seconds later as Turnbull scored her second of the game.
"We had girls step up throughout the game when we needed them," said Reid. "When they scored we didn't sit back. We went and got another one and that helped us keep the momentum going."
The Inferno were 17-0-1 this past season when leading after two periods.
Johnston opened the scoring for the Inferno at 2:26 of the first.
Les Canadiennes tied the game at the seven-minute mark as Poulin scored on the power play and Calgary ended the first with a 2-1 lead as Jenner scored on the power play.