Infighting fractures Bulls ahead of opener in Toronto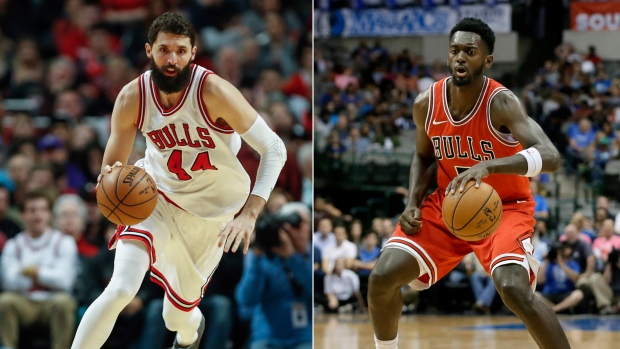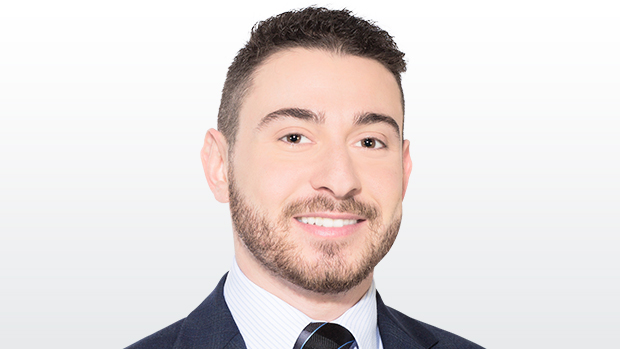 TORONTO – It isn't entirely uncommon for teammates to get in heated disagreements from time to time – most professional athletes are fiercely competitive beings after all – but there's a line that's crossed once things get physical.
That's what happened in Chicago on Tuesday when a practice altercation cost the already depleted Bulls two rotation players just days ahead of their season opener against the Raptors.
It started with a shoving match between forwards Bobby Portis and Nikola Mirotic, culminating in the former punching the latter in the face. The result: Mirotic, the team's presumed starting power forward, was hospitalized with a concussion and maxillary (upper jaw) fractures, is likely to undergo surgery and, reportedly, will miss four to six weeks. Meanwhile, Portis has been suspended by the Bulls for the first eight games.
"As a coach, you want competition, you want guys to compete, to go at each other, but not to the point where you injure a teammate," said Dwane Casey, whose Raptors team is preparing to host Chicago at the Air Canada Centre on Thursday. "It's one thing to have an injury in a game or on your own or accidentally, whatever it is, but to have that at (the) hands of a teammate is difficult, and you never want that to happen."
"You always preach: have an edge. I like edgy practices, guys going at each other in practice. When it becomes physical and there's an opportunity to hurt a teammate, that's where you draw the line."
Casey, a basketball lifer, has seen his share of in-house scuffles over the years. If you've played or been around competitive sports – at any level, really – you probably have too. It happens in just about any profession, with different personalities forced to co-exist. The reality is that not everybody's going to get along all the time. However, this is a reminder of what can happen if someone takes it too far.
"I've seen a few, you keep that in house, it is what it is," Kyle Lowry admitted. "It's competition, it happens, you get mad at teammates, teammates get mad at you, you get mad at this. It happens. We're all grown men in here, a lot of testosterone in here and sometimes it gets like that."
From Gary Payton in Seattle to Kevin Garnett in Minnesota, and even Lowry in Toronto, Casey has coached some of the league's toughest, most hard-headed competitors.
"We had some doozies in Seattle, I'll tell you what, some fisticuffs," said Casey, an assistant coach with the SuperSonics from 1994-2005. "One that started on the court and went in the weight room and went outside, came back in. It was a long one. I've seen those. The good thing about that, the people that were involved in that were able to come back together and bond back together, which is the hard part. You can't let what happened yesterday come into tomorrow or next week or next month or hold it inside. That's the trick and luckily in Seattle we had some of those but guys were able to get back together and maintain the team chemistry."
Outside of a few isolated incidents – some heated team meetings and a disagreement between Casey and James Johnson during the forward's first stint in Toronto – the Raptors have been a mostly harmonious group over the last few seasons. Winning doesn't hurt, of course, and that's clearly not something the fractured Bulls can rally around right now.
DeMar DeRozan's unique perspective on the matter predates his time in the NBA and goes back to his teenage years, growing up in Compton, Calif.
"High school, we fought a lot," the all-star guard said. "We used to have to go in the middle of the circle and the first one out of the circle [would] lose. It was rough. Compton High days. If you're talking smack, [there's] one way to settle it. I hope school [is] not like that any more."
This Bulls team is no stranger to turmoil. Jimmy Butler and Dwyane Wade were at the centre of it last year, publically pointing fingers at the coach, Fred Hoiberg, and some of the younger players. Now, Butler and Wade are both gone – traded and bought out, respectively. Chicago is transitioning to a new era, one that could require a painful rebuild, and it's not off to an encouraging start.
Needless to say, this is not the same club that, up until recently, would give the Raptors nightmares. The Bulls have won 11 of their last 12 meetings with Toronto, their most recent win in the series coming just eight months ago. However, with Mirotic and Portis out, only four guys that played in that game remain on the roster: Jerian Grant, Cristiano Felicio, Denzel Valentine and Robin Lopez, who exchanged punches with Serge Ibaka the last time Chicago visited.
Toronto's expected starting lineup (Lowry, DeRozan, Norman Powell, Ibaka and Jonas Valanciunas) enters the season with a combined 34 years of NBA experience. Chicago's starters (Grant, Justin Holiday, Paul Zipser, Lauri Markkanen and Lopez) have less than half of that (16 years), and Lopez is responsible for most of it (nine years)
Already missing Zach LaVine (knee) and Kris Dunn (finger), the Bulls will be heavy underdogs in Thursday's opener and for the foreseeable future. The question is: will this week's events bring them together or – the seemingly more likely alternative – will it tear them even further apart?