Insider Trading: Are Leafs trying to make deal with Hurricanes?
Insider Trading: Are Leafs trying to make a deal with Canes?
TSN Hockey Insiders Bob McKenzie and Pierre LeBrun joined host James Duthie to discuss what exactly was Sens owner Eugene Melnyk's declaration, the current market price for big name players, whether the Leafs and Hurricanes are still trying to make a deal and more.
---
Ottawa Senators owner Eugene Melnyk said on Tuesday that the team's rebuild will take a couple of years, but will lead to a five-year run of unprecedented success. What exactly was Melnyk's declaration?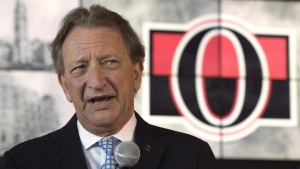 McKenzie: Was it a bold declaration of a new mission statement where the Senators will go in a completely different direction of running their team, going from a budget team to a cap team? Or was it really just a public sales pitch to Matt Duchene and Mark Stone to have them stay? Or cynically, Melnyk did this just to put some spin out there to protect the organization just in case Duchene and Stone are on their way out of town. The declaration happened Tuesday night at the Hockey Hall of Fame. In addition to all of the corporate people that were there, all of the Senators players were there as well - including Duchene and Stone. I would have to believe that Duchene and Stone have heard this talk before. The bottom line is do Duchene and Stone believe Melnyk? Duchene seems to be slow-playing his negotiations, while Stone doesn't seem to have much happening on that front at the moment. What I do believe is that by the beginning of next week we're going to have clarity. Either they're staying or they're going, and if they're going, they're getting traded.
What is the price for a big-name player on the trade market?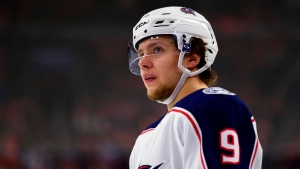 LeBrun: The market is not where the contenders want it to be right now. A lot of the contending teams are frustrated by the high prices right now that are attached to some of the bigger rental names. In particular, my sense is that Nashville and Boston checked in on Artemi Panarin in Columbus and had a bit of sticker shock when they found out how much it's going to take to pry him out of there this early in the process. We're still two-and-half weeks out from the deadline, and I think as time goes on, the price should go down; especially if Stone or Duchene are added to the trade market next week. To me, those two guys would change the landscape big time. I think the contenders have to be patient.
There were previous rumours about the Carolina Hurricanes and Toronto Maple Leafs possibly doing a trade, and apparently the two teams are still talking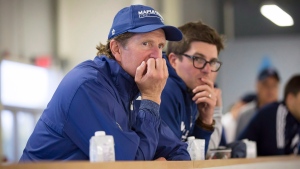 LeBrun: One of my sources in Buffalo saw Maple Leafs assistant general manager Laurence Gilman in the press box in Buffalo for Thursday's game against the Carolina Hurricanes. I don't think he's there to scout the Sabres, as far as I can tell. Is Gilman there because the Leafs still covet a right-handed shot defenceman, or is it because Micheal Ferland, who has been on the market, is a power forward and that's a scenario where the Leafs could use an upgrade. This is the second time that Gilman has scouted the Hurricanes over the last couple of weeks.
NCAA stars Quinn Hughes and Dante Fabbro are eyeing early entry into the NHL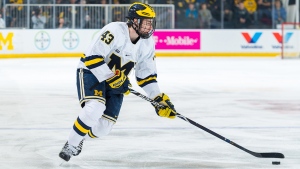 McKenzie: Not a surprise to anyone in Vancouver, but the expectation is that as soon as the season is over for the University of Michigan, the expectation is that sophomore player Quinn Hughes, who was drafted by the Canucks in the first round of the 2017 draft, wants to turn pro as quickly as possible. Meanwhile, Nashville's first-rounder from 2016, University of Boston junior Dante Fabbro, is also expected to turn pro. Fabbro gives Nashville a depth option on the blue line, or, a potential trade chip as they start to talk about all these rentals.
What's the market on Ilya Kovalchuk?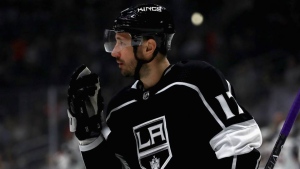 LeBrun: I would say that he would be open to a trade to a contending team, for the right fit. Kovalchuk has a full no-trade clause, so he controls his future. Remember, when he went to the Los Angeles Kings in the summer, there was quite a fierce bidding war for Kovalchuk's services. He was sold on the premise that the Kings would be a team that could go to the playoffs, obviously that hasn't played out. I think the Kings would play ball with him and try to accommodate him. The thing is though, he's got two more years left on his contract at 6.25 on the cap. It is a front-loaded deal, but I think given all of the rental players on the market, it's going to be a tough sell for a contending team.