Insider Trading: Duchene not expected in the lineup on Thursday
Duchene will sit on Thursday and beyond, could teammate Stone and Dzingel join him? Are the Big 3 holding up trades? Silfverberg close to an extension and possible tension between the Oilers and Puljujarvi?
How much longer can the Ottawa Senators keep playing
Matt Duchene

,

Mark Stone

and

Ryan Dzingel

before they say 'we've got to take them out of our lineup'?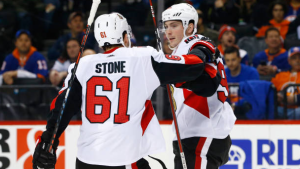 Dreger: It's all about risk management and from the Ottawa Senators prospective, they're not going to wait any longer with Duchene. I'm told that Duchene will not be in the lineup for the Senators on Thursday and it's hard to imagine he plays on Friday or following up on Sunday before the NHL trade deadline. It's all about preserving the asset. We'll find out very shortly, I assume, if they follow that same trend or path with either Mark Stone or Ryan Dzingel.
McKenzine: Does the same fate away Mark Stone on Thursday? Too soon to say. We said it before and we'll say it again, the next 24 to 48 hours is absolutely critical. Does Stone either sign or negotiate off whatever was presented to him by the Senators last week or does he say 'thanks or no thanks' and put himself in the same category as Duchene, the guy who is almost certainly going to be moved before the deadline. We should have clarity on that in the next day or two, and that's obviously a big one. Because if Stone officially goes onto the market, he would move to No. 1 on the trade bait board, for sure.
LeBrun: And the third member of the big three on the rental market, Artemi Panarin, he's out tonight as well. But not for trade-deadline reasons. He has a stomach flu. The Jackets need every point they can get in the standings. He'd be playing if he could. And I'm told as far as trade talks for Panarin goes, (a) holding pattern. The Jackets have a good idea of what the market is for him right now. They've solicited several offers but they need more days for this to play out because they are working on other things as well. So, status quo there for now.
Speaking of the Big 3, have they created a bit of a logjam and as soon as those guys start going, the rest will fall into a domino effect?
LeBrun: For certain guys, yeah, it's had an impact. I think of Gustav Nyquist in Detroit. Lots of teams are calling on him with the Red Wings. He's an unrestricted free agent at July 1. But, a lot of those teams are saying 'just make sure you call us if you do something because we're keeping an eye on the bigger guys first, with all due respect to Nyquist, who is having a fine season in Detroit. Here's what the Red Wings are doing. No. 1: He's got a full no-trade clause. So he has to waive to go a contender. We believe that won't be an issue for the right fit. No. 2: They've also had contract discussions with the Nyquist camp. If someone doesn't meet up the standard of what Detroit wants for him, they're ready to sign him. So they're playing parallel tracks with him.
McKenzie: One of the lowercase commodities, hot commodities, is also on the Detroit Red Wings, that is 28-year-old, right-shot defenceman Nick Jensen. He's a pending unrestricted free agent. He's played 20-plus minutes a lot of nights against some really tough competition. He's mobile. He competes very hard. He's a good penalty-killer. There is lots and lots of interest. But like Nyquist, the Detroit Red Wings are trying to sign him. If they can't get him signed, then he will more than likely be traded before the deadline. And as I said, lots of interest in this guy.
Is it possible we could take an Anaheim Ducks player off the trade bait board?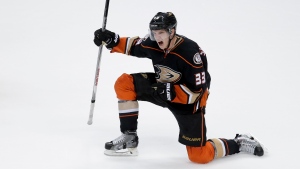 Dreger: Jakob Silfverberg. It doesn't seem possible that they would consider trading him at this point. They've gone well down the road to getting him extended. It's not quite finished yet, it's more of a cap-management issue because they have tagging issues. They've had over 100 roster moves this season alone which eats up tagging space to some degree. They are over the cap, so you'd have to subtract that from your tagging space. You've got Patrick Eaves on waivers. If he gets claimed, then that might free things up a little bit for the Anaheim Ducks. Otherwise, they're likely going to have to wait to get it official on March 1, when every team, gets a 10 per cent bump in the tagging space.
What's the latest on the Edmonton Oilers and
Jesse Puljujarvi

?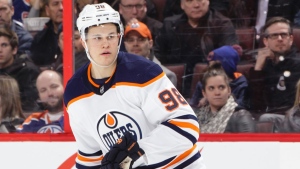 McKenzie: Right now he's injured and the speculation is if he's healthy by the weekend, the Oilers would like to send him to the American Hockey League, probably for the balance of the season. They think that's the best development move for him. But boy oh boy, I'm wondering if this situation is fractured beyond repair between Puljujarvi and the Oilers. There's lot of speculation that Puljujarvi would not look too kindly on being sent back down to the minors again, even though the Oilers think that's in his best interest. Would he go? We don't know. I don't think that the interim management team of the Oilers are eager to trade Puljujarvi before Monday, but I don't think we could rule that out, either, if they got an offer they felt completely blew them away. This is an interesting one to watch The long-term/short-term future of Puljujarvi very much up in the air on all fronts.