Insider Trading: Impact of Sens' trio sitting vs. Devils
Insider Trading: Impact of Stone, Duchene and Dzingel sitting out vs. Devils
TSN Hockey Insiders Darren Dreger and Bob McKenzie joined host James Duthie to discuss the latest with the Ottawa Senators, what the Winnipeg Jets might do and whether or not the Boston Bruins are done after acquiring Charlie Coyle earlier in the week.
---
What's the latest from Ottawa?
Can we assume that decisions have already been made on Matt Duchene, Mark Stone and Ryan Dzingel as all three sat out against the New Jersey Devils Thursday night?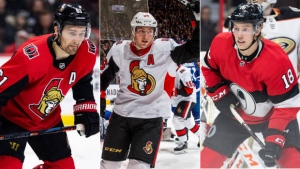 McKenzie: Well, here's what we can say – the Ottawa Senators established a deadline and the deadline was if these guys weren't signed before the game, then they weren't going to play and they obviously didn't play. That doesn't mean 100 per cent absolute certainty that all three are now going to be traded although that might be the logical conclusion. Now there was never a cataclysmic announcement from Matt Duchene saying I'm not signing in Ottawa and there was never any sort of press release put out by the Senators saying we're trading Matt Duchene. And yet, they've been proactively trying to trade him and sooner rather than later for some time now. We would expect the same thing is likely to roll out for Stone and Dzingel, but at this moment in time, the players and the club haven't 100 per cent closed the door but draw your own inference from it – it would most certainly seem likely it's headed in that direction, but let's give it another few hours if you will to see unequivocally.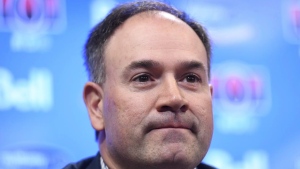 Dreger: Well and trying to determine how many teams are actually in on Matt Duchene at the moment is a difficult task because there are teams that are interested in Duchene provided that they can extend him but yet Pat Brisson, who represents Matt Duchene, has not been brought into the equation just yet. Now that can change with a simple text or a phone call but it hasn't happened just yet. It could be as many as five teams with interest in trading for him or much more than that beyond the rental market. So it's a moving target specifically with Matt Duchene.
Stone's price tag?
McKenzie: If the Ottawa Senators do trade Mark Stone the belief is that they'd be looking for four elements to the trade. It could be as much as two first-round picks and two very good prospects.
What might the Jets do?
As the trade deadline inches closer, who might the Winnipeg Jets have their eyes on for the stretch run?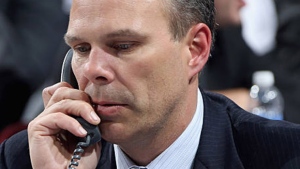 Dreger: Well, Kevin Cheveldayoff is checking in on a number of teams and is pretty eager to find out what the direction is for the players in Ottawa. There's no question about that he's staying in touch with the New York Rangers as well. There are lots of teams with interest in Kevin Hayes and Mats Zuccarello and interestingly enough, those guys are in the lineup for the New York Rangers – they're playing in Thursday's game. He's also checking in with the Philadelphia Flyers on Wayne Simmonds, so he's pretty keen on trying to add a significant piece as we know, but he's getting a significant piece regardless of trade because Nikolaj Ehlers is very close to coming in off injury.
Dubas, Leafs looking ahead?
Both Andreas Johnsson and Kasperi Kapanen are set to become restricted free agents this summer, so what might Kyle Dubas want to look at leading up to Monday's deadline?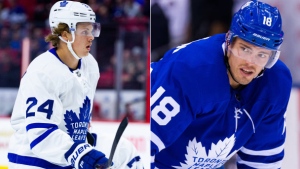 McKenzie: Yeah, Kyle Dubas wanted to get together this week with both the agents for Kasperi Kapanen and Andreas Johnsson just to find out what might be in store down the road. Are these negotiations potentially going to go the way William Nylander negotiations went – which was to the mat which is a real tough fight to get something done – and what are the expectations for these players? Now, I don't believe that Kyle Dubas and the Toronto Maple Leafs want to trade Kasperi Kapanen or Andreas Johnsson between now and Monday, but I also think that Dubas and the Leafs wanted to get a handle on what the reasonable expectations of the player might be in a contract just in case the Leafs are presented with something that would open the door for them to maybe trade one of those guys because there may be financial reasons why they can't keep them long-term anyway.
Is Boston done yet?
The Boston Bruins went out and got Charlie Coyle from the Minnesota Wild on Wednesday, but could they do more?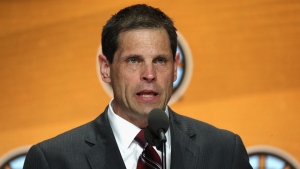 Dreger: They could and as I mentioned, Hayes and Zuccarello from the New York Rangers, so many teams are connected to those pending unrestricted free agents and I'll include the Boston Bruins in there. Charlie Coyle was a nice add, you know Don Sweeney didn't have to pay a big-game price for Coyle and I believe he'd like to add another forward. The beauty of Coyle is he can play the wing, he can play third line centre and they like the versatility of Hayes and/or Zuccarello as well so it's going to come down to the next few days and obviously up to the deadline but I think they'll add.