Insider Trading: All eyes on Tavares a month out from free agency
TSN Hockey Insiders Darren Dreger, Bob McKenzie and Pierre LeBrun joined host James Duthie to discuss the Free Agent Frenzy that is set to get underway in a month.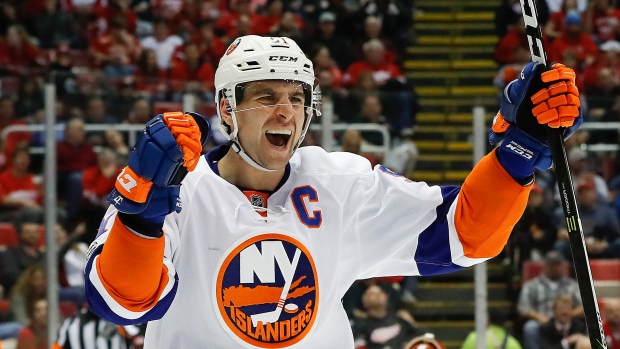 TSN Hockey Insiders Darren Dreger, Bob McKenzie and Pierre LeBrun joined host James Duthie to discuss the Free Agent Frenzy that is set to get underway in a month.
Oliver Ekman-Larsson (Arizona Coyotes)
Bob McKenzie: "Right now, the ball seems to be squarely in Oliver Ekman-Larsson's court. He is sitting on an offer from the Arizona Coyotes that is believed to be an eight-year contract extension at an average annual value of $8.25 million. If he wants to sign long term and make a commitment to the Coyotes, that's the deal that's on the table. If he doesn't want to do that, then the Coyotes would of course look at their options in terms of going down the trade route. There doesn't seem to be any sense of a timetable on this, but obviously sooner rather than later both sides would like to know where this thing is at."
John Tavares (New York Islanders) /Ilya Kovalchuk (Free Agent)
Darren Dreger: "The dance continues between John Tavares and the New York Islanders. The twist of course is that Lou Lamoriello is at the helm. Lou Lamoriello and Pat Brisson, who represents John Tavares, are basically in daily communications. Now we know what the term is going to be if he accepts and that's an eight-year term. The money hasn't obviously been discussed yet, but obviously Tavares is top priority for Lou Lamoriello. And an interesting twist to all of this as we reported on TSN.ca, the possibility of Ilya Kovalchuk perhaps identifying Lou Lamoriello and the New York Islanders as a fit. We believe Kovalchuk want a two, maybe a three year deal at $6-plus million. So we'll see if there's some work that can get done there."
John Carlson to Las Vegas?
Pierre LeBrun: "I think it is possible. Now you mentioned Tavares, we expect Vegas to be a potential bidder there. What about John Carlson? George McPhee the GM with Vegas of course has a history with John Carlson. Let me be clear, John Carlson's priority is to re-sign with the Capitals after this season. He wants to stay there, that's what the Caps want to get done. However, the salary cap. If this is a deal worth eight times eight for John Carlson, I think it might be, he might price himself out of Washington. There's going to be a long list of suitors, but I'm just telling you this, Vegas tried to trade for Erik Karlsson at the Trade Deadline. They identified a puck-moving stud as a need. He not's Erik Karlsson, but John Carlson is a pretty good player. Another top blueliner - Ryan Ellis in Nashville. He's one year away from UFA - like those top three you mentioned at the top - Nashville has identified that as their number one off-season priority. They've already talked to the agent for him. They plan to meet at the draft. They have to get him signed. He's only making $2.5 million. Big raise coming for Ryan Ellis."
Phil Kessel (Pittsburgh Penguins)
Bob McKenzie: "Well, it's taken on a life of its own since Pittsburgh media reported at the end of the playoffs there that the possibility of a Kessel trade is very real. And you know what? It is. Now having said that, it's not absolutely guaranteed either. Right now, the position of general manger Jim Rutherford is that he has two untouchables on his team - one is Sidney Crosby the other is Evgeni Malkin. On top of that, youngsters like Guentzel and obviously Murray in net would be guys that they're much more inclined to not trade. So they'll listen on Kessel, if they get the right deal he could be dealt, but it's not absolutely a forgone conclusion that Kessel won't be back in Pittsburgh next year. Lots of teams interested in him, Los Angeles Kings amongst others."
Max Pacioretty (Montreal Canadiens)
Darren Dreger: "The trade speculation in Montreal on captain Max Pacioretty has been consistent. I would say since well before the February 26th Trade Deadline. But here's something that interesting specific to the leaders that they have had preliminary discussions - they being Marc Bergevin, the general manager, and Pat Brisson of CAA - on the possibility of an extension for Max Pacioretty. Not saying it gets done, but they are at least considering the option."
Tomas Plekanec (Toronto Maple Leafs)
Pierre LeBrun: Speaking of the Habs, Tomas Plekanec, this is not shocking, but a possible return to the Canadiens once the UFA period opens. And it's not a huge priority for Montreal, but they have huge respect for the player, obviously Marc Bergevin trying to get a No.1 centre and that's the priority right now for them, but if all things being equal, I think there's mutual interest in him returning to the Canadiens."