Insider Trading: Is a bridge deal in the cards for Nylander?
TSN Hockey Insiders Bob McKenzie, Darren Dreger and Pierre LeBrun join host Gino Reda to discuss the William Nylander contract situation, Auston Matthews' return from injury and the future of head coach Todd McLellan with the Edmonton Oilers.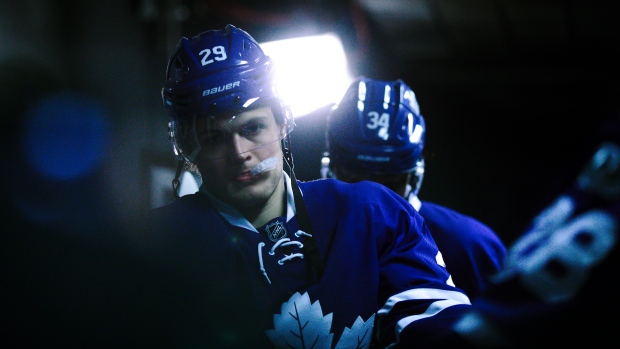 TSN Hockey Insiders Bob McKenzie, Darren Dreger and Pierre LeBrun join host Gino Reda to discuss the William Nylander contract situation, Auston Matthews' return from injury and the future of head coach Todd McLellan with the Edmonton Oilers.
---
When is
Auston Matthews

coming back?

Gino Reda: When Matthews went down with a shoulder injury the thought was he'd be gone at least four weeks. We're not even at three weeks yet, but on Thursday he was wearing a regular jersey. What's the timeline here?

Pierre LeBrun: Well, it's not quite a firm timeline as of yet. He needs to take contact first. And that means their next full practice is on Sunday. The Leafs will have a better idea at that point after that practice, but certainly if all goes well and there is no regression and setbacks, it is a possibly that he returns on Saturday, Nov. 24, which basically would be at the four-week juncture that he has been out. But, again, it really depends on how he feels once he takes contact in practice.
---
Is McLellan on the hot seat?
Reda: To the Edmonton Oilers. Just one win in their last five games, certainly not where management would like them to be right now. The question is, what's the job security like for Todd McLellan right now because there is some speculation?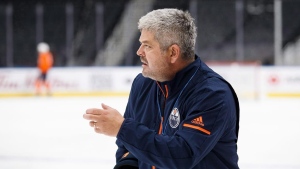 Darren Dreger: There has been some speculation, but he's safe for now and that was an enormous win over the Montreal Canadiens, 6-2 on Tuesday, so perhaps in some way that will alleviate some of the pressure. Now I know the big brass of the Edmonton Oilers met on Wednesday and that includes the likes of Bob Nicholson, Peter Chiarelli, Wayne Gretzky was there, Kevin Lowe part of it. Not unusual, but the message is let's stay the course so now they've got the Calgary Flames coming up on Saturday. The pressure may have cooled a little bit in Edmonton, but it's kind of game-by-game at this stage.
---
Weekly Nylander Update
Reda: Meanwhile in Toronto, the clock is ticking on the William Nylander situation. The Dec.1 deadline now just outside two weeks away. Originally, we've been talking an awful lot about two options for the Toronto Maple Leafs - sign him or trade him. Now possibly a third option?
LeBrun: And that's just what we need is more time to talk about William Nylander. But the Leafs, I believe internally have discussed this other option, which is we can wait until the trade deadline to say listen if we don't get the trade offer that we want on Dec. 1, maybe there's a better offer before the trade deadline. Those would come from non-playoff teams obviously because Nylander can't play in the NHL this year if he isn't signed by Dec. 1. But it could be that a non-playoff team that doesn't require his services until next season anyway might pony up the kind of assets that could help the Leafs in a playoff run this year. Not the likeliest scenario, but nevertheless an option that is on the table for the Toronto Maple Leafs.
Bob McKenzie: I got to believe that Plan A is still trying to get William Nylander signed a vice versa for the player to play in the NHL for the Toronto Maple Leafs. Lots of speculation into how that might happen. Talked to one agent, not involved in the process at all, who predicted that this would likely end up being settled on a three-year bridge deal - four million in the first year, five million in the second year, seven million in the third year. That would be a $5.33 million AVV. Richer than what the Leafs want to get, less than what William Nylander wants, but the third year would be key getting him up to the seven-million-dollar mark into that stratosphere for qualifying offers and such after that.
---
Trade speculation in Colorado?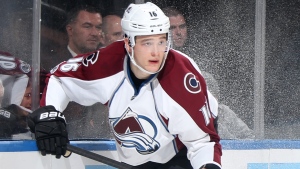 Dreger: Well, speaking of trade speculation, I mean fluctuating ice time for 23-year-old defenceman Nikita Zadorov of the Colorado Avalanche has some NHL clubs wondering if he might be available. Now he played seven minutes and 22 seconds versus the Boston Bruins on Wednesday night. He, too, is a restricted free agent at the end of the year. The belief is that the Avs would like to add a forward. They like this kid - six foot five - but based on his ice time, he's in the coach's doghouse so he could be a part of something bigger down the road.
---
New rules in in the IIHF
Reda: On Thursday, the NHL announced simply a fine to Josh Morrissey for a hit that looks awfully similar to the one Mike Matheson had to pay with a two-game suspension. On the heels of that, outside the NHL, the IIHF has already addressed hitting the player after he releases the puck.
McKenzie: It's kind of interesting. We know the IIHF's standards on hits to the head are much more extreme than it is in the NHL. This is a new rule in the IIHF this season about late hits. And a late hit constitutes a body check to a skater who is in a vulnerable position because he no longer has control or possession of the puck. It could be minor penalty, could be major penalty. If there is what they call reckless endangerment, which some people might argue is what happened to Pettersson and/or TJ Oshie that it could be suspensions. It's interesting because it continues to highlight the difference between the IIHF, who take these extreme views of hits to the head and late hits, versus the National Hockey League. Where it also comes into play, Tim Hunter, who's heading up Canada's national junior team, knows if they call this rule tightly at the world junior championship, then the players on Team Canada and Team USA, the North Americans, are going to have to alter their behaviour in terms of the old finish-the-check mentality. It's going to be interesting to keep an eye on.
---