Insider Trading: Is Bergevin in trouble?
TSN Hockey Insiders Bob McKenzie, Darren Dreger and Pierre LeBrun joined host Gino Reda to talk about the possibility of CHL players representing Canada at the Olympics, whether or not Marc Bergevin's job is safe and the possibility of the Buffalo Sabres moving a pair of their young stars.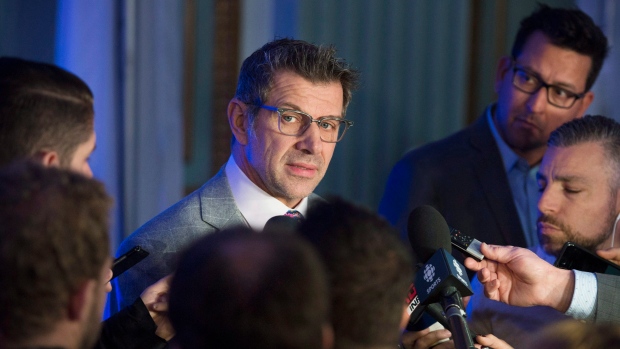 TSN Hockey Insiders Bob McKenzie, Darren Dreger and Pierre LeBrun joined host Gino Reda to talk about the possibility of CHL players representing Canada at the Olympics, whether or not Marc Bergevin's job is safe and the possibility of the Buffalo Sabres moving a pair of their young stars.
---
Could CHL players represent Canada at the Olympics?
With the NHL's refusal to send their players to the Winter Olympics in 2018, CHL players under NHL contracts who are currently playing in junior hockey could be made eligible to play in PyeongChang. But how has the leadership of the CHL embraced that possibility?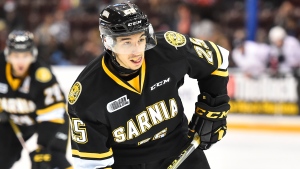 Darren Dreger: I can tell you that owners of the Canadian Hockey League teams are terrified of player burnout. If I zero in on a Sarnia Sting forward who's off to a great start, Jordan Kyrou, a second-round pick of the St. Louis Blues, it's conceivable he would make Canada's World Junior team, so he'll be inundated with all sorts of good things there. Then he could absolutely qualify for a spot on Team Canada's Olympic team in South Korea. He'd get through all of that, then he'd have to come back and help the Sarnia Sting in the OHL playoffs. Who knows, if they continue to have a great year maybe he goes to the Memorial Cup, so we're talking about too much hockey for a young man. Now, Hockey Canada says let's just get through the World Junior Championship and then we'll decide about the Olympics after that. But CHL owners want a quicker decision.
Other risks to Olympic hockey
The NHL and CHL aren't the only leagues throwing a wrench into Olympic hockey. Russia's Kontinental Hockey League has also discussed keeping their players out of South Korea next year.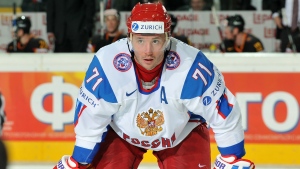 Bob McKenzie: These Olympics in general could be very tumultuous, obviously there's no National Hockey League. The IOC is talking about doping regulations that involves the Russians and whether Russia might be shut out of these Olympics. That would be a huge blow to the international hockey tournament. IIHF President Rene Fasel is very concerned with the way things are headed right now:
"If we don't have the NHL and we don't have Russia [at the Olympics], whoa! If we are so concerned with business and politics, then the sport is in danger. It's very scary to me." - Rene Fasel
Now, the real fallout from a potential ban of Russians at the Olympics, were it to happen, is that the Kontinental Hockey League is already talking about maybe not releasing any players. Canadians, Americans, Swedes, Finns, Russians, to participate in the Olympics if Russia can't participate in those Olympics. But Fasel has made it abundantly clear that the KHL is obliged to let foreign nationals go who will play for their country if they're asked to play, and then if the KHL or Russian Ice Hockey Federation didn't support that, there would be IIHF sanctions against them.
Bergevin should be safe for the time being
With the Montreal Canadiens sitting at 8-11-2 in the midst of a three-game losing streak entering play Tuesday, is general manager Marc Bergevin on the hot seat?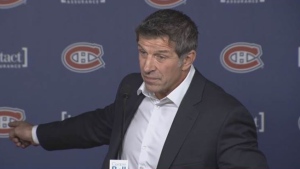 Pierre LeBrun: His status has not changed, I believe in the eyes of owner Geoff Molson. My understanding is the owner of the Montreal Canadiens very much believes in his GM and believes in the GM's staff and the people around him running this team and believes, frankly, in the team and that the team has probably underachieved compared to the talent that it actually has. Now, if this team misses the playoffs and there's another decision to be made after the season then that's a different conversation. But in terms of the imminent future, I don't sense anything drastic coming in terms of a big decision from Geoff Molson.
Will the scuffling Canadiens make any moves?
Since the pressure is starting to mount in Montreal, will Bergevin look for outside help to try and help the Canadiens get back on track?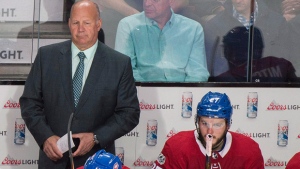 Pierre LeBrun: Well, here's one thing to keep in mind. If Mikhail Sergachev from the Jonathan Drouin trade does play in 40 games, which I think is a foregone conclusion now, the Habs are going to get a second-round pick back that will give them three come the June draft. Normally for a team like Montreal that's always trying to add at the deadline, having three second-round picks could be trade bait. But I'm told at this point, Marc Bergevin is not inclined to trade his high draft picks given how the season has played out.
Are the Oilers looking for blueline help?
With the Edmonton Oilers in the bottom-third of the league in goals allowed per game, is general manager Peter Chiarelli looking to add another defenceman?
Pierre LeBrun: Another team now obviously under the microscope is the Edmonton Oilers. I'm told that Peter Chiarelli was at the Monday night game in Buffalo watching the Blue Jackets and Sabres. He is looking around the NHL for a potential fit on his blue line.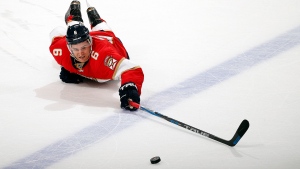 Bob McKenzie: You're right. Peter Chiarelli was at that game, as was Brad Treliving, general manager of the Calgary Flames. A lot of people are keeping an eye on the Blue Jackets. The Blue Jackets are looking for a centre and they would like to give up a defenceman to get one. Ryan Murray is a defenceman whose name gets thrown around and is potentially available but it may not just be him.
As for the Florida Panthers, Alex Petrovic is a defenceman there who's not playing very much right now and Petrovic's name is out there in trade talks. Petrovic has not asked for a trade, at least not yet, but he's obviously frustrated that he's been a healthy scratch and not in the Florida Panther lineup. We'll keep an eye on the Florida Panthers as it relates to that as well as the Blue Jackets with trying to get a centre.
Will Kane or Reinhart find new homes?
The Buffalo Sabres haven't made the playoff since 2011 and it looks like they're headed for another difficult season in Western New York. Could that bring forwards Evander Kane or Sam Reinhart into play?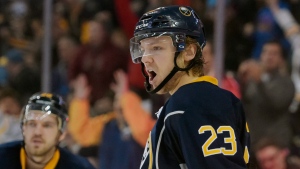 Darren Dreger: Fans may not like this in Buffalo, but there is no sense of panic from the general manager's office there. Now, there are some who will want to continue to speculate on Evander Kane and that's fair given his status as an unrestricted free agent. Nothing to date would encourage Jason Botterill to make that move. That's perhaps down the road. There are also some wondering about the future of Sam Reinhart in Buffalo but I can tell you that it is the direction of the Buffalo Sabres to see how he plays for the rest of the year, see how he fits with Jack Eichel and others in that age-sensitive category before ultimately making a decision. Maybe Reinhart is in play in the off-season.