Insider Trading: Jets looking for top-six winger; Flames interested in Stone?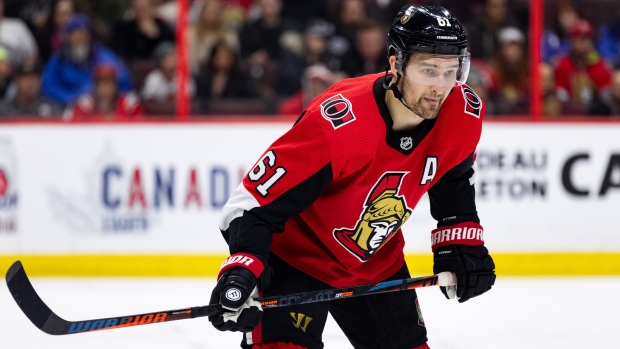 TSN Hockey Insiders Bob McKenzie, Darren Dreger and Pierre LeBrun joined host James Duthie to discuss the Winnipeg Jets search for a top-six forward, the Flames interest in Mark Stone, if David Pastrnak's injury changes the Boston Bruins' plans and the latest with the Columbus Blue Jackets and their impending UFAs: Artemi Panarin and Sergei Bobrovsky.
A lot of people believe that if the Winnipeg Jets go after anyone it will be a centre, but that might not necessarily be the case.
Darren Dreger: We know (Winnipeg Jets GM) Kevin Cheveldayoff wants to add a forward, if there is an improvement, if there's a better centre available on the market then he's going to consider that, but they are OK with Bryan Little as the number two centre in Winnipeg.
Top priority would be adding a top-six winger.
Now they have the Ottawa Senators coming into town at the end of the week and it is an interesting week here in Winnipeg because the Jets play three times and the Moose play three times, so there is a lot of hockey in this building.
It is expected that (Ottawa Senators GM) Pierre Dorion is going to come in well in advance of that game on Saturday, so he'll do some scouting of the Winnipeg Jets organization. Mark Stone, a Winnipeg native, would be a great fit for the Jets, but what's the asking price if he hits the market? Cheveldayoff is willing to be aggressive, I wouldn't say he wants to go all in, especially if it means having to mortgage his future entirely.
Pierre LeBrun: We've talked before that the Vegas Golden Knights would be a team that would have interest in Mark Stone, the (Golden Knights assistant GM) Kelly McCrimmon connection, but what I would say is, watch out for the Calgary Flames as well.
Now Brad Treliving, the (Flames) GM, has not made any serious inquiries with all the rentals, he's analyzing the market and trying to figure out how he's going to game plan it, but I believe for sure that the Flames, when the time is right, if Stone is made available by the Ottawa Senators will inquire to see what it will take to get him in their lineup. So, some Canadian contenders perhaps clashing in terms of the services for Mark Stone.
The X-factor always in these last couple of weeks before the deadline is injuries, we figure the Bruins will be a buyer, but does the David Pastrnak injury add to the urgency?
Bob McKenzie: I would think it does, now general manager Don Sweeney of the Boston Bruins said on Tuesday that it doesn't change anything, but what else are you going to say? You don't want to tell people or advertise that we're really desperate, we just lost a first-line scoring winger on a team that was already looking for a second-line scoring winger or a third-line centre.
Here's the thing with Pastrnak's injury, the Bruins say they're going to reevaluate it in two weeks, you know that is? That's NHL team speak for he's going to be out longer than two weeks and in my books that team speak gets translated as two-four weeks, maybe even four-six weeks, we don't know, but certainly more than two weeks.
Columbus remains one of the most intriguing teams, a playoff team, yet also with the situation of big name UFAs: Bobrovsky and Panarin. Not much of a goalie market, so let's focus in on Panarin, what's the game plan here?
LeBrun: Several teams have phoned on Panarin and the Blue Jackets continue to evaluate the offers that are on the table and the scenarios that could unfold. Here is the important thing to remember, they are going to be a buyer and a seller if all goes well for them and it's a delicate situation. What they're weighing is, their best offer on Panarin at the end of the day, has to outweigh what they're will to pay to replace him in their lineup, because they want to win this year as well.
I can tell you a name, they have interest in Matt Duchene if and when the Ottawa Senators make him available. So, what they get for Panarin in a separate deal has to outweigh what they would pay for Duchene in terms of the outlying asset that would remain alive after those two deals. Otherwise, if it's a wash, why trade Panarin? Why not make him your own rental? That's what the Blue Jackets are grappling with right now.
There is also movement in a couple of Western Canadian cities.
McKenzie: First off, the Vancouver Canucks, they made their trade for a goaltender Marek Mazanec, whom they picked up from the New York Rangers for a seventh-round pick with Thatcher Demko on the sidelines and Jacob Markstrom day-to-day with his injury and after Mikey DiPietro got lit up against the San Jose Sharks, they don't want a reoccurrence of that, they were able to secure this goaltender from the Rangers. Here's the problem, he requires immigration paperwork to be done, he's got to get to Vancouver very quickly to do that and that would mean flying in the day of the game against Anaheim on Wednesday, they are hopeful of getting all of that taken care of.
As for the Edmonton Oilers, Andrej Sekera is nearly wrapping up his conditioning stint in Bakersfield. This is a player who we thought might come up after Wednesday night's game in Bakersfield, but now it's looking more and more like it could go through the weekend. Here's the interesting thing, they've been trying to trade Alex Petrovic and Brandon Manning, the blueliners they acquired a while ago, there hasn't been any go on that obviously. They need to move those guys out, or put them on waivers, if they are going to create the cap space for Sekera coming up next week.
No GM in Edmonton, Keith Gretzky will go to the GM meetings, but will he have company?
Dreger: Sounds like (Oilers CEO) Bob Nicholson will at least go to Boca Raton and maybe not attend the meetings, he'll leave that to his interim general manager, but Nicholson may take advantage of the opportunity to speak to all of these gathered hockey people and continue to gather intelligence on the state of the Edmonton Oilers and the foundational work that has to get done before hiring their next general manager.