Insider Trading: Who's shopping D? Matthews deal gaining steam?
TSN Hockey Insiders Bob McKenzie, Pierre LeBrun and Darren Dreger joined host Gino Reda to discuss what the Ottawa Senators could get for defenceman Cody Ceci, the possibility of the Toronto Maple Leafs signing Auston Matthews to an extension before the trade deadline, the Oilers' general manager search and much more.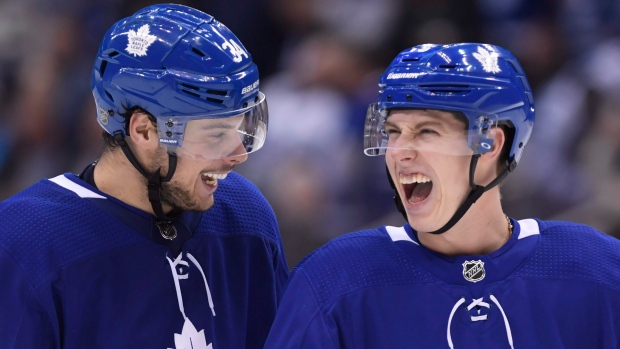 TSN Hockey Insiders Bob McKenzie, Pierre LeBrun and Darren Dreger joined host Gino Reda to discuss what the Ottawa Senators could get for defenceman Cody Ceci, the possibility of the Toronto Maple Leafs signing Auston Matthews to an extension before the trade deadline, the Edmonton Oilers' general manager search and much more.
---
What does the
Jake Muzzin

trade mean for the Senators?

Gino Reda: Jake Muzzin is off the Trade Bait board. A number of good looking blueliners still available out there. How does Jake Muzzin's departure from the list affect Cody Ceci and the Ottawa Senators?

Darren Dreger: Well it has to be of intrigue to Pierre Dorion. I mean that's a heck of a return for the Los Angeles Kings when you look at a first-round draft pick and a couple of prospects from the Toronto Maple Leafs. Now, the Ottawa Senators are still in a rebuild mood, so the return absolutely is attractive. There's been much speculation around Cody Ceci, whether he's in play or whether he's not in play. For that return, 100 per cent Cody Ceci is in play. Why wouldn't Ottawa look for a first-round pick and a couple of prospects or a first-round pick and a NHL roster player for a 25-year-old right shot D-man. He's go to get Stone signed, he's trying to sign Duchene and he might sign Ryan Dzingel, so he's got to move out some pieces and get a great return.

Pierre LeBrun: But he has competition. We've been talking all year long about the Carolina Hurricanes and their loaded D – they'd like to move on for a top six forward. So that means either Pesce or Hamilton or Justin Faulk who has gotten a little more interest of late by teams, by the way. They're going to move one of those guys before the Feb. 25 trade deadline if they can net that top six forward so, from that perspective, Ottawa has their work cut out.
The future of
Artemi Panarin

in Columbus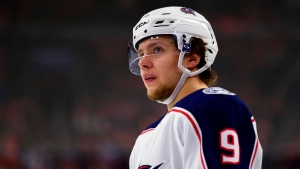 Reda: Tough spot right now for the Columbus Blue Jackets - Artemi Panarin is on an expiring contract, his agent has already said they are not talking contract until the end of the year. What do the Jackets do?
LeBrun: It's an awful position to be in if you're Jarmo Kekäläinen, the GM of the Blue Jackets, but they knew for last summer that this would probably be the case. So here's where it sits, I think they're going to trade him, but it has to be at the level that they want in terms of a return. I can't think of a rental player that would have a bigger offensive impact on a contender this year. Think of Nashville or Boston, teams that I believe if they haven't already will phone Columbus on this player. If the Jackets can get the kind of package they want then they have to turn around and fill that roster spot. There are buyers and there's sellers, it's going to be a complicated month for Jarmo Kekäläinen.
Latest on
Auston Matthews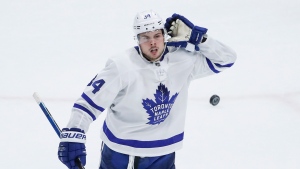 Reda: When Kyle Dubas was last asked about his contract negotiations with Auston Matthews, all he said was "healthy dialogue." Where are we now, Bob?
Bob McKenzie: It's been crickets publicly for Kyle Dubas and the agents for Auston Matthews - Judd Moldaver and Jeff Jackson – but obviously there's talks been going [on] behind the scenes and there is reason to believe that they are making some notable progress and there's a legitimate chance, but by no means a guarantee, that this deal could be done before the NHL trade deadline. Now one of the reasons why it may have picked up steam and the progress is because I don't believe the seven and eight year contract options are as attractive or as easy to get done as maybe a five or six year deal. And as Darren Dreger and Pierre LeBrun sitting beside me have reported over the past week, the five and six year option looks a lot more enticing for both the Leafs and Matthews at this point. The eight year deal would be up around $12.5M, $13M, $13.5M, that would really handcuff the Toronto Maple Leafs. The shorter five or six year deal, think more along the lines of John Tavares's $11.5 million, add a half of a million, subtract half a million, in that neighbourhood. So stay tuned between now and the trade deadline.
Micheal Ferland

on the block?

Reda: We've been talking a lot about the Micheal Ferland potential trade out of Carolina – is that close?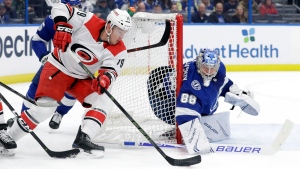 LeBrun: I would say this – that the Hurricanes in a perfect world would move him sooner rather than later. I think within the next week or two, if someone steps up and meets their price. And the reason for that is Micheal Ferland, a bruising power forward, very talented player, also a guy that gets hurt. I don't think they want to risk waiting until Feb. 25 and see his trade value drop if he gets hurt. So yes, whether it's conversations they're having with teams I believe like Boston or Nashville or Pittsburgh, and there's other contenders in there, if there's a fit in the next week or two, I think they'll pull the trigger.
Who's replacing Peter Chiarelli in Edmonton?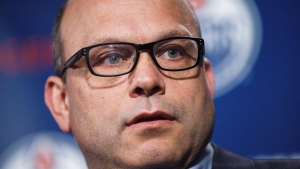 Reda: Where are the Oilers in their GM search?
Dreger: There's no rush even though the trade deadline of Feb. 25 is looming. The Oilers know they need to get this one right so that's not to say Bob Nicholson isn't continuing to get intelligence and information – 100 per cent that's what's he's doing. I wouldn't expect that he reaches out for permission to speak to potential candidates – this week, maybe as early as next week, but there will be a full blown search for the replacement for Peter Chiarelli.
McKenzie: When the Oilers get around to asking for permission, a lot of us belief that Kelly McCrimmon, the assistant general manager of Vegas Golden Knights, maybe at or near the top of the list for the Edmonton Oilers. The big question everybody is asking is – would Vegas grant permission in season for McCrimmon to be interviewed and potentially leave for the Edmonton job. George McPhee, the general manager in Vegas, shuts down all talk of that. He won't even bring up the subject and just shuts it down like that. I've known George for a long time, personally I'd be absolutely shocked if three or four weeks before the trade deadline, someone asks permission for his right hand man, that he would grant that. Especially to a division rival. So I don't think George and the Vegas Golden Knights are standing in the way of Kelly McCrimmon down the road, but it's got to be the right time and I'm not sure it's now.