Interleague play might be tired, but Scherzer is a treat to watch
While the novelty of interleague play might have worn off a while ago, TSN Baseball Insider Steve Phillips explains why Toronto Blue Jays fans should take advantage of the rare opportunity to watch Washington Nationals ace Max Scherzer do his thing this weekend.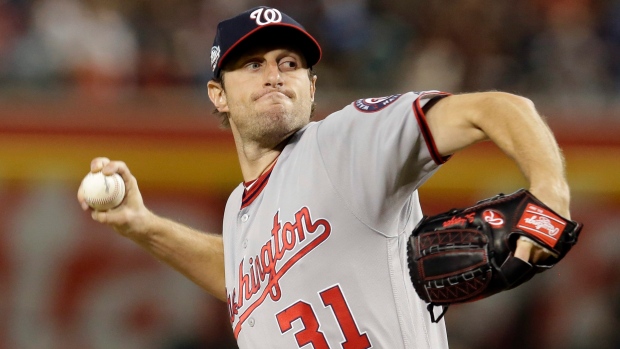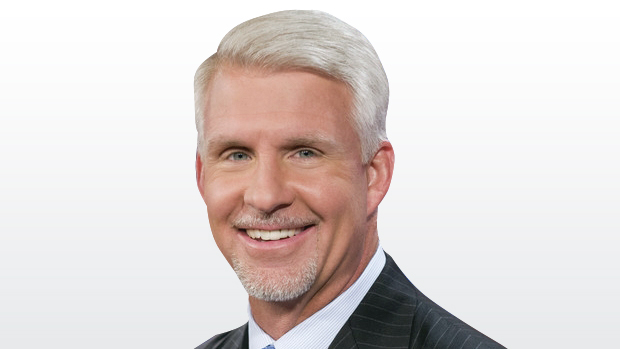 Every year fans and media alike call for an end to interleague play. They say it's played out. The mystique is gone. It takes away from the intrigue of the All-Star Game.
Yet, attendance numbers reflect the interest is still there. Sure, Toronto Blue Jays fans probably don't care anymore about watching their team play the Miami Marlins as they do the Kansas City Royals. But there are always those unique opportunities that interleague play does offer that still make sit worthwhile.
One of those opportunities presents itself this weekend in Toronto as the Washington Nationals come to town for a series starting on Friday. Currently, the Nationals are in second place in the National League East, just a game behind the Atlanta Braves. But make no mistake about it, the Nats are one of the best teams in the NL. They have had a number of key injuries that have slowed them a bit, including ones to first baseman Ryan Zimmerman, second baseman Daniel Murphy, outfielder Adam Eaton and starting pitcher Stephen Strasburg. Yet even with all of the injuries, they have had the depth at the major-league level and minor-league level to persevere.
If you were to pick one game this weekend to attend, I would recommend Saturday's matchup between Nationals' ace Max Scherzer and Jays starter Marco Estrada. Scherzer is a three-time Cy Young Award winner. He won the AL Award in 2013 with the Detroit Tigers and each of the last two years in the National League. He is well on his way to competing for it yet again this season. He's 10-2 in his 14 starts with a 2.00 ERA. He has thrown 94.2 innings and has tallied 142 strikeouts while only allowing 22 walks. Scherzer is on pace for more than 300 punchouts.
Scherzer has an overpowering fastball with exceptional movement that he can locate on either side of the plate. He can elevate it to get hitters to chase, as well. Scherzer has an exceptional late-breaking slider that he can throw on the same plane as his fastball. Effectively, he has pitches that slice the plate in two different directions. He also has a deceptive change-up where his arm action looks exactly the same as his fastball and then the ball just stops and drops at home plate. Scherzer can throw any pitch at any time for a strike. He can start all three of his pitches out of the zone and bring them in, just as he can start them in the zone and break them out. It makes him impossible to predict.
Scherzer is one of the game's best competitors. He puts everything he has in every pitch. When the moment is big, you can see him talking to himself, pumping himself up. He is a workhorse who loves to go deep in the game. You can see him dig down deep for extra energy when he is running out of gas. There are times when it looks as though his manager has to wrestle the ball out of his hand. Scherzer is a throwback to a different era.
He will be a real challenge for Jays' hitters, as he has the stuff to neutralize the best hitters in the game. He doesn't give the opposition many opportunities to score and is leading the NL in opponent batting average (.171) and WHIP (0.85). The best way to beat a guy like Scherzer is to get him out of the game. The Jays will need to grind out at-bats and make him throw as many pitches as possible. Don't help him by expanding the strike zone. Foul off his tough pitches, trying to see if he makes a mistake. Get to the Nats bullpen, which is good, but not as good as their ace.
Then when swinging, swing for the fences. It is nearly impossible to string four hits in a row against a guy like Scherzer in order to put up a multi-run inning. So I would stock the lineup with as many hitters as possible who can hit homers, hoping that someone can get on base and someone hits one out of the ballpark.
What fans won't get to see is how well Scherzer can swing the bat. He actually was sent in to pinch-hit in a game earlier this year in the 14th inning and got a single and then came around to score the go-ahead run. His fist pump rounding first base after his single was classic Scherzer.
This is the one guy who seems like will live up to his mega-deal. Scherzer signed a seven-year, $210-million contract and has been worth every penny and is showing no signs of slowing down.
Plus, he is a great teammate and representative of the organization. Scherzer is the entire package and the kind of pitcher every organization covets. He's the kind of guy the Jays would love to have Marcus Stroman and Aaron Sanchez become.
---
This week a video bounced around social media that highlighted former New York Mets manager Terry Collins in a heated argument with an umpire. It was from May of 2016. Mets pitcher Noah Syndergaard had just been ejected from the game for throwing a pitch behind Los Angeles Dodgers second baseman Chase Utley. The umpires appropriately deemed the pitch intentional and in retaliation for Utley's devastating slide which broke the leg of Mets' infielder Ruben Tejada the previous postseason.
The video shows veteran umpire Tom Hallion explaining to players why he understood what they did, but why it was the wrong time to do it. Hallion then went to intercede on behalf of the home-plate umpire, trying to calm Collins, who was going on a profanity-laced tirade. In the video, we got to hear what we normally only get to lip-read, typically, as some parties were mic'ed up for the game.
It was amazing to watch and hear the argument. The veteran umpire put on a clinic on how to calm an intense and heated situation. Collins displayed extraordinary passion in defence of his players. He showed why his players respected him so much in New York.
Of course, because the audio was exhilarating, many people are now hoping to hear more. From my experience, I can say with complete certainty that Major League Baseball is not happy about the release of this video and won't be open to more videos being made public. There will be an investigation, I am sure, to try and find out who leaked the audio and made it public. Somebody may pay with their job.
In fact, the commissioner's office is trying to have the video removed from the internet completely. At the owner's meetings, commissioner Rob Manfred addressed another complication of the leaked video.
"We made a commitment to the umpires, that if they would wear microphones, certain types of interactions that we all know go on the field would not be aired publicly," Manfred said. "We promised them that. It's in the collective bargaining agreement. We had no choice in a situation like that, then, to do everything possible to live up to our agreement. It is Labour Relations 101. To not do that is the kind of breach of trust that puts you in a bad spot over the long haul."
From my experience around the use of microphones on the field, baseball wants everything protected very closely. There is usually extreme censoring that occurs before any audio from the field is played on air. They make sure they protect the players, managers, coaches, umpires and, most importantly, the MLB brand from anything embarrassing.
As Mets general manager, I once agreed to let my pitching coach get mic'ed for a game of the week. The agreement was that no audio would be played live on the air. The television production truck would clip off anything interesting they wanted to replay and MLB would decide whether it was appropriate. Unfortunately, the person vetting the video thought it was appropriate to replay our coach's conversation on the mound with our pitcher and catcher. In the conversation, he reminded our battery how we planned to attack the hitter in the on-deck circle and the batter after him. The broadcast replayed it with enough time for a member of the other team to have heard it on the TV in the clubhouse and then run down to the dugout and relay the information. As soon as I heard it, I called the MLB representative in the production truck and reminded her that there should be nothing strategic ever put on air. She apologized and never did it again.
The cons far outweigh the pros in making video like this available. The actual recording of everything that happens on the field would create a library of very embarrassing and potentially dangerous statements from players. Sure, there would be plenty of good stuff that would be interesting to all of us. But there are so many things said on the field and in the dugout that no one should ever hear. Plus, it is a violation of the collective bargaining agreement with the umpires. The risk that more offensive, profanity-laced audio could leak out might lead to protests and a loss of fans instead of the intended result of bringing more fans to the game.
That being said, it was awesome!
---
Spitting Seeds
- The Blue Jays are hoping to have Josh Donaldson back as early as this weekend. Marcus Stroman may be back next week. Their return will not likely help propel the Jays back into a playoff chase, but their return to form could help in other ways. Donaldson is likely to get traded, so the better he performs, the better prospect the Jays can consider. Stroman's return to form could actually keep him in Toronto beyond this season. Mark Shapiro indicated in spring training that if the Jays became sellers at the deadline they would not likely include Aaron Sanchez, Roberto Osuna or Stroman in the sell-off. But if Stroman and Sanchez don't reestablish themselves as front-of-the-rotation starters, then all bets are off. Osuna's future is uncertain, not because of his ability and performance, but totally due to his pending court hearing.
- As mentioned above, watching Max Scherzer this weekend on Saturday will be a treat, but that doesn't mean that he is the only draw on the Nationals. Certainly, Bryce Harper is a familiar name to most baseball fans and is one of the most feared hitters in the game. But there is another young man worth getting out to see as well: 19-year-old Juan Soto. Believe it or not, Soto is just the second-best prospect in the Nationals' organization - outfielder Victor Robles is top prospect - and that bodes well for Nats fans, especially if they lose Harper to free agency after the season. Soto is hitting .344/.447/.641 with five homers, 12 RBI and 14 runs scored in just 20 major league games. He made the jump to the majors from A-ball. He is their version of Vladimir Guererro Jr.
- MLB attendance is down pretty significantly this season. Nineteen of the 30 teams have dropped in attendance. The average attendance number is 1,958 fewer fans per game this year than last year. There were only 6,075 fans at the Marlins home game against the San Francisco Giants on Wednesday and only 5,928 at the game on Tuesday night. The Tampa Bay Rays and Jays game on Wednesday drew only 10,847 at Tropicana Field, while the Oakland A's and Houston Astros game in Oakland only had 9,164 in attendance.
- Commissioner Rob Manfred hopes to expand the league in the near future, but he won't do that until he resolves the stadium issues in Oakland and Tampa Bay. They have made some progress, but until ground is broken there is no real deal. Miami has a new stadium and still can't draw. That will continue to be a problem just because of geography. There is very little area to draw from in the Miami area; east of the stadium is the Atlantic Ocean, the Gulf of Mexico is 85 miles to the west and to the south of the stadium, it's 68 miles to Key Largo. There just isn't enough of a population to draw from to justify the franchise. All this means is that sooner or later baseball will be back in Montreal.
- The Baltimore Orioles are awful. They are 19-48 on the season, making them the only team to not have 20 wins. They can't hit, pitch or field, and they are only going to get worse. It's time to do a complete rebuild. They will trade pending free agents Manny Machado, Adam Jones, Zach Britton, and Brad Brach. They shouldn't stop there. They should trade them all. Starting pitcher Dylan Bundy could bring back a couple good prospects and starter Kevin Gausman has struggled, but someone would try and fix him and give up a prospect. The Orioles should also trade second baseman Jonathan Schoop, who slugged 30 homers in 2017. He hasn't played nearly as well this year, but someone will give up a good prospect for him. The biggest problem they have in Baltimore is dysfunction starting at the top. Owner Peter Angelos is a meddler and gets involved in baseball decisions. No general manager has their hands tied more than Orioles GMs over the years. They have more limitations and restrictions put on them than any other club. Now, even with Angelos getting older and slowing down a bit, they still have problems. His two sons are now very involved in baseball operations and are chips off the old block. It is unclear who is making the decisions. General manager Dan Duquette may not be long for the job, whether by his choice or the organization's. There are also questions as to whether manager Buck Showalter, whose contract is up after the season, would want to be part of a rebuilding process, too.
- The owners have discussed the idea of doing away with pitchers hitting in the NL ballparks. This would mean that the designated hitter would be used throughout baseball. Certainly, the New York Yankees spoke up in favour of the change as starting pitcher Masahiro Tanaka strained both hamstrings while scoring on a sacrifice fly against the Mets in interleague play. The Yankees have been proponents of the universal designated hitter ever since Chien-Ming Wang injured his foot back in 2008. That prompted an angry response from owner Hank Steinbrenner back then. "My only message is simple," Steinbrenner said. "The National League needs to join the 21st century. They need to grow up and join the 21st century. Am I [mad] about it? Yes. I've got my pitchers running the bases, and one of them gets hurt. He's going to be out. I don't like that, and it's about time they address it. That was a rule from the 1800s." Rob Manfred suggested that there was some progress in moving some NL owners on the issue. I don't like the idea of universal DH. In fact, I don't like the DH in the AL at all. I'm all for implementing the same rules in both leagues. So, do away with the DH in the AL. The NL game has much more strategy because the pitchers hit. Plus, Isn't the real question why Tanaka can't sprint the 90 feet from third to home and not pull both hamstrings? Don't change the rule. Condition and prepare the pitchers to hit.