Invictus Games launches inaugural flag tour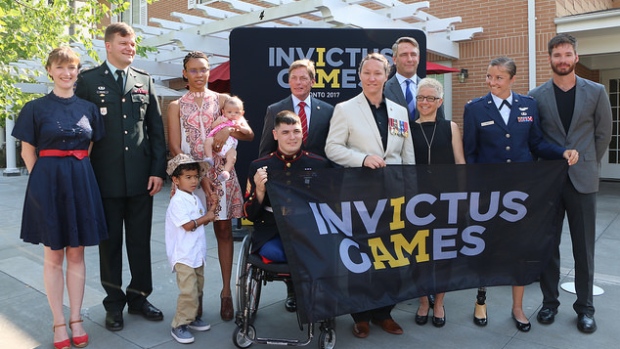 The Invictus Games Toronto 2017 planning group announced Thursday the launch of its inaugural National Flag Tour, which begins Wednesday, August 16 and runs through Friday, September 22.

The tour will travel from coast-to-coast and visit 22 military bases, 15 legions and over 50 communities across Canada.

As a nod to the 150th anniversary of Confederation, Invictus Games Toronto 2017 is also conducting a search for 150 Canadians to help carry the Official Invictus Games Flag – a physical representation of the unconquerable spirit of the Games' competitors – across the country.
"The National Flag Tour aims to engage the hearts and minds of all Canadians by inviting them to participate as Flagbearers and to attend stops along the tour," said Michael Burns, CEO, Invictus Games Toronto 2017. "This is a once-in-a-lifetime opportunity for 150 Canadians to stand alongside our military community and witness how the transformative power of sport helps our wounded warriors.

"We are honoured to have the Canadian Armed Forces, Veteran Affairs Canada, BMO Bank of Montreal, Jaguar Land Rover, Via Rail and President's Choice on the road with us for the National Flag Tour. As the official Flag Tour partners, we are grateful for their contributions. Partners like this make our Invictus Games National Flag Tour possible."
Applicants are encouraged to visit InvictusGames2017.com to register and share their stories of why they want to be an Invictus Games Toronto 2017 National Flagbearer.
It will Canada's first time hosting the Invictus Games, which were founded in 2014 by Prince Harry of Wales.
There will be 550 competitors from 17 countries coming to Toronto to compete in 12 sports, including track and field, swimming and golf.
The Games will take place from September 23 to September 30.