Invitees upstage draft picks at Leafs' development camp
Pitting their own draft picks against free agent invitees was a new wrinkle at the Toronto Maple Leafs' development camp this year and perhaps, unexpectedly, it was the invitees who showed the draft prospects a thing or two. Namely, how to win a scrimmage. TSN Maple Leafs reporter Kristen Shilton has more.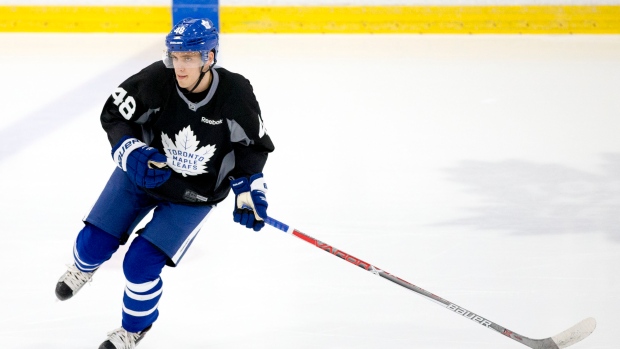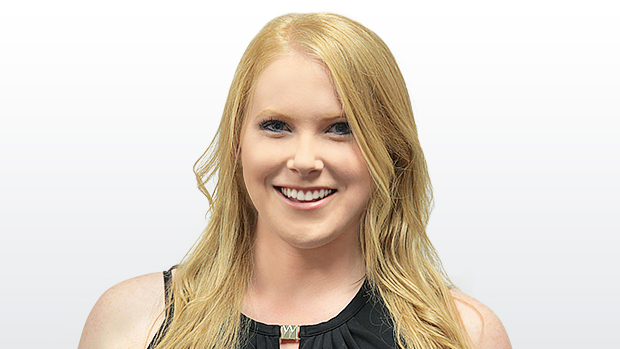 TORONTO – Pitting their own draft picks against free agent invitees was a new wrinkle at the Toronto Maple Leafs' development camp this year and perhaps, unexpectedly, it was the invitees who showed the draft prospects a thing or two. Namely, how to win a scrimmage.
The free agent-laden Team Sittler topped Team Clark in both intra-squad scrimmages (by scores of 6-3 and 6-5 on Tuesday and Wednesday, respectively) that capped off an intense week of on-ice drills and off-ice seminars. Team Sittler played in smaller games against themselves throughout the week under the watchful eye of Leafs' management to prepare for the final tilts. And while the free agents were impressive, there's no need to panic about the state of the Leafs' draft selections.
"I don't think you read into (the results) at all," explained general manager Lou Lamoriello with a knowing smile. "Looking at both lineups, they were fairly even, quite frankly, as far as forwards go. It's [most] important to get all the players here and get them knowledge of exactly what it's all about."
The camp was large - with 57 prospects compared to 41 last year - and the split format was an experiment the Leafs undertook for a myriad of reasons, mainly to give each player the focused attention they need to try and improve.
Lamoriello added that he was pleased with how smoothly the camp went, but for him and his staff the hard part is just beginning. The team's rookie tournament is in early September and several invitees stood out enough over the last six days to potentially merit a return trip.
"We'll talk about it a little later," Lamoriello said, adding that he didn't have a number of players in mind who would be invited to the tournament. "It's always a discussion; everyone has opinions. Right now we'll digest everything, and have a chance to talk to the people we did draft this year that weren't at the draft and make sure their summer goes the way it should."
As the players disperse to continue training on their own, here are 10 who made their mark at Leafs camp:
1. Timothy Liljegren (2017 Draft, 17th overall)
Liljegren arrived in Toronto looking exactly as advertised - a smooth skating defenceman with good speed and awareness on the ice, a great shot from the point and elite passing skills. His goal in Wednesday's scrimmage showed off his great patience with the puck and vision with a wicked one-timer from the blue line. Lamoriello said he was most impressed with Liljegren's poise and how he didn't take inadvisable chances on the ice in an effort to impress. He'll stick around town until July 24, when he heads to Plymouth, Michigan for a World Juniors Summer Showcase. The Leafs announced later Wednesday afternoon that Liljegren signed his three-year, entry-level contract. He'll either return to Sweden to continue playing with Rogle BK or join the AHL's Marlies next season.
2. Jacob Tortora (Camp Invitee, Undrafted)
No player was more impressive in the intra-squad scrimmages than Tortota and no free agent invitee stood out as much as he did all week. A product of the U.S. National Development Program, Tortora scored four goals and had an assist over two games (including a hat trick on Tuesday). He shows great acceleration on the ice and fluid skating motion to go along with his high-end offensive skill set. On Wednesday, he danced past 2017 draft pick Eemeli Rasanen in the neutral zone to set up his fourth snipe - a wrister from the slot. Tortora is undersized at 5-foot-7 and that will continue to be a knock against him, but the Boston College-committed forward hopes the program will do for him what it did for other small players like Johnny Gaudreau.
3. Adam Brooks (2016 Draft, 92nd overall)
Brooks' scoring abilities are elite, but the 21-year-old spent last season focused on improving his 200-foot game and showed off some of those strides through the week. He was more aware and responsible in the defensive zone during scrimmages, making smart plays with and without the puck. Given his prolific scoring ability (he had 130 points in 66 games last season), Brooks wasn't as visible in the final days as expected, (scoring just one goal and adding an assist against Team Sittler), but he generated more solid chances than many of his teammates. Brooks will spend the summer preparing to make the biggest jump of his career - from junior into the AHL with the Marlies.
4. Vladimir Bobylev (2016 Draft, 122nd overall)
With a tumultuous season behind him - which included signing a contract in the KHL only to see limited playing time and returning to the WHL - Bobylev's development appears to be back on track. He was a standout in battle drills and net front drills among the other draftees, building on the physical element he added to his game during his first season with the WHL's Victoria Royals two years ago. Bobylev came close to dropping the gloves a couple of times in Wednesday's scrimmage, but kept the focus on his point production with two goals. While he'd like to play with the Marlies next season, the 20-year-old is unsigned and it seems likely he'll head back to the WHL as an over-ager.
5. Martins Dzierkals (2015 Draft, 68th overall)
Perhaps no player in camp looked as relentlessly focused in drills as Dzierkals, a high-scoring winger who's determined to earn a contract with the Leafs for next season. Coming out of camp a year ago, Dzierkals was zeroed in on improving his net-front presence and proving he could get to the dirty areas of the ice and retrieve pucks as well as score. He has a ways to go in maximizing all his potential, but was all over the ice in the week's final two scrimmages sniffing out pucks, and tallied one assist. As of now, Toronto has only one contract spot available for next season and assuming one doesn't go to Dzierkals, he'll return to the QMJHL's Rouyn-Noranda Huskies as an over-ager.
6. Austin Rueschhoff (Camp Invitee, Undrafted)
Playing on a line with Tortora certainly helped Rueschhoff, who built quick chemistry with the speedy winger as that line separated itself from the pack in scrimmages all week. The 6-foot-6 Rueschhoff plays a heavy game and is incredibly strong on the puck, able to buy time through the neutral zone and use it to set up all four of Tortora's goals. He has work to do on his skating and explosiveness, as well as his overall efficiency with the puck, but his size and ability to throw his body around is a major upside. He's committed to attending Western Michigan University this fall.
7. J.J. Piccinich (2014 Draft, 103rd overall)
Like his scrimmage linemate Brooks, Piccinich will be graduating to the AHL next season and looks ready to make the jump. A power forward who plays responsibly in all three zones, Piccinich scored two goals and added an assist in scrimmages as Team Clark's most consistent skater. What sets Piccinich apart is his versatility – he does many things well without being considered truly elite in any one aspect. His net front and battle drills were noticeably strong, and bodes well for his potential moving on to play against men next season on an AHL contract.
8. Kristian Pospisil (Camp Invitee, Undrafted)
Pospisil wasted no time trying to jump off the page at camp. In the opening minutes of the invitees' first scrimmage against each other, the 6-foot-2 Pospisil laid out another player along the boards with a thundering hit before turning around to score the first of five goals over his next two games. He kept up his torrid pace - along the boards and in front of the net - on a line with Rueschhoff and Tortora against the draftees. He added one goal and two assists in those games and nearly came to blows with Bobylev. Pospisil has only been in North America two seasons and needs to add size and strength to his frame, but there's a lot to like about how he plays the game.
9. Joseph Woll (2016 Draft, 62nd overall)
The Leafs' brightest goaltending prospect in years was absent from on-ice portions of the last two days of camp after a hamstring tweak on Monday kept him from scrimmaging. But Woll had a strong few days before that in drills, showing off improved athleticism and efficiency in the net that illustrates how his game is maturing in the college system. He'll return to Boston College as a sophomore in the fall, looking to build on his strong freshman campaign.
10. Taro Hirose (Camp Invitee, Undrafted)
A smaller forward (5-foot-10, 161 pounds) who plays a smart two-way game, Hirose quietly went about his business, performing well in all five of Team Sittler's scrimmages. Hirose has good awareness on the ice and great hands, scoring two goals against the draftees and generating some quality chances for his line. He may be too much of the same type of player Toronto already has in spades to garner another look down the road, but Hirose made his presence felt on the ice.
Tough break: Jeremy Bracco (2015 Draft, 61st overall)
Looking to move on from junior to the AHL ranks next season, Bracco didn't get an opportunity to improve this past week due to a bout of mononucleosis. Bracco was present for the first two days of on-ice activities before being felled by illness, missing the bulk of instruction that would have helped guide his offseason regime from here. Lamoriello said he didn't see the absence as a setback for Bracco as long as it doesn't impact the rest of his summer workouts, which will be critically important to his development into training camp and next season.