Is Las Vegas home to hockey's best line?
Reilly Smith, Jonathan Marchessault and William Karlsson give the Golden Knights a dominant trio that no team in the NHL has been able to figure out, Travis Yost writes.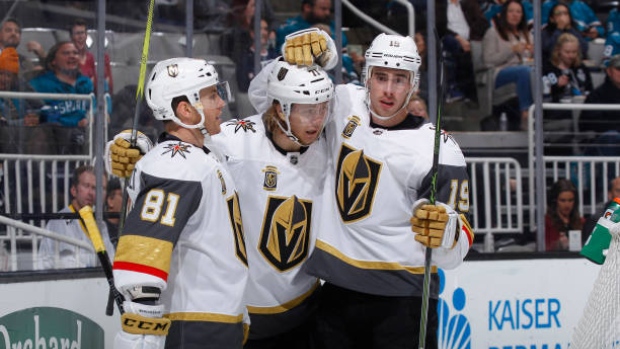 There's an argument to be made that the Reilly Smith, Jonathan Marchessault and William Karlsson line in Las Vegas is the best trio in the National Hockey League.
Four months ago, they weren't even playing together.
Golden Knights head coach Gerard Gallant will surely run away with the Jack Adams Award this season. He has a first-year expansion team with a 44 per cent chance at the President's Trophy and an 80 per cent chance of being the top-ranked team out of the Western Conference. Underpinning the impressive win/loss record is a team with the league's third-best goal differential and fifth-best shot differential.
His best move of the season though may have come on Oct. 24. The Knights escaped with a 3-2 victory in St. Louis three nights prior in a game where they were completely dominated. Sensing some shuffling was needed, Gallant decided to move Karlsson away from his depth line and into a key wing role on the hip of Marchessault.
There are a lot of things you can point to that have driven Vegas' season in the right direction. At the top of the list surely is this Marchessault group – a trio of undersized forwards who skate like the wind, cycle the puck with an electric pace and generally play two steps ahead of whatever five-man unit is thrown against them.
Marchessault is bordering on superstar status, if he isn't there already. He's comfortably above a point-per-game pace, in large part due to a Henrik Sedin-like ability to distribute pucks from the middle of the ice. Smith (27-goal pace) and Karlsson (42-goal pace) have been huge beneficiaries, though each brings a different and complementary skill set to the table.
As a group, they have scored at least one goal in 75 per cent of the games they have played this year. And 38 per cent of the time, they have logged multi-goal games. It's extremely difficult to sustain this type of scoring production, especially in a coaching environment where lines are frequently broken up after a couple of bad games in a row, but they've done it.
One thing I was curious about was how this line compares to some of the most productive lines we have seen in the last decade. Using Corsica, I pulled out the most productive goal-scoring groups since the 2007-08 season (5-on-5). You'll note that the Marchessault line is already inside of the top-20. With 24 games remaining, there's a good chance they could end up at the top of the list.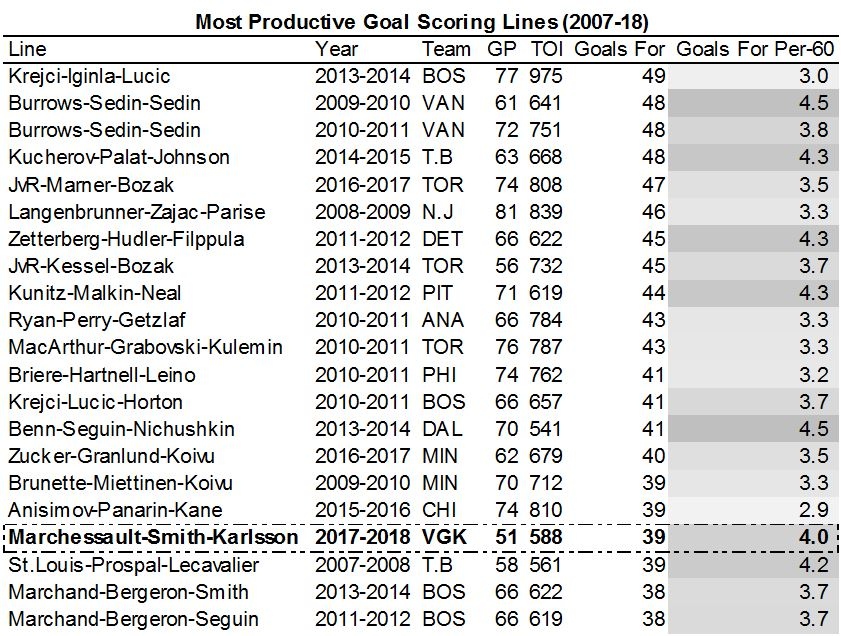 They are already keeping fantastic company. But, again, they have 24 games left to move up on this list. If you assume that they'll generally see the same ice-time the rest of the way and continue to score at a 4.0 goals per-60 minute pace, they would expect to generate 18 more goals. That would comfortably make them the best 5-on-5 scoring unit the league has had since the 2007-08 season. In fact, they need just 11 goals to accomplish that feat, besting those incredible Krejci and Sedin lines from years past.
It's true that this line has benefited from some degree of shooting luck. Karlsson continues to convert on about one of every four chances, which is a rate the league has really never seen before. We can rest assured that future periods won't be nearly as kind to Karlsson finding the back of the net
But let's put shooting percentage regression discussion to the side for a moment. The one thing I always look at when I see a line (or any grouping for that matter) blow up on the production front are the underlying numbers. Sure, they are scoring a lot of goals. Are they also dominating the shot share? What about scoring chances? And are they stable defensively in the same light?
Here's what those numbers look like: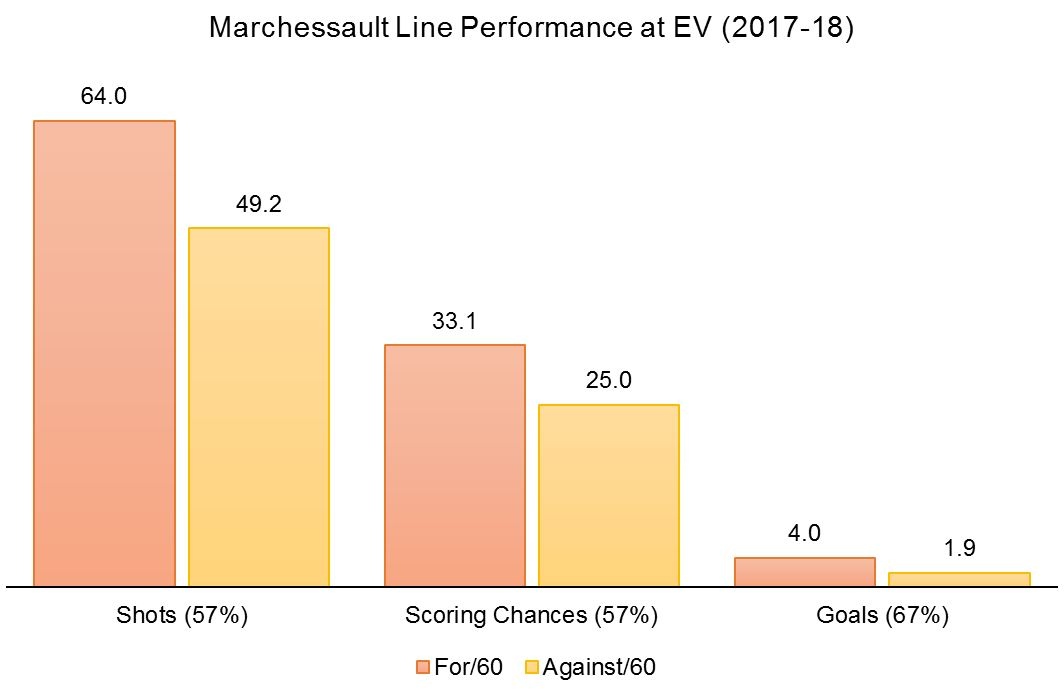 This is why this line has been so dominant all year long. It's nice to get some shooting luck, but the reality is the Marchessault line is so good because they always have the puck and are always in the defensive zone. Both the shot and scoring chance shares see Vegas get about 57 per cent of the volume when this line is out there, and that's true over nearly 600 minutes of play.
This line is one of the big reasons why I think Vegas will be a pretty tough team to knock out of the playoffs. The argument all year has been that they're a team that gets by in large part to depth competency and having four lines and three pairings who can play at a frenetic pace. While that's true, I think it underscores just how dominant one of their lines has been.
Vegas may not have a franchise cornerstone-type player, but they have a line that no team in the league has been able to figure out. Until someone does, Vegas will remain an extremely difficult opponent to match up against come playoff time.