Is the outfield key to keeping Travis healthy?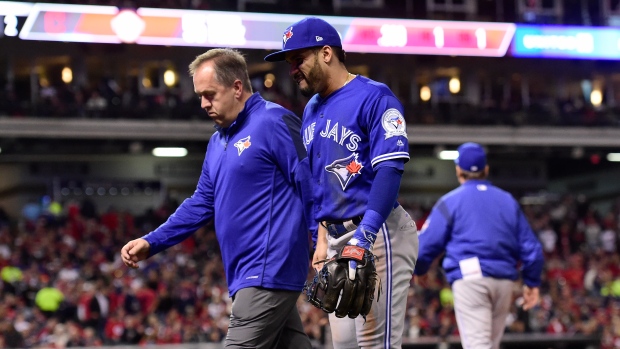 There are a number of questions surrounding Devon Travis, and all of them have to do with his health.
When will he be healthy?
Why does the 26-year-old with dual shoulder and knee surgeries already under his belt keep getting hurt?
The answer to the first question is starting to become clearer as Travis is now at the eight-week mark in his knee rehab, trending towards a return to a major-league field sometime in September.
There is no satisfactory answer to the second question. But as soon as Travis recovers from a second operation in an eight-month span to clean up cartilage in his right knee, the focus will change.
The question will then become: How does Travis stay healthy?
Some have wondered — yours truly included — if a move to the outfield would help ease the physical burden on Travis defensively, allowing his potent right-handed bat to do its thing for a full season.
Travis is clearly more valuable at the keystone.
Teams salivate over offensively capable middle infielders.
Last year in just 101 games and 432 plate appearances, Travis was the 16th most valuable second baseman in baseball, accumulating 2.5 Wins Above Replacement (WAR) to sit nuzzled in between Javier Baez of the Chicago Cubs and Joe Panik of the San Francisco Giants.
In terms of offence alone, Travis' 109 Weighted Runs Created Plus (wRC+) also had him 16th, ahead of names like Rougned Odor, Jonathan Schoop and Starlin Castro.
That 109 wRC+ figure would've had Travis sitting in the mid-thirties amongst outfielders around baseball.
That tells us two things: Travis is more valuable on the right side of the infield, but it also says his bat — even in an injury-shortened season that didn't max out his ceiling — would play in the outfield where significant offensive contribution is expected.
Blue Jays general manager Ross Atkins says moving Travis away from second base isn't a conversation they've had within the organization.
"We haven't had conversations — there's no need to," Atkins said. "There's no need to have those discussions. He's a very good second baseman."
But they are looking for ways to keep Travis healthy and atop their lineup, where the lack of a true leadoff hitter has been evident when he's out of the lineup.
In the infield, there's more quick-twitch movements. Stopping, starting, pivoting, leaning, bending, and tagging, which is the type of play the second knee injury occurred on, according to Travis.
In the outfield, there's more running and accelerating.
Atkins hasn't found any evidence one is better than the other.
"There's pros and cons to both," Atkins said. "Long acceleration or really aggressive starting and stopping that happens in the outfield versus a low squat or spinning and twisting in the infield. There isn't research one way or another. That would have to be driven by necessity of the position, the need for versatility or by Devon."
Travis has heard the talk through various media channels. He has not heard it from the organization's decision-makers.
Travis isn't buying the notion that a position change will help him stay healthy, but he too is looking for solutions and a way to stay on the field.
"I don't think anybody really knows the true answer," Travis said. "We could speculate and say, 'Maybe if he didn't have to play second base and run around everywhere and back up this throw and turn this double play and be a part of this steal or whatever the case is,' but I play the game hard, man. Always. And sometimes that's like a fault. I wish I could slow down a little bit and maybe be a little smarter.
"Could it be the position? Maybe. But I think for someone to say that they know that it's the exact answer, I just think that's unfair and I just think flat out that no one really knows that's true."
Outfield talk isn't new for Travis.
Prior to being traded to the Blue Jays in exchange for Anthony Gose in the winter of 2014, the Detroit Tigers had toyed with the idea of using Travis in the outfield, and he even spent three games in centre field in Double-A that same year.
He wouldn't put up a fight if the Blue Jays found evidence it would be the best thing for his career and his long-term health.
"It's never been anything that I've actually talked about with the team," Travis said.
"If it ever came up and I had to move somewhere else to give it a try, I'd be all for it. I just want to be on the field and helping my team win."