Jack: An interview with my childhood hero, Nigel Mansell
What's it like to finally meet your hero? TSN broadcaster and columnist Kristian Jack got to find out this week in Toronto when he got to sit down with his childhood hero, auto racer Nigel Mansell.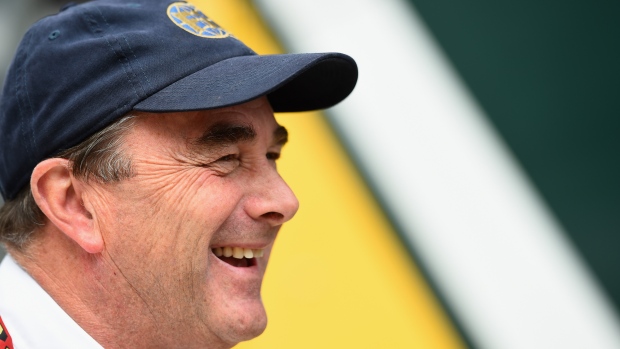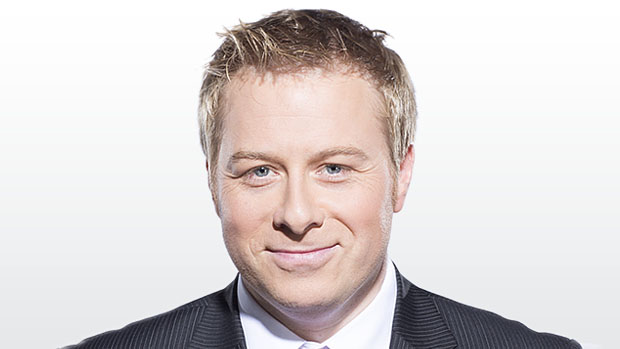 They say you should never meet your hero.
I was always fine with that. After all, mine was tucked away perfectly inside a gloriously built racing car anyway.
As a boy I'd fall asleep with my mind full of images of him with his helmet on, at work as one with the car. I didn't think much about how he looked or acted out of the car and cared little for his thoughts on anything other than driving. For me, what he did inside the greatest looking race cars ever built was more than enough.
He was the answer to all the questions you get at school. Hero? Favourite sportsman? Even favourite footballer. Cross out footballer and write driver.
As a seven-year-old I sat at the first corner at the Brands Hatch circuit, a small part of over one hundred thousand spectators squeezed into the picturesque English circuit, blessed with simply stunning curves that became even more radiant when powerful, wide Formula One cars, with gorgeous thick back tires, took on their challenge.
I watched him take on all comers that day, defeat some of the greatest drivers the sport has ever been graced with, and win his first ever Grand Prix. We cried together. He as he reached the top spot of the podium for the first time and me as my dad told me it was over and time to go home.
Almost thirty years on I am waiting for him in the lobby of a Toronto hotel. He is in town to be inducted into the Canadian Motor Sports Hall of Fame for his performances on tracks in this country and he has agreed to meet me for an interview.
I'd been used to seeing him in environments where thousands of people followed him just to get some kind of piece of him – a photograph, a handshake or an autograph if they were lucky. Yet, these are now different times.
Don't meet your hero they say.
Too late for that now.
Nigel Mansell greets me with a warm smile and puts his arm on my shoulder.
I am on crutches following foot surgery and immediately it's an icebreaker. He is concerned. He is intrigued.
He is also supremely educated on injuries. That's what happens to a man who drove the cars he did in the 1980s and early 1990s. His career boasts more races won than bones broke but it was much closer than he would have liked.
A hero (masculine) or heroine (feminine) (Ancient Greek: ἥρως, hḗrōs) refers to characters who, in the face of danger and adversity or from a position of weakness, display courage and the will for self-sacrifice—that is, heroism—for some greater good of all humanity.
For me, Nigel Mansell was always a modern day Gladiator figure. My hero. There are those who believe the term hero should not be used in sports, saved instead for the work of those in the real world where the harsh realities of life can often remind us all how trivial sporting theatres can become.
However, sports are a release for many from such woe. Watching Formula One cars prior to the death of Ayrton Senna at Imola in 1994 was what makes sports so captivating for me. Of course, no one wants to see people lose their lives but there is a quite remarkable rush when you are drawn to watching humans who can bring together supreme talent and bravery while accomplishing something most of the entire world couldn't do.
"The tracks back then were scary, real scary," Mansell tells me. "We raced on some circuits and if we came off the track it's a monumental accident. We had corners we took at 200mph with no run-off area. We used to be scared shitless and get hurt real bad too."
Some much worse than others, and he would see colleagues killed like his former team-mate and friend Elio De Angelis and, of course, Senna, one of his greatest rivals.
"Ayrton and I shared a lot of incredible races, where he was first and I was second and vice-versa. I think it's fair to say I am the only racer in Grand Prix history who wasn't intimidated by him and I think that was great for the fans – it did make us have a few close calls though! He told me one day to my face that I was mad and absolutely crazy but he was ruthless to the point if he could shunt the car up the back of you, like he did to me in Australia once, then he could do that. I am a sportsman and I have never done that, and I suppose if I was more ruthless like that I could have won more races and championships but I reflect back on that now and think that just wasn't me. "
There is no resentment in his voice, which rises high in appreciation of what Senna did behind the wheel of a car. I remind him of the iconic vision of him picking up the Brazilian at the British Grand Prix in 1991 when his car broke down and he called it a " a compassionate moment, a genuine gesture of friendship to help him get him out of there."
At age 61 Mansell is supremely comfortable in his own skin and admits he looks back and is surprised at what he was able to accomplish. Winner of 31 Grand Prix races, the 1992 World Championship and the 1993 IndyCar Championship.
Nothing came easy to Mansell. In a sport where money is more important than talent when it comes to getting a drive to try and reach the peak, his story is one of an unlikely success. Working 20-hour days, sleeping in the back of a van, selling his apartment and losing parents at a young age were just some of the significant challenges he and his wife Rosanne faced as they battled to get into Formula One, which he eventually reached by 1980.
At Brands Hatch in 1985 he was a 32-year-old in his sixth F1 season and still without a win. Then on that October day in the south of England his life changed forever.
He smiles when we discuss the move he made to get around the leader, Senna, and his attention to detail would make a stranger think he is talking about something he did yesterday.
"There was so much concentration required in those cars. There was no power steering, no traction control, no gizmos like today, the wheels would spin at 165mph because the power would kick in (so fast). Down that front straight (prior to the pass) we are doing 192mph and common sense would say you don't have any time to think about anything, but the greatest attribute of a racing driver is slowing things down, so we have time to process information to do the job in question.
"That day too many things came into my mind," he laughs. "192mph up to 200mph, yes this is the moment, don't get too excited, don't mess it up, it was wonderful the conversation you have with the little voice you have inside of your head and I went on to win and it was very special.
"Afterwards I was exhausted, absolutely depleted. I felt the relief. The first win is the most important because you have done it – like (his friend, pro golfer) Greg Norman said to me 'once you have done a golf shot once you can do it again and again and again', and after that win we had broke through."
To win the European Grand Prix, Mansell overtook Senna, battled with other World Champions Nelson Piquet, and teammate Keke Rosberg, while McLaren's Alain Prost went on to become World Champion himself that day. It was a time in the sport where many greats went head-to-head, one that Mansell appreciates now more than ever.
"As you get older you do reflect more. They were great times but the biggest thing we all had to deal with a lot more disappointment from an engineering point of view, there was not the reliability that there is now. I think Michael Schumacher was almost gifted three World Championships through total, unbelievable, unprecedented reliability of his Ferrari car, and no one would disagree that anyone in that car at the time would have won those championships, but back in the eighties you had 20-30 per cent of a chance of finishing the race, it was a giant hill to climb every time and I'm just glad we did it sometimes."
He understands the part he played in the rivalries and how it helped grow the sport's popularity, something we have seen this season with the battle between Nico Rosberg and Lewis Hamilton at Mercedes.
"When I was teammates with Piquet and Prost they were prolific in what they would get up to undermine you," Mansell reveals. "It was frustrating but I realized if you are a World Champion several times over, I suppose it must really upset you if the number two driver keeps beating them! I was threatening them all the time, and got in their head.
"It's wonderful when everything is level playing field and this season Mercedes have to be very careful how they manage it. At the press of a button, one car can go faster than the other. Nico has had some extraordinary things that have happened to him lately. Mercedes will choose who they want to be World Champion – Lewis is on a high now but Nico has done a fantastic job too and he should be given equal opportunity."
Equal opportunity is a phrase he uses often. He has stories that would shock fans about how the likes of Prost and Piquet would do whatever it took to defeat him.
"In the end, though, at Ferrari, I left on great terms and Prost got fired," Mansell reminds us and it's clear he treasures a lot of relationships he formed, particularly with fans all around the world.
At Brands Hatch that day he captured the hearts of the British public. I watched him win again on home soil in 1986, 1987 and then again with Williams in 1991 and 1992 after his time with Ferrari where fans in Italy also fell in love with the man they called 'il leone' – the lion.
Mansell is extremely proud of the connection he had with his fans worldwide: "A pure fan of any sport knows the sport better than those participating in it, that's why they are fans of it. I was a driver and a racer. The difference between drivers who can be great World Champions and racers, who are also World Champions, is that racers don't wait for things to happen, they make things happen. The fans always embraced me because of my driving style, even when I was on the back foot, if I didn't have the best car, engine, or was number two in the team, I still gave it my all. It didn't matter where I was on the grid, I would drive the backside of the car. Fans loved that I think."
This one certainly did. I'll forever have memories of Mansell the driver. Now I have one as Mansell the gentleman. A true champion on and off the track.