Jackson: I'm just going in there and smacking CM Punk in his face
Former WWE champion will make his return to the octagon in his hometown of Chicago at UFC 225.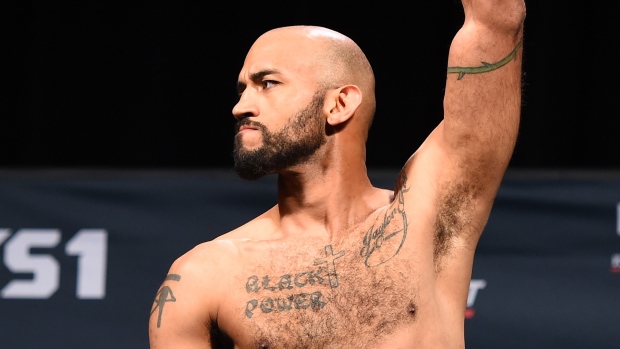 Lost in the shuffle of the drama surrounding UFC 223 fight week was Dana White confirming that former WWE champion CM Punk will make his return to the octagon in his hometown of Chicago at UFC 225.
His opponent is Mike Jackson, who initially lost to Mickey Gall in the fight that would determine the opponent for Punk's debut. Like Punk, Jackson sports an 0-1 mixed martial arts record, but Jackson wants fans to know that unlike Punk, he has a strong combat sports background.
"It's not an even matchup because I have prior experience in combat sports," Jackson told The TSN MMA Show. For those who don't know, I come from the boxing and kickboxing realm. I've competed with Legacy Kickboxing where in these sports I'm undefeated. I'm undefeated in boxing, undefeated in kickboxing with all of my wins coming via knockout. So to the people who are just UFC or MMA fans on a national level, they may not know about my fight resume outside of the Mickey Gall fight."
Jackson has been involved in the world of mixed martial arts for 10 years, but his first love is boxing, a sport he has followed closely since childhood.
"For me, boxing is my bread and butter and I'm going to go out there and really impress the fans. They need to know who I am as, not really just a fighter, but as a media personality. This is definitely going to build a brand," said Jackson. "People are going to see that although I don't have a crazy record or anything like that or a crazy number of fights, I am a skilled fighter and with my skills, I like to entertain people. That's what they're going to get at UFC 225 in Chicago."
Over the weekend on Twitter, Jackson was commenting on WrestleMania 34 and in his younger days, he was a big fan of professional wrestling.
"I missed the CM Punk in the WWE era, but it doesn't matter," said Jackson. "I know some people want to fight this guy because of his popularity and his name. I don't get starstruck or anything like that. That's not what I'm here for. I'm here for business reasons and for me, none of that matters. I'm just going in there and smacking this man in his face."
Even though he is not very familiar with CM Punk's WWE resume, it was his words that made Jackson push so hard to get this fight.
"There's no malicious intent. I'm not going in there to hurt him or anything like that, but I am going to give this guy a beating and I want him to understand that there's levels to this game and he should have went about this a different route," Jackson said. "My biggest issue with this guy is that he called me 'a can' and I take that as a sign of disrespect. I have previous combat sports experience. He comes from professional wrestling where things are scripted and the outcomes are predetermined."
"…This is the fight that should have taken place to begin with. It was the fight that made sense from the beginning. But again, when you're a promoter and you're trying to sell this almost sideshow of a spectacle, you have to have a great storyline. A great storyline wouldn't have been to bring in CM Punk and put him in there in his first fight against Mike Jackson and watch me go out there and smack this guy and he gets no other shot."
Jackson is aware that this fight is a unique situation, but feels that it will pique the public interest more than the average UFC fight.
"Two title fights. Curtis Blaydes is fighting, that's cool. But people are tuning in to see one fight, it's the spectacle," Jackson said. "This is not something you see all the time. You can see a Curtis Blaydes, you can tune in and watch him every few months. How often do you get a CM Punk versus 'The Truth' in the UFC octagon? That's a once-in-a-lifetime fight, so this is the fight that people are tuning in to see."
After losing his MMA debut to Gall more than two years ago, Jackson admitted that the pressure may have got to him on fight night. He doesn't think it will happen again when he faces CM Punk.
"There was a lot of pressure in that fight. I enjoy being in the limelight, but being in that circumstance was something that I didn't really calculate. I didn't prepare for and when the moment came, I zigged when I should've zagged," said Jackson. "Obviously there's pressure. You don't want to go in and lose to CM Punk, that pressure is there, but outside of that, there is no pressure. I know that he's not better than me in any facet of the game, so I'm prepared for what he has to offer, whether it's on the feet or on the ground, the clinch, wherever it goes. I'm prepared for whatever [CM Punk] has."
Don't mistake his confidence for disrespect, because Jackson does appreciate the risk that CM Punk is taking by accepting a second fight with the UFC.
"As a man, I respect him for his willingness to step inside a cage with another man and see who is the best that night. So I respect him for that," said Jackson. "My issues with him come from his words, but his actions in terms of his willingness to step into a cage, I respect that."
If Jackson gets a win over CM Punk, he has his eye on another UFC fighter who he thinks he matches up favourably with. Of course, that is dependent on whether that fighter is still with the promotion following his recent actions.
"I called out Artem Lobov, Conor McGregor's little homeboy, following a fight. I told him, 'Hey, if you want to boogie at 155 [pounds], we can do it.' He responded to it, he liked the idea, so I'm still open to that match if that arises," said Jackson. "But then again, we don't even know if little Artem and his little arms are going to be in the UFC after his thuggish ways at UFC 223."
But before his eyes get too big, Jackson knows that he needs to defeat CM Punk and his strategy is clear.
"We're going for the big knockout. We know what time it is," said Jackson. "It really depends on how I feel that day and I'm being legitimately honest. There are times when one part of me wants to go out here and beat this dude up for three rounds. Look, this isn't going to a decision by any means, but there's a part of me that wants this to go a little bit just so I can really show my skills and what I bring to the fight game. Then the other part of me really wants to go out there and get this cheque in under a minute."
Mike "The Truth" Jackson faces CM Punk at UFC 225 in Chicago on Saturday, June 9, 2018